BCS Rankings 2011: Boise State at No. 5, Let the Controversy Begin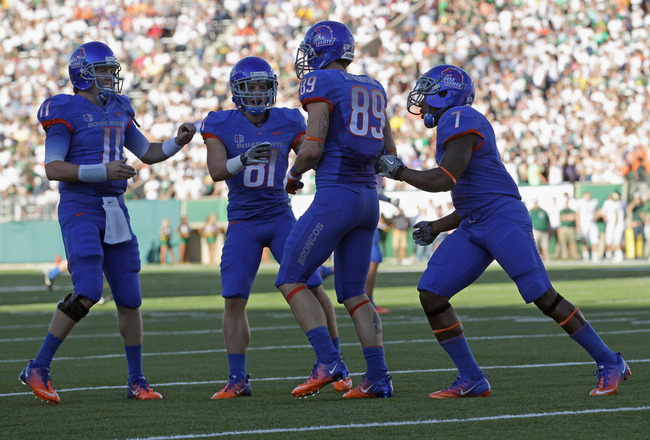 Doug Pensinger/Getty Images
It's that time of year again, although I don't think this question ever dies: does Boise State deserve a spot in the National Championship? My answer is yes; of course they do, but will they anytime soon? No, and this is why not:
Boise State sits at No. 5 in the first BCS Poll of the 2011 season and trails LSU by .15 percentage points. You look at that number and think small, minuscule, $15 out of $100, but in the jigsaw puzzle of the BCS and college football, it's a lot. Let's take a quick look at the four teams in front of the Broncos:
4. Oklahoma State. Number one in five of the seven computer rankings, wins over Texas A&M and Texas, a member of an AQ conference and one big game against Oklahoma looming that will decide their fate.
3. Oklahoma. Arguably the best team in the country and started off as everyone's No. 1. Wins over Florida State, Missouri and Texas. Member of an AQ conference with games against three ranked opponents and a good Baylor team ahead of them; all quality games that will enhance their BCS resume.
2. Alabama. Tough, ferocious, experienced member of an AQ conference with convincing wins over Penn State, Arkansas, Florida and what we thought was a good Vanderbilt team. They have one of the best defenses in the country that is ready and willing for the showdown of the century against LSU and should they lose that game, shouldn't drop too far in the rankings. Their other remaining games are against Tennessee, Mississippi State, Georgia Southern and a surprisingly good Auburn team; all of which can help the Tide's resume.
Otto Kitsinger III/Getty Images
1. LSU. The obvious choice. The best team in the best conference, an AQ conference. One of the best defenses in the country. Convincing wins over Oregon, Mississippi State, West Virginia, Florida and Tennessee. Remaining games against Auburn, Alabama, WKU, Ole Miss and Arkansas. One loss would not do much to this squad, and I don't expect them to have one at the end of the season.
Now, let's break down Boise State:
6-0. First year in the Mountain West. Convincing wins over Georgia, Toledo, Tulsa, Nevada, Fresno State and Colorado State with an average margin of victory of 29.8 points. Remaining games against Air Force, UNLV, TCU, SDSU, Wyoming and New Mexico, all of which are unranked. No room for improvement, only disappointment. Win out and they will most likely stay where they are, one loss and their season is over.
The biggest difference between Boise State and the four teams ahead of them are two little letters: AQ. Without them, they are nothing and don't have the strength of schedule or power to overtake any of them without a head-to-head win over each team and let's face it, no non-AQ team will ever be able to do it.
Boise has recently been invited to join the Big East as a football-only school and the interesting premise of the Mountain West and Conference USA merging is heating up.
Both of those situations will seriously help Boise achieve that goal of getting to the big game, however, there has been no confirmation that the super-super conference without a name, maybe Mountain-USA will have an automatic bid into a BCS bowl game.
Several years down the road, I foresee only super-conferences, all with ties to the BCS, but everyone wants to see this Boise State team in the Championship and win it with Kellen Moore under center. Nobody deserves it more than him.
He was one missed field goal against Nevada last season from a BCS game. This may be the best Boise State team that we will ever see and in the future, they may not be good enough to reach the big game, given the opportunity.
I'll end this article the same way I started it: do I want Boise State to make it to the National Championship? Of course! Will it happen in the near future? Unfortunately not.
This article is
What is the duplicate article?
Why is this article offensive?
Where is this article plagiarized from?
Why is this article poorly edited?

Boise State Football: Like this team?