BCS Rankings: Projecting BCS Bowl Matchups with First Poll Release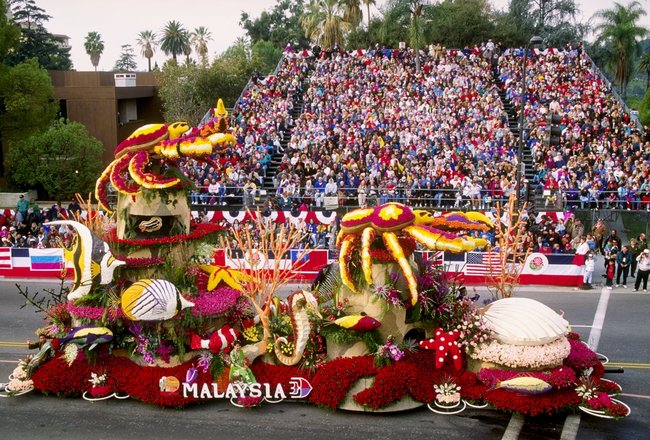 The Rose Bowl will host a surprise or two!
Ken Levine/Getty Images
Through the ghostly webs of Halloween lawn decorations—if you listen close enough—you can hear the patter of reindeer on the roof. With the Bowl Championship Series' first week's standings out, it's never too early to bring out the holly, and oh yeah, some top-five BCS bowl game predictions.
With a half of the regular season of play left, we're placing these tempting BCS visions in your holiday dreams. This look at the nation's top teams could prove to be a handy tool for making those room reservations or better yet, booking the dog sitter.
It's beginning to look at lot like bowl season and it's never too early to open these early presents.
BCS Bowl Matchup: The Rose Bowl, Wisconsin Versus Stanford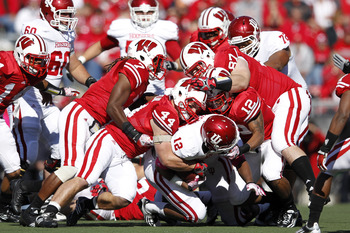 Wisconsin dominated Indiana this weekend
Joe Robbins/Getty Images
America's highest attended BCS bowl game, the Rose Bowl, is slated to hold fast as "the granddaddy of them all" this Jan. 2. With opponents representing the Big Ten and the Pac-12 conference (unless either of those are playing for the national championship), we're predicting that this could be a matchup of two powerhouse teams: Wisconsin and Stanford.
At mid-season, Stanford carries its No. 8 BCS ranking into play after defeating Washington State 44-14 and heads into Washington this Saturday (6-0, 4-0). Meanwhile, the Wisconsin Badgers (No. 6) come off a win over Indiana (59-7) and play a night game Saturday at Michigan State. This (6-0, 2-0) Badger team will liven up the storied Pasadena landscape when its fans flock to see this meeting of their powerful defense against the Cardinals Heisman candidate, quarterback Andrew Luck.
BCS Bowl Matchup: The Allstate Sugar Bowl, LSU Versus Boise State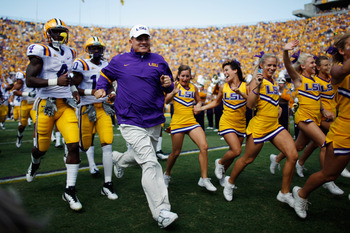 LSU will play to a home crowd in New Orleans
Chris Graythen/Getty Images
The boys from Boise State will go South and head-to-head with the LSU Tigers in New Orleans. The Tigers—beaten by Alabama in a close November matchup—will be playing to a home crowd and once again, will dominant their opponent. On the other hand, Boise is out to prove they can still hang with the SEC, a division they dominated in the early part of the regular season.
The party will start and end for Boise on Jan. 3 at 8 p.m., and Bronco fans will learn the meaning of what it's like to play a strong SEC team ranked at No. 1 for most of the season.
BCS Bowl Matchup: The Tostitos Fiesta Bowl, Oregon Versus Oklahoma State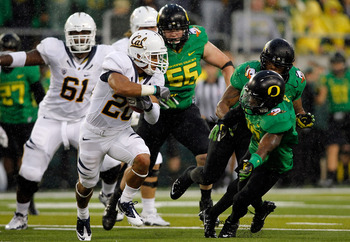 The Oregon Ducks will return to Arizona to face a tough Oklahoma State
Jonathan Ferrey/Getty Images
The Oregon Ducks will make a return appearance to The Tostitos Fiesta Bowl this year. The Ducks, who lost to LSU (40-27) in the season opener, will go undefeated the rest of the season. Oklahoma State (No. 4) will be a difficult team to beat, but the Ducks will be ready. They've already felt the sting of a loss to last year's national champions, the Auburn Tigers.
If Oklahoma State fails to match up to its rival, Oklahoma, look for these two one-loss teams to make a statement here in Glendale.
BCS Bowl Matchup: Discover Orange Bowl, Clemson Versus West Virginia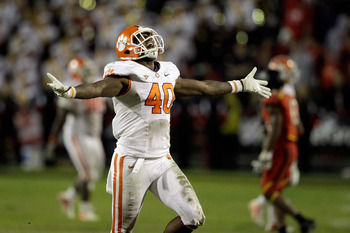 Clemson, ranked No. 7 in this week's BCS poll will feel the sunshine at this year's Orange Bowl in Miami
Rob Carr/Getty Images
Perhaps this year's biggest surprise, the Clemson Tigers will head south to meet the Mountaineers of West Virginia in the Discover Orange Bowl.
Dabo Sweeney's Tigers, are coming off a fresh win over Maryland in a high-scoring thriller (56-45). West Virginia will be the perfect matchup after the Mountaineers lost fighting to a dominant LSU, ranked No. 1 in this week's BCS.
This is a bowl that will bring many fans from both schools to escape the cold winter and head to sunny Florida for some smash-mouth football under the palm trees.
BCS Bowl Matchup: The Allstate National Championship, Alabama Versus Oklahoma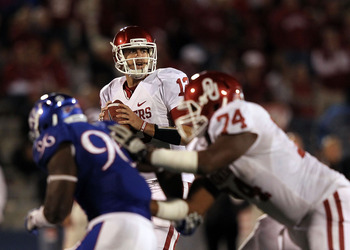 Oklahoma will meet the Alabama Crimson Tide in New Orleans for a national championship showdown
Jamie Squire/Getty Images
The Oklahoma Sooners will carry a perfect season into New Orleans on Jan. 9 and face a tough Alabama team. Quarterback Landry Jones will be up against a wall of Alabama defenders hungry for another Saban-led championship while Bama's A.J. McCarron and Trent Richardson will flaunt their perfected offense.
While Bama is the BCS No. 2 ranked team this week, the Sooners follow at No. 3. Oklahoma may have an uphill battle in Part II of the regular season, playing Texas Tech, Kansas State (No. 11), Texas A&M (No. 17) and Oklahoma State (No. 4). Alabama's toughest opponent left is No. 1, LSU at home on November 5, but this Bama team never takes its Auburn opponent lightly, especially this year where the game is on Auburn's turf.
Keep Reading