College Football Rankings 2011: Predicting Where AP Top 25 Will Finish Season
Auburn and Oregon were the top two teams at the end of the 2010 season.
Kevin C. Cox/Getty Images
With the first BCS rankings being released on Sunday, college football fans finally have the firm grasp on the Top 25 we've all been looking for. Now, we're free to move on to what we all love and enjoy:
Predictions.
Will it be LSU or Alabama out of the SEC?
Who's going to win the Heisman Trophy?
Who's our national champion?
Unfortunately, having all of the top dogs make it through the season without a serious injury or two is unlikely, as this will attest, so you always need to take the standings with a grain of salt.
That understood, today we're going to take a shot at predicting where each team in the current AP Top 25 will finish in the final poll.
25. Arizona State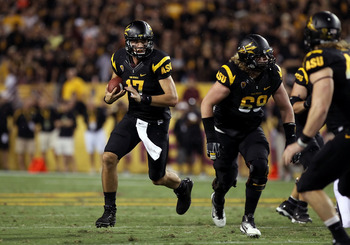 Christian Petersen/Getty Images
Arizona State has a talented team and appears to be just a notch below Oregon and Stanford in the Pac-12.
With no other ranked teams left on the regular season schedule, look for the Sun Devils to possibly go the rest of the way without losing.
FINAL RANK: 16
24. Georgia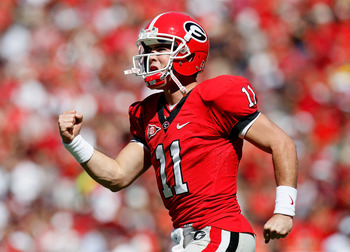 Kevin C. Cox/Getty Images
After opening 0-2, Georgia has won five straight.
If the Bulldogs can get by Florida on Oct. 29 in Jacksonville and Auburn on Nov. 12 in Athens, they should win the SEC East. That would then lead to their second loss this season in Atlanta's Georgia Dome (the first was to Boise State).
FINAL RANK: 17
23. Illinois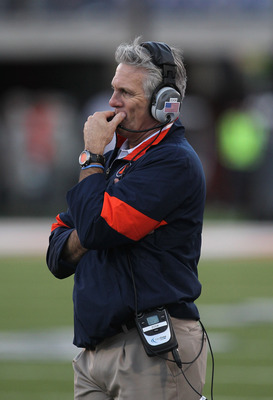 Jonathan Daniel/Getty Images
Illinois was knocked from the ranks of the unbeaten last weekend with a 17-7 home loss to Ohio State.
Next up is a trip to Purdue, which is fighting for a bowl berth. That will be followed up by games with Penn State, Michigan and Wisconsin.
The Illini are improved, but that task may be too difficult.
FINAL RANK: Unranked
22. Washington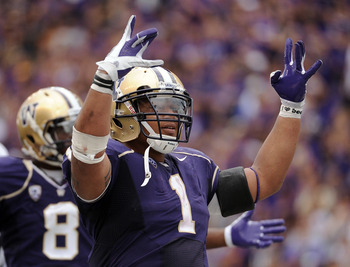 Harry How/Getty Images
Washington has been a pleasant surprise in the first year post-Jake Locker, opening 5-1.
However, reality should set in next weekend when the Huskies travel to Stanford and then two weeks later when Oregon comes calling.
FINAL RANK: 23
21. Houston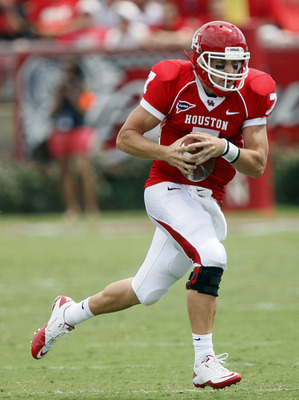 Bob Levey/Getty Images
The prediction here is there will be six unbeatens when the regular season ends. Actually, make that seven.
However, no one is really counting Houston, which will go all year without playing a ranked opponent.
Yeah, the Cougars are fun to watch, and yeah, Case Keenum is one of the best quarterbacks in college football—but you've got to beat somebody to earn respect.
Perhaps a meeting with a mid-level SEC team in a bowl game will show how good these guys are.
FINAL RANK: 13
20. Georgia Tech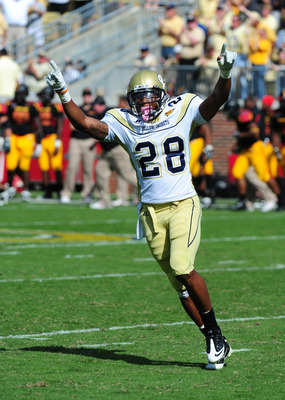 Scott Cunningham/Getty Images
Georgia Tech opened 6-0, but after last weekend's 24-21 loss to underwhelming Virginia, the Yellow Jackets look like a team ready for a tumble.
A good possibility exists GT will lost four of its last five games (at Miami, hosting Clemson, hosting Virginia Tech and hosting surging Georgia) with improved Duke being the only semi-definite win.
FINAL RANK: Unranked
19. Auburn
Streeter Lecka/Getty Images
Auburn won an ugly, ugly, ugly game against Florida last Saturday night, but the key word there is "won."
The Tigers have proven better than many imagined when the season began. However, there look to be three more losses left on the regular season schedule (at LSU on Oct. 22, at Georgia on Nov. 12 and home against Alabama on Nov. 26).
Look for Auburn to win its bowl game to eke back into the final poll.
FINAL RANK: 25
18. Michigan
Leon Halip/Getty Images
It isn't unfathomable to think Michigan will go undefeated the rest of the way in Big Ten play.
However, the Wolverines also could lose three straight times to end the season (at Illinois on Nov. 12, at home against Nebraska and then home versus resurgent Ohio State).
FINAL RANK: 18
17. Texas A&M
Ronald Martinez/Getty Images
Texas A&M is a 30-29 loss to Oklahoma State and a 42-38 loss to Arkansas away from being in or near the Top Five. However, the Aggies couldn't finish either of those home games.
They should lose at Oklahoma on Nov. 5 but could throw a scare into the Sooners.
Texas A&M also probably will handle Kansas State and Texas in other big regular season games the rest of the way.
FINAL RANK: 15
16. Virginia Tech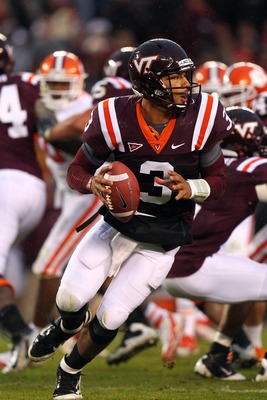 Ned Dishman/Getty Images
Virginia Tech should finish the regular season with just one loss, but that was a biggie—23-3 versus visiting Clemson on Oct. 1.
Back-to-back games late in the year against Georgia Tech and North Carolina could prove troublesome, but VT should get through those with wins.
FINAL RANK: 14
15. Michigan State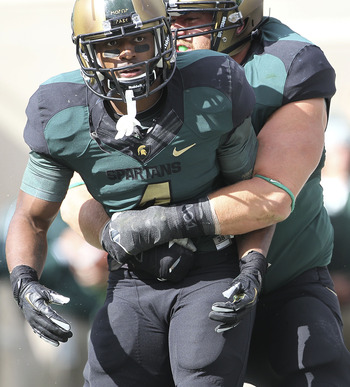 Leon Halip/Getty Images
Michigan State still has a shot to work its way into the Rose Bowl, and the next two weeks will tell a lot about the Spartans.
They host Wisconsin this Saturday and will travel to Nebraska seven days later.
That 31-13 loss to Notre Dame really hurt the nation's perception of MSU.
FINAL RANK: 16
14. South Carolina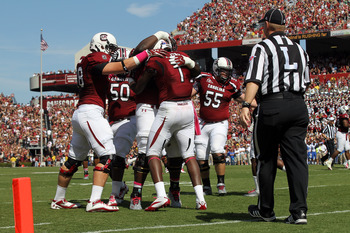 Streeter Lecka/Getty Images
South Carolina just lost star tailback Marcus Lattimore for the season to a knee injury. A few days prior to that, former starting quarterback Stephen Garcia was kicked off the team. That means that in the last two weeks, the Gamecocks have had to revamp their offense.
Still, South Carolina does have talent and already holds a victory against Georgia, which could be its biggest competition in the SEC East.
The Gamecocks still have three games left against probable Top 10 teams in Arkansas, Clemson and the SEC West champion should they reach the SEC title game. Florida also could prove dangerous on Nov. 12.
FINAL RANK: 19
13. Nebraska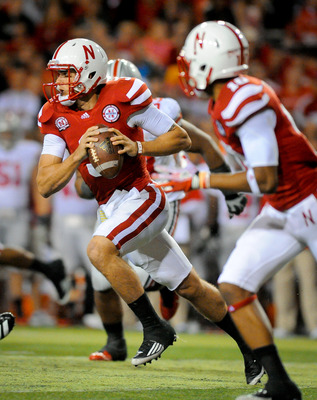 Eric Francis/Getty Images
Nebraska has fallen just once, but that was mighty ugly, as Wisconsin handled the Cornhuskers 48-17 on Oct. 1.
Taylor Martinez and co. have a few tough games left in the regular season, with none more difficult than Michigan State on Oct. 29.
FINAL RANK: 10
12. Kansas State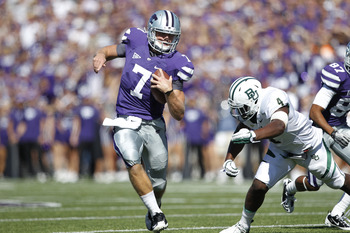 Joe Robbins/Getty Images
Kansas State is undefeated, and the Wildcats have beaten Baylor and won at Miami.
However, they also were only able to slip by Eastern Kentucky 10-7 in Week 1. While KSU is ranked 12th in the latest poll, check back on Nov. 20 after it has completed a four-game run against Oklahoma, Oklahoma State, Texas A&M and Texas.
FINAL RANK: Unranked
11. West Virginia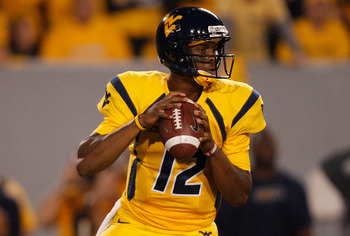 Jared Wickerham/Getty Images
West Virginia should win out. It will be favored—and probably by at least eight points—in every game for the rest of the regular season.
However, the Mountaineers aren't going to be able to shake that 47-21 home loss they took against LSU on Sept. 24.
They will do enough to get to the Orange Bowl, where Clemson (and WVU's second loss) will await.
FINAL RANK: 12
10. Arkansas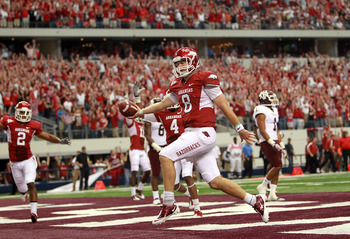 Ronald Martinez/Getty Images
It is tough not to feel for Arkansas.
The Razorbacks are one of three SEC West teams ranked in the Top 10, and because of that, they probably have no shot at playing in a BCS bowl game.
Arkansas, which already has lost 38-14 at Alabama, can throw everything off by winning the regular season finale on Nov. 25 at LSU.
The thought here is that the Hogs are among the nation's 12 best teams. Still, that won't matter in the end.
FINAL RANK: 11
9. Oregon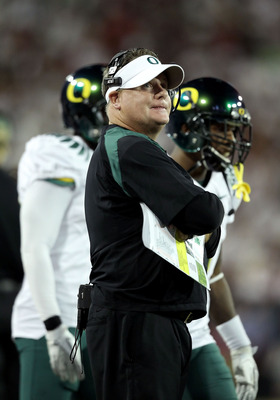 Christian Petersen/Getty Images
Oregon has rebounded nicely from a season-opening loss to LSU and is on a serious collision course with Stanford on Nov. 12.
The Ducks have one of college football's most entertaining offenses, and that unit will get even better if standout tailback LaMichael James is able to return soon from a dislocated elbow.
Look for Oregon to top Oklahoma State in a high-scoring and highly entertaining Tostitos Fiesta Bowl.
FINAL RANK: 7
8. Clemson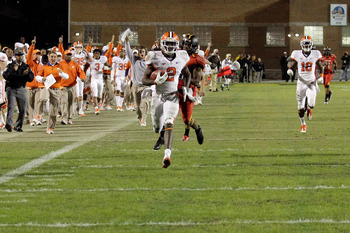 Rob Carr/Getty Images
Clemson is the ultimate victim of preseason rankings because when those came out, the Tigers were nowhere to be found.
Now, they are unbeaten and hold victories against Auburn, Florida State and Virginia Tech. Only two ranked opponents remain on their schedule, but those games are at Georgia Tech and at South Carolina.
Look for the Tigers to make it through the regular season undefeated, giving the country six such teams (Alabama, Oklahoma, Boise State, Wisconsin, Stanford and Clemson) and, more than ever, the need for a playoff.
Look for the Tigers to top West Virginia in the Orange Bowl.
FINAL RANK: 4
7. Stanford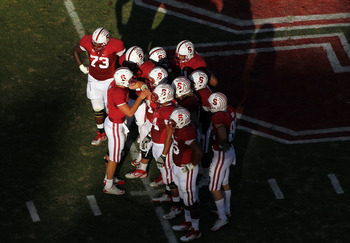 Ezra Shaw/Getty Images
Stanford is led by the best player in college football (quarterback Andrew Luck), and he is protected by perhaps the game's best offensive line.
There are four potential slip-ups remaining in the regular season (Washington, Southern California, Oregon and Notre Dame), and only the USC game is away from home. Still, look for the biggest test to come Nov. 12 against Oregon.
The belief here is the Cardinal will finish the regular season unbeaten and will top undefeated Big Ten champion Wisconsin in the Rose Bowl.
FINAL RANK: 2
6. Oklahoma State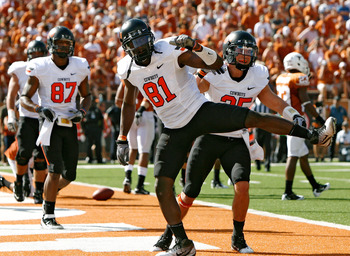 Erich Schlegel/Getty Images
According to ESPN's BCS guru Brad Edwards, Oklahoma State has a great shot of playing its way into the BCS title game if it finishes the regular season unbeaten.
Of course, that means beating visiting Oklahoma on Dec. 3.
One huge potential positive for the Cowboys is that each of their three toughest remaining opponents (Baylor, Kansas State and the Sooners) will be visiting Stillwater.
The thought here is that Oklahoma State gets by the first two, but not the Sooners. Still, that will be enough to get the Cowboys to the Fiesta Bowl and a high-scoring matchup with Oregon.
FINAL RANK: 9
5. Boise State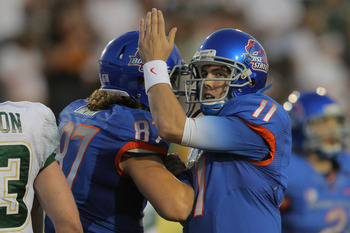 Doug Pensinger/Getty Images
While Wisconsin might not have the scariest of schedules the rest of the way, some of the Badgers' opponents may as well be Hannibal Lecter next to Winnie the Pooh when stacked next to what Boise State has left.
The Broncos have a quality team, and the players on the squad can't help who they play. They can only do their best to make an impression against the opposition.
Of all of the teams out there, Boise State has the best chance at remaining undefeated the rest of the way. A date with Texas Christian on Nov. 12 may be all that stands in the way of regular season perfection.
That may earn the Broncos a date against LSU in the Sugar Bowl, and that most likely will be a task too tall for Boise.
FINAL RANK: 8
4. Wisconsin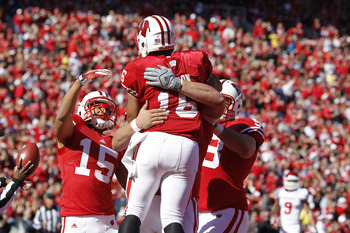 Joe Robbins/Getty Images
So far, Wisconsin may be the most dominant team in the country, statistically at least.
The Badgers have yet to score less than 35 points in a game, have put up at least 48 in five of six contests, haven't allowed more than 17 points to any opponent and are winning games by an average score of 50.2 to 9.7.
Those numbers put Wisconsin first nationally in points per game and third in average points allowed. The Badgers also rank seventh in the country in average rushing yards (257.5) and 31st in average passing yards (265.7).
That said, UW has faced all of one ranked team (Nebraska) and has only two more (Michigan State and Illinois) left on its regular season schedule. That isn't going to win voting points.
Still, look for the Badgers to reach the Rose Bowl, where they will fall to Stanford.
FINAL RANK: 6
3. Oklahoma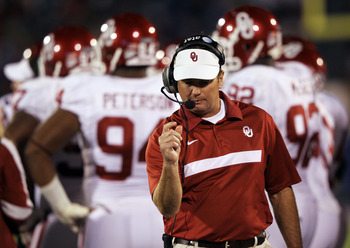 Jamie Squire/Getty Images
Can Oklahoma break the Southeastern Conference's stranglehold on the BCS national championship?
The Sooners look like the best possible bet to snap the SEC's run of five straight titles, but in order to do it, Oklahoma most likely will have to go through powerful LSU or Alabama in addition to quality Big 12 rivals like No. 12 Kansas State and No. 6 Oklahoma State, both still unbeaten. That list doesn't even include potentially scary games against Baylor and Texas A&M.
The belief here is the Sooners make it to the BCS title game unscathed before losing by two touchdowns to Alabama.
FINAL RANK: 5
2. Alabama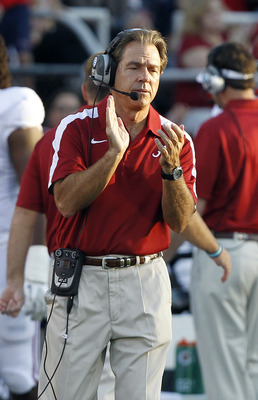 Butch Dill/Getty Images
Alabama controls its own fate.
If the Crimson Tide win out, they win the BCS national championship. At this point, with apologies to Auburn and the SEC East winner, right now it looks like a two-game season: versus visiting LSU on Nov. 5 and the national title tilt.
The belief here is that Alabama takes it all.
FINAL RANK: 1
1. LSU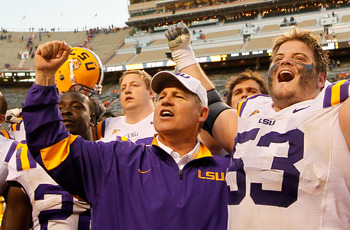 Kevin C. Cox/Getty Images
The Tigers hold the top spot by a mere 41 points over Southeastern Conference rival Alabama, though the margin in first-place votes (41-11) is pretty significant.
The belief here is that LSU is the country's second-best team, a smidge behind the Crimson Tide. Fortunately, that one will be settled in Tuscaloosa on the first Saturday in November.
Look for the Tigers to beat everyone on their schedule, except 'Bama, and expect them to play the Tide closer than Oklahoma does in the BCS title game.
FINAL RANK: 3
Keep Reading