Northwestern's Confused Defense Leads to a Disappointing 41-31 Loss to Iowa
October 16, 2011
Jonathan Daniel/Getty Images
Saturday night at Kinnick stadium, the Iowa Hawkeyes took advantage of a confused Northwestern defense, and handed them their fourth consecutive defeat.
The Dan Persa/Kain Colter-led Wildcats offense gain nearly 500 yards—over 100 more than the Hawkeyes.
Yet their defense, which appears to be under the impression that college football games are only 45 minutes, allowed the Hawkeyes to score 41 points. Well, 34 actually; Persa gave them the other seven.
On Monday, October 10, during his weekly news conference, Northwestern head coach Pat Fitzgerald addressed the failure of the defense to complete games.
"As we talked, we didn't have anyone play consistently for four quarters. Tyler Scott played really well for three-and-a-half quarters, really well, as well as maybe anybody's played this year on defense. But for half a quarter he didn't and that's kind of indicative of the way we're playing right now on defense. We've got to put together a full 60 minutes," Fitzgerald said.
Saturday, not only did the defense not play a full game, but they were confused, and Fitzgerald realized that confusion was disastrous.
"You got guys coming off the field saying I'm playing this concept and I'm playing that concept, so those kind of breakdowns and communications when they have happened, have been disastrous for us this year.
"So it starts with us as coaches. What are we asking them to do? Why are they confused? Why are they on different pages? It's not like Iowa did anything different than they typically do. I think they gave us one little formation variation but we adjusted to it we thought. On the boundary, we didn't do as good of a job as coaches, so that's our responsibility," Fitzgerald said.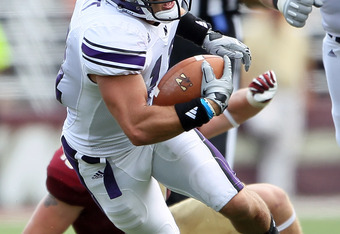 Elsa/Getty Images
The Northwestern offense looked very sharp. Persa completed 31 of his 41 attempts for 246 yards.
Jeremy Ebert appeared unstoppable, catching a career-high 13 passes for 107 yards and one touchdown.
Kain Colter did a little of everything. He led the Wildcats in rushing with 82 yards, caught six passes for another 71, and went 2-of-4 passing with 44 yards.
Redshirt freshman Trevor Siemian finished the game under center and was impressive. He went 4-of-6 for 52 yards and a touchdown.
The road to recovery will not get any easier Saturday. They will host the 6-1 Penn State Nittany Lions at Ryan Field. Kickoff is scheduled for 6:00 p.m. CT.