Auburn Report Card: Grading the Tigers' 17-6 Win over Florida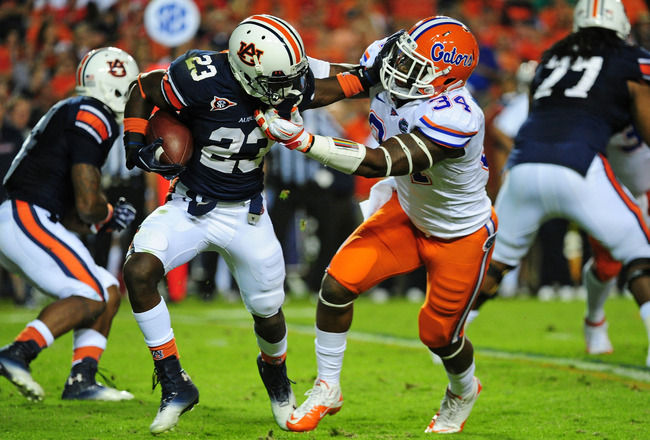 Scott Cunningham/Getty Images
It was a defensive struggle for most of the night—two traditional SEC powerhouses that both desperately needed a win.
At one point late in the third quarter, there were as many punts (13) as there were points.
By the end of three quarters, only one point separated the two teams.
With this modest 17-6 win vs. Florida, the Auburn Tigers improved themselves to 5-2 (3-1 in SEC play) but have a trip to "Death Valley" looming on their schedule next week, where they'll face No 1 LSU.
Nevertheless, Auburn did what it had to do, even though the chances of beating both LSU and Alabama are pretty slim.
So while It's an outside shot, the Tigers still control their own destiny in the SEC.
Here's the grades they received for their 17-6 win against Florida—a victory that keeps them alive (just barely) in the SEC West and the conference championship picture.
Offense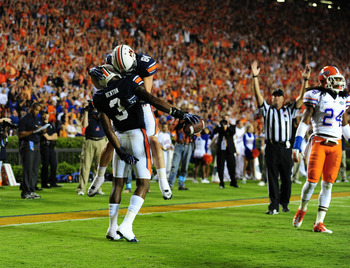 Scott Cunningham/Getty Images
Quarterback Barrett Trotter started the game, but went 2-for-8 for 33 yards–25 of those coming on a touchdown pass to DeAngelo Benton late in the first quarter.
Auburn went to back-up QB Clint Moseley in the second half. Moseley fared better, completing 4 of 7 passes for 90 yards.
In the rushing department, sophomore RB Mike Dyer had 23 attempts for a pedestrian 73 yards. Junior RB Onterio McCalebb added 43 more, including a 14-yard TD run, while freshman wildcat QB Kiehl Frazier chipped in with 41.
Auburn didn't shoot themselves in the foot, like Florida did, and finished the game with zero turnovers.
However, the Tigers third down conversion rate was woeful, converting only one of 13 and forcing them to punt nine times.
Auburn had 278 total yards to Florida's 194. Time of possession was almost equal.
Overall, the Tigers' offensive effort was solid, though not spectacular.
Final Grade: C+
Defense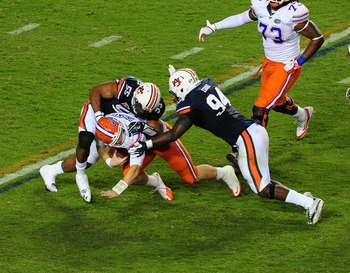 Scott Cunningham/Getty Images
Auburn's defense turned in a solid effort, limiting the Gators to 66 rushing yards and only 128 passing yards, though Florida's final passing total was five yards more than Auburn's.
Florida was without QB's John Brantley and Jeff Demps and used two quarterbacks as well, freshmen Jacoby Brissett and Jeff Driskell. The Tigers went after them with the blitz, and sacked each of them twice.
T'Sharvan Bell picked off Brissett on the Gators' opening drive.
The Tigers D also gave Florida trouble on third downs, holding the Gators to 3-of-13.
It was tough sledding for Florida's Chris Rainey on the ground, as he only could manage 33 yards on 16 carries.
Auburn limited the Gators' scoring to a pair of Caleb Sturgis field goals and kept Florida from converting a fourth down attempt in the fourth quarter at the Tigers' 16-yard line. Florida coach Will Muschamp had decided to go for it because Sturgis had injured his leg.
It was a great effort for an Auburn defense that is ranked near the bottom of the SEC.
Final Grade: A
Special Teams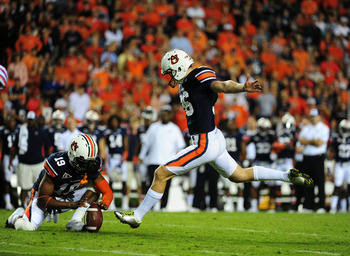 Scott Cunningham/Getty Images
This was where the game was won (or lost, depending on your loyalties).
Chris Rainey had a nightmare of a game fielding punts, as he couldn't find the handle on the ball and lost four yards on three attempts.
Rainey also lost a muffed punt that led to Auburn's first touchdown.
Robert Clark fumbled a punt as well, late in the fourth quarter. The Tigers made sure that Florida paid the price, as Cody Parkey connected on a 42-yard field goal that salted the game away.
Though Parkey was 1-of-3 at field goal attempts, he hit the one that really mattered.
If not for Parkey's two missed FG's, the Tigers would have gotten a perfect grade.
Final Grade: A-
Coaching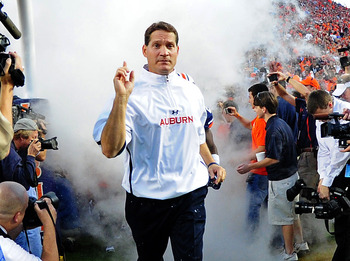 Scott Cunningham/Getty Images
Gene Chizik had to bolster his team's spirits after they were soundly beaten by the Razorbacks, 38-14.
In what amounted to a must-win game, Chizik got his team to respond; a team fairly well depleted compared to last year's Championship squad.
While the results weren't dazzling, the Tigers played well without any turnovers.
The only fly in the ointment was Auburn's seven penalties for 79 yards.
Teams that do not commit many penalties are typically well-coached, so there is some major work to be done.
However, Chizik's ability to keep his team headed in the right direction will be sorely tested (and soon), with the top two teams in the nation still on the schedule.
Final Grade: B
Overall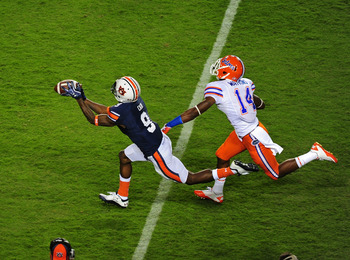 Scott Cunningham/Getty Images
As mentioned earlier, Auburn's biggest challenges still remain in front of them.
However, this 17-6 victory was just what the doctor ordered.
It wasn't flashy or even that exciting, but it showed that Auburn still has potential and can answer the bell after an ugly loss to a conference foe.
If the Tigers can:
Cut down on penalties.
Find consistency at quarterback.
Increase offensive production.
Maintain the quality of the defensive and special teams play exhibited against Florida...
... they can still be a force to be reckoned with in the brutal world of the SEC.
Final Grade: B
Keep Reading

Auburn Football: Like this team?