College Football Recruiting 2012: WR J.J. Robertson Big Pickup for Illinois
October 15, 2011
High school football teams in Northeastern Illinois have grown accustomed to wide receiver J.J. Robertson making big plays.
Robertson has been so effective that Illinois has already snagged him in its 2012 recruiting class.
The 6', 190-pound Lincoln-Way East senior runs a 4.4-second 40-yard dash and has a 37.5 inch vertical jump.
In his junior year, Robertson was converted from running back to receiver. He made coach Ron Zvonar look like a genius as No. 1, with 23 catches for 615 yards and nine touchdowns.
2011 has been even stronger. After missing the season's first two contests, Robertson has 25 receptions for 696 yards and nine touchdowns.
Against Homewood-Flossmoor Sept. 16, Robertson exploded for 230 yards on five catches. Two of those catches were 66 and 67-yard touchdowns, and another was a 50-yard grab. He was named Chicago Tribune Player of the Game for his efforts.
Facing Lincoln-Way Central Oct. 7, the Illini recruit had touchdown catches of 10, 37 and 75 yards. The 75-yard score was on a swing pass by senior quarterback Blake Winkler.
This past Friday, Robertson showed his explosive playmaking abilities against Joliet Central. He made some defenders miss on a 37-yard screen pass, resulting in a touchdown.
"It all started with the offensive line," Robertson said of the screen pass. "Blake got up top just giving me the ball. I got to get yards after the catch and that's what I did."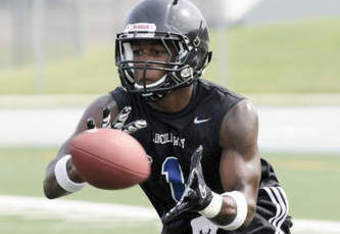 Numerous times in the game, he would streak past the cornerback and would have posted a tally if Winkler had better timing.
Robertson can even return kickoffs. In 2010, he had a touchdown return. Friday almost saw Robertson break another.
He caught a punt at the 20-yard line, made a few tacklers miss, bolted through the wedge and returned the ball to the opponents' 1-yard line for a 79-yard return. The play, though, was wiped away with a blocking penalty.
Before his freshman season with Illinois, Robertson said he will work hard in the offseason with practicing his skills and working out.
He also wants to improve a certain aspect of my game.
"I know I'm kind of relying on my speed right now," Robertson said. "I think my routes and my effort in those routes can be better." 
Bob Bajek is a writing intern at Bleacher Report. He is also a freelance reporter and can be followed at Patch.com and Twitter.  Unless otherwise noted, all quotes were obtained first-hand.