Wisconsin Football: 5 Things We Learned in the Badgers' Win over Indiana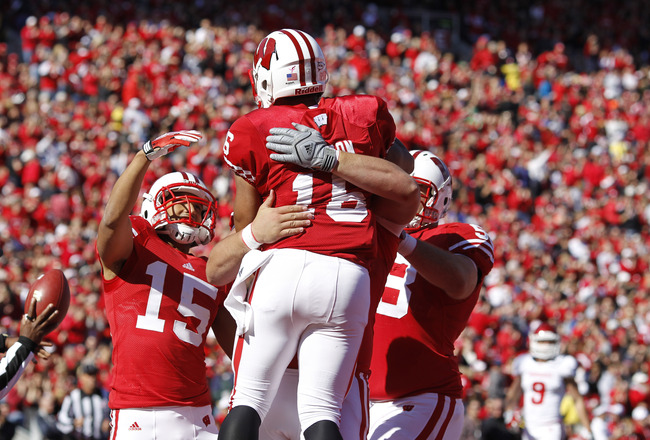 Joe Robbins/Getty Images
Today Wisconsin introduced us to plenty of things that we did know, and some things that we may not have known in their 59-7 routing of the Indiana Hoosiers. This was a game that saw Wisconsin muster over 500 yards of total offense, allow only one touchdown and just exhibit pure domination and control over their opponent. It was almost as if they were simply going through the motions like it was practice. But despite this, there were five obvious things you can take away from this game.
Montee Ball Is the Main Man at RB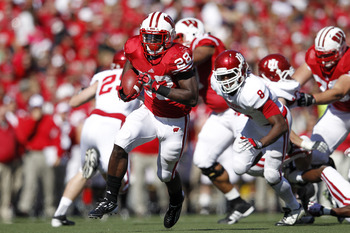 Joe Robbins/Getty Images
Running back Montee Ball carried the team on his back against Indiana, carrying the ball 14 times for 142 yards and three touchdowns, while averaging 10 yards a carry. Ball showed that it is not just Russell Wilson that has made the team better, as he threw for only 166 yards and a touchdown, but also had a receiving touchdown thanks to Ball. Wisconsin has become a multi-dimensional team, far from what people may have thought of them early on in the season as they played against lower level competition.
Russell Wilson Is a Much Needed Element of This Offense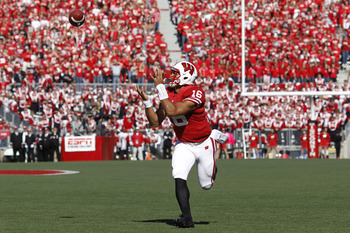 Joe Robbins/Getty Images
Russell Wilson gives the Wisconsin Badgers an added element of surprise with his athleticism, able to beat you with his feet and his arm, as well as the fabulous misdirection play in which he scored a touchdown reception. Wilson's transferring from NC State was perhaps the best thing that could have happened to Wisconsin after losing their starting quarterback from last year. Wilson has the Badgers on the fast track to a BCS bowl bid, and have become serious contenders for the BCS national championship, and continue to be one of many teams that remain undefeated in the Top 25 polls.
They Can Score in More Ways Than One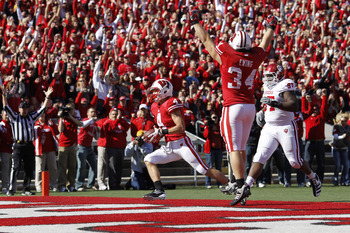 Joe Robbins/Getty Images
Wisconsin asserted their dominance not only through Russell Wilson and Montee Ball, but also through special teams. They showed that they can score here through Wisconsin's own 60-yard punt return by Nortman, who displayed excellent cut and speed through a porous Indiana punt return unit. Wisconsin is starting to open more eyes, and week by week they are becoming more and more dangerous. It is looking less likely they will be knocked off, and they are looking more and more like a real BCS contender.
The Whole Team Is a Big Play Waiting to Happen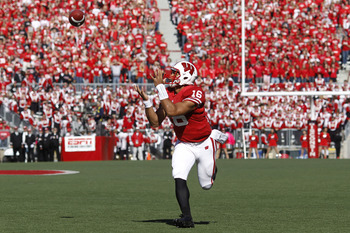 Joe Robbins/Getty Images
Several long runs of 50 yards or more, a touchdown reception by your starting quarterback, coupled with over 300 rushing yards by your starting running back all comes down to one statement: This Wisconsin team is a big play just waiting to happen. Just as they found a myriad of ways to score and run their offense, they did the unexpected and went with their hot hand in running back Montee Ball and continued to run up the score against Indiana, and never let up. It's that kind of mentality that makes them a great team, as well as a dangerous one, heading into the second half of the season.
This Team Is for Real
Joe Robbins/Getty Images
After totaling 524 total yards of offense yet again, dominating the ground game, shutting down the opposing offense thanks to their tough defense and making it hard for opposing defenses to key in on one guy, the Wisconsin Badgers are showing that they are truly the real deal. They confirmed it in their blowout victory over Nebraska the week before and today, as they clearly had reason to worry against Indiana. Going forward, they will look to go further than the Rose Bowl, and neither Andy Dalton nor the TCU Horned Frogs will be there to spoil their BCS bowl bid that looks certain to come.
Keep Reading

Wisconsin Badgers Football: Like this team?