College Football Rankings 2011: Predicting Next Week's Top 25
October 16, 2011
Kevin C. Cox/Getty Images
As conference play heats up, there were several intriguing games Saturday which not only helped shape up the conference standings, but should shake up the AP Top 25 rankings a bit..
Three unbeaten teams lost for the first time this season, and while no Top 10 team was defeated, six teams ranked 11th or lower were beaten.
No 1. LSU trounced the Tennessee Vols, 38-7, in Knoxville to stay perfect at 7-0, while No. 2 Alabama ran roughshod over the Ole Miss Rebels, 52-7.
No. 3 Oklahoma predictably cooked the horrid Jayhawks by the score of 47-17.
Wisconsin (6-0) should stay put at No. 4 as they crushed another cupcake at home. This week, the Badgers steamrolled 1-5 Indiana, 59-7. The Hoosiers are now 0-3 in Big Ten play.
The Badgers have been impressive but have faced five cupcakes and an overrated Nebraska squad. Five of the wins have been at home with the exception of a 49-7 dismantling of Northern Illinois at a neutral site. 
Wisconsin needs a road win against a ranked opponent (which could be as soon as next week when they travel to East Lansing to play Michigan State) or need a team in front of them to stumble (which is guaranteed to happen when LSU and Alabama face each other on Nov. 5th) before moving up in the polls.
Boise State predictably beat a lesser opponent, destroying Colorado State, 63-13, but strength of schedule hurts them here.
No. 7 Stanford stayed perfect with a 44-14 drubbing of Washington State. Also in Pac-12 action, ninth-ranked Oregon scorched No. 18 Arizona State, 41-27.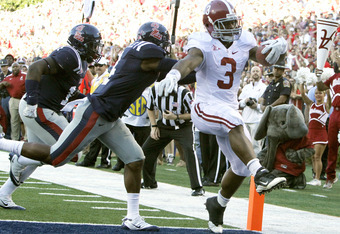 Butch Dill/Getty Images
Two Big Ten teams suffered their first loss today; No. 11 Michigan fell on the road to No. 23 Michigan State, and No. 16 Illinois lost at home to unranked Ohio State.
Undefeated and 12th-ranked Georgia Tech also tasted defeat for the first time after unranked Virginia upended them 24-21, despite the Yellow Jackets holding the Cavaliers scoreless in the second half. 
Also in the ACC, No. 8 Clemson fell behind Maryland and was nearly upset but came back to win a scoring bonanza, 56-45, while No. 19 Virginia Tech took care of business with a 38-17 win over Wake Forest.
In Big 12 play, it was a game of firsts between No. 6 Oklahoma State and No. 22 Texas. The Cowboys' 38-26 win marked the first time Oklahoma State started the season 6-0 in consecutive years. It also was the first time that the Cowboys defeated Texas in back-to-back games.
Meanwhile, it is the only time Mack Brown has lost the game following the Red River Rivalry and the Brown's first defeat despite his team gaining 200 or more rushing yards.
Seventeenth-ranked Kansas State went into Lubbock to face the Red Raiders and held on for a win by a touchdown while No. 21 Texas A&M hung over half-a-hundred on the 20th-ranked Baylor Bears in College Station and won 55-28.
In the SEC, last year's national champions, Auburn, waged a defensive battle against Florida and won 17-6.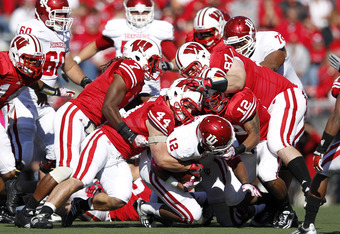 Joe Robbins/Getty Images
No. 10 Arkansas, No. 13 West Virginia, No. 14 Nebraska and No. 25 Houston were idle.
So, after the day's frantic action, here's the prediction of next week's Top 25: 
LSU (7-0)
Alabama (7-0)
Oklahoma (6-0)
Wisconsin (6-0) 
Oklahoma State (6-0)
Boise State (6-0)
Stanford (6-0)
Clemson (7-0)
Oregon (5-1)
Arkansas (5-1)
West Virginia (5-1)
Nebraska (5-1)
Michigan State (5-1)
Kansas State (6-0)
South Carolina (6-1)
Virginia Tech (6-1) 
Michigan (6-1)
Georgia Tech (6-1)
Illinois (6-1)
Texas A&M (4-2)
Auburn (5-2)
Washington (5-1)
Arizona State (5-2)
Houston (6-0)
Notre Dame (4-2)
Dropped from rankings: No 20, Baylor No. 22 Texas