Michigan Football: Wolverines Fall to Michigan State, What Does It Mean?
October 15, 2011
Leon Halip/Getty Images
No. 23 Michigan State continued its recent dominance over rival Michigan today, knocking off the No. 11 Wolverines 28-14 in East Lansing. The previously overpowering Michigan offense proved no match for the mighty Spartans' D, totaling a mere 250 yards from scrimmage on the day.
What Happened?
The biggest roadblock for the Wolverines was an unfortunately familiar one: The health of do-it-all QB Denard Robinson. Robinson appeared to have injured both his throwing hand and torso over the course of the game, though no specifics on the injuries are available at this time.
With Robinson in and out of the lineup, backup Devin Gardner was left to lead the final, desperation drive for the Wolverines. His attempt at a Robinson-esque scramble on fourth-and-22 came to naught, and Michigan State was able to run out the last three minutes and change.
Who's The Goat?
 When he played, Robinson was alternately the hero and the goat, throwing a 34-yard TD to Roy Roundtree to cut the margin to seven points in the mid-fourth quarter, but then serving up a pick-six to the Spartans' Isaiah Lewis that closed the door on the Wolverines.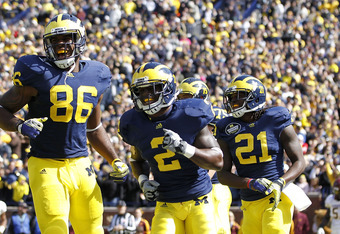 Leon Halip/Getty Images
How Far Will They Fall?
 Michigan won't suffer too much in the rankings—probably falling five to 10 spots—considering that they were on the road against a Top 25 foe. The Spartans, of course, will gain considerably after taking down a team ranked 12 spots higher than themselves.
Conference Implications
 The win puts Michigan State in the driver's seat to take home the Big Ten Legends division title, presuming they can win in Nebraska on October 29.
The Spartans will also need all the momentum they can get heading into next week's epic meeting with No. 4 Wisconsin. In a potential Big Ten title game preview, the Spartans will have a fighting chance playing in East Lansing, but will still need more than a little luck to slow down the offensive juggernaut that the Badgers have become.
Next Game
 The Wolverines will have two weeks to stew over the loss, as they're off next Saturday. Of course, that gives Robinson extra time to recuperate before he takes out his frustration on a middling Purdue team in Ann Arbor on October 29.
Can Michigan Rebound In The Polls?
Whatever damage today's loss will do to the Wolverines in the polls, they'll have plenty of chances to recover with No. 16 Illinois (on the road) and No. 14 Nebraska still looming on their schedule. Both are winnable games if Robinson is healthy, and sweeping those two would certainly put Michigan back in the Top 15 (probably even Top 10).