Ohio State vs. Illinois: Ron Zook and 4 Other Coach of the Year Candidates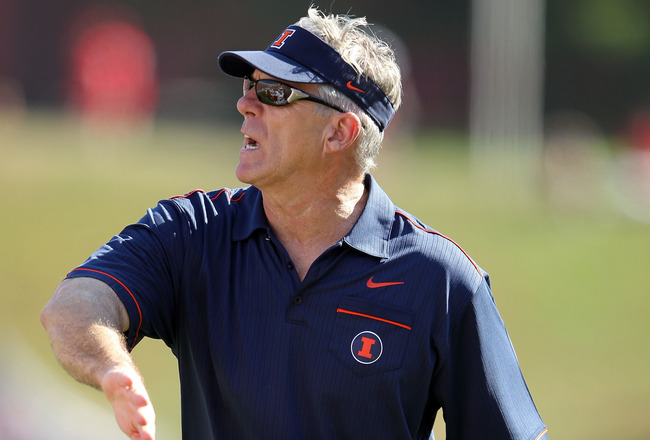 Andy Lyons/Getty Images
As the Illinois Fighting Ilini square off against the Ohio State Buckeyes, it's interesting to note the kind of turnaround both teams have had.
Ohio State, who won the Rose Bowl last year, had that win vacated, lost head coach Jim Tressel due to off-field allegations, along with starting quarterback Terelle Pryor, and have since struggled on offense and defense.
Illinois, however, is a different story.
In a make or break year for Ron Zook, he has turned Illinois around with a 6-0 record. They have become a much improved offense, a better defense, and are sitting with Michigan at the top of the Big Ten.
It's because of this drastic turnaround that Zook is a prime candidate for the Coach of the Year Award.
But Zook isn't the only one who has managed to put his team at such a high competitive level this season. There are plenty others worth consideration for this award midway through the season.
Brady Hoke: Michigan Wolverines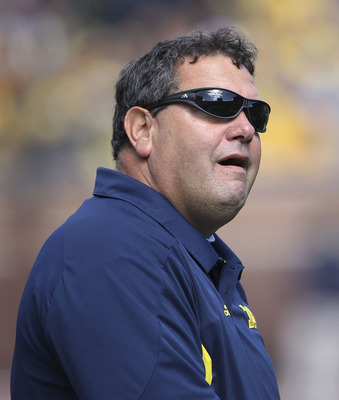 Leon Halip/Getty Images
For a first year head coach in a Big Ten program, Brady Hoke has certainly exceeded expectations. Halfway through the season, the Michigan Wolverines are comfortably at 6-0, and they aren't taking their foot off the gas pedal.
Hoke has made the defense a little better, but the highlight of his first year campaign has been his quarterback, Denard Robinson. He is a big play waiting to happen and has run wild in Michigan's spread offense.
Hoke appears to have this team under his wing, and they are a dominant force in the Big Ten next to Illinois.
Dabo Swinney: Clemson Tigers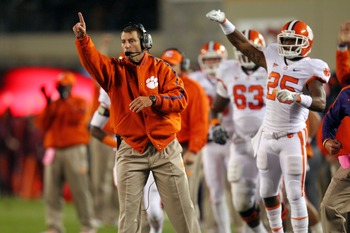 Ned Dishman/Getty Images
Recently a young coach on the hot seat, Dabo Swinney's praises are now being sung. His decisions and improved coaching abilities have the Tigers sitting atop the ACC at 6-0 after going 6-7 in 2010.
That was their first losing season in over a decade, but it is clearly behind them now.
Dabo Swinney, in his third year, is beginning to settle into his role as the head coach. He lets his staff coach, but he also inserts his influence and makes it known he is the head of it all.
But his ability to recruit high-caliber talent on a consistent basis has set him apart from many coaches in the ACC and has put him in a good position for Coach of the Year.
Especially with the Tigers sitting at No. 8 in the current rankings.
His hiring of offense coordinator Chad Morris was easily the biggest of his three-year tenure as head coach, and Clemson looks to be more set heading into the future with Swinney as the head coach.
Paul Johnson: Georgia Tech Yellow Jackets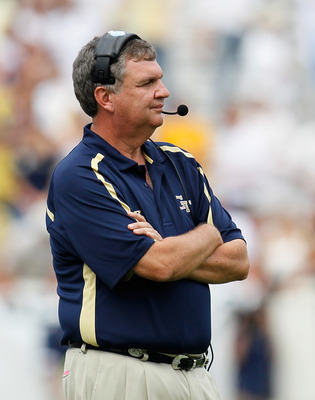 Kevin C. Cox/Getty Images
Georgia Tech took the ACC by storm with the option offense several seasons ago, and now no one looks forward to playing against it.
After a less-than-stellar performance last year, head coach Paul Johnson has worked his magic once again to put Georgia Tech back on top of the ACC Coastal Division.
The Yellow Jackets have one of the best rushing offenses in the nation, lead the ACC in scoring offense, and have their biggest threats on the ground instead of the air.
It really says something about their running game. They rushed for almost 500 yards against Kansas this season and are rolling right through the ACC.
Johnson warrants plenty of merit as a Coach of the Year candidate for keeping the option offense alive and well during an era of spread offenses and passing attacks.
Mike Gundy: Oklahoma State Cowboys
Brett Deering/Getty Images
In college football today, spread offenses are the main threat against defenses. The scheme forces more plays out of defensive backs, and less linebackers are being seen because of mismatches against multiple wide receiver sets.
Oklahoma State head coach Mike Gundy is perfect at implementing the Cowboys' explosive spread offense, which is why the Cowboys are 6-0. Gundy has the perfect opportunity to finally sit on top of the Big 12, and his offense never goes easy on anyone.
He isn't afraid to throw the ball in any situation, and with players like quarterback Branden Weeden and receiver Justin Blackmon, this is a very dangerous offense.
Gundy warrants plenty of consideration, as his team appears to be the most capable of knocking the Oklahoma Sooners off of their pedestal. Fans on both sides know the rivalry this year holds national championship implications.
Gundy has consistently had great offenses, and this year's offense has great chemistry.
As a result, Gundy should be a candidate for Coach of the Year.
Keep Reading