Oregon vs Arizona State: Why the Ducks Will Survive LaMichael James' Injury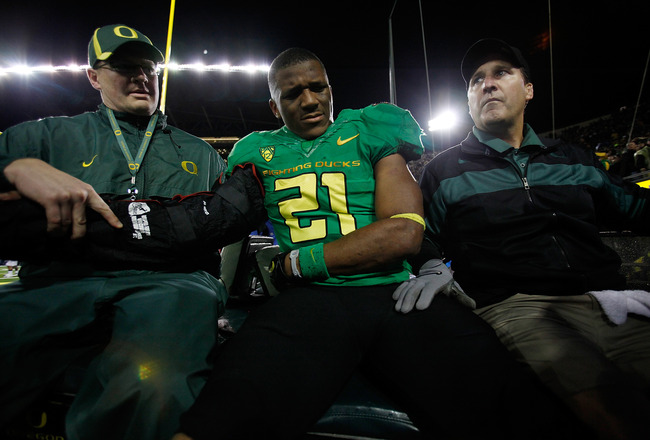 Jonathan Ferrey/Getty Images
LaMichael James was just finishing his third consecutive game of rushing for over 200 yards when, for one of the only times this year, he fumbled the ball close to the goal line and went down.
Though many thought nothing of it at first, LaMichael did not get up from the ground and instead remained there writhing in pain.
Upon replay, it was clear to see that LaMichael had injured his arm fairly severely and was carted off the field. After the game, however, James shrugged it off as a dislocation and said that he would be doing everything to get back onto the field of play.
After all tests came back negative, many believed James would play, but then word broke out from Darron Thomas (the Oregon QB) that the Ducks were preparing to play without LaMichael James.
Despite the signs that James could return, LaMichael has all but been ruled out for the big matchup this weekend against the Arizona State Sun Devils at Autzen Stadium.
When you look at LaMichael James and the kind of player he is, there is no doubt that you cannot truly replace a player of that caliber without taking a hit on your offense. The Ducks, however, will be able to absorb this blow because of both the system they run and the players that they have waiting in line behind James.
While losing a Heisman-potential running back is never easy, the Ducks will be able to survive without James for several key reasons.
Autzen Stadium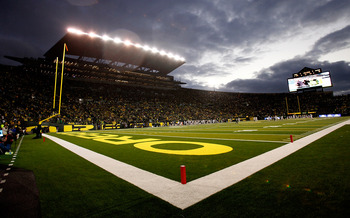 Jonathan Ferrey/Getty Images
Heralded as one of the top places to play in college football, Autzen Stadium is no easy place for any team to play in, let alone in primetime on ESPN with 60,000 fans just waiting to erupt when the Ducks take the field.
And on Saturday night, the Arizona State Sun Devils will have to navigate Autzen and the decibels that will rain down upon them as they try to pull of what would be a huge upset in the college football season.
Though road games at Illinois (which they lost 17-14) and Utah (where they won 35-14) may have eased some of the road-nerves that Arizona State would be facing, those two venues are no Autzen Stadium.
During the Chip Kelly head-coach era (starting in 2009), Oregon has not lost a single game at Autzen Stadium, boasting a 16-0 record, and in Kelly's entire career at Oregon (including being an offensive-coordinator), the Ducks are 26-3 at Autzen Stadium, with their last loss coming to Boise State in 2008.
Even more impressive is Oregon's record at Autzen against PAC 10/12 opponents, where they have won their past 14 conference games at Autzen Stadium, with their last loss coming to Oregon State in overtime in the 2007 Civil War.
Though LaMichael James is out, Autzen Stadium will still provide a rough atmosphere for the Sun Devils to play in, and being a primetime matchup on ESPN, expect the Ducks' fans to bring the noise down upon the Sun Devils and make communication very hard for the Sun Devils offense.
Darron Thomas Limiting Mistakes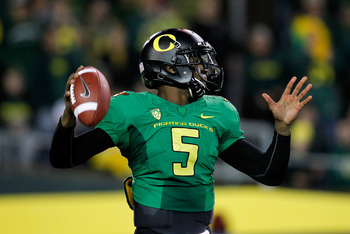 Jonathan Ferrey/Getty Images
While most of the attention on the Oregon Duck offense goes to LaMichael James, Darron Thomas deserves to be credited with a lot of the Ducks' production this year as well.
After a 2010 campaign where he led the Ducks to a National Championship in his first year as starting Quarterback, Darron Thomas has continued to impress and lead the Ducks down the field to the tune of 50.2 points per game.
Thomas has completed 79 of his 133 passes (59.4 percent) for 1,040 yards while also throwing 15 touchdowns to only two interceptions.
Throughout most of the season, Thomas has remained calm and collected behind a young offensive line and has been able to bring the Ducks' offense back up to speed after a disappointing loss to the top-ranked LSU Tigers.
Thomas has also rushed 18 times for 100 yards, a 5.6 yard per carry average and has also scored two touchdowns. Though he does consider himself a pass-first quarterback, never forget that Thomas is a dual-threat quarterback that has the ability to stretch the play by moving outside of the pocket, and when he gets the chance, he will run the ball.
In fact, in one of the Ducks' biggest games last season against the Stanford Cardinal, Thomas ran for 117 yards on 15 carries and was able to lead the Ducks back from a 21-3 deficit to a victory over then No. 9 Stanford.
With the ability to be an accurate quarterback who is improving his play every game as well as being a threat to run the ball when the chance is there, Thomas will give the Ducks some needed support in the absence of LaMichael James.
DeAnthony Thomas Becoming a Superstar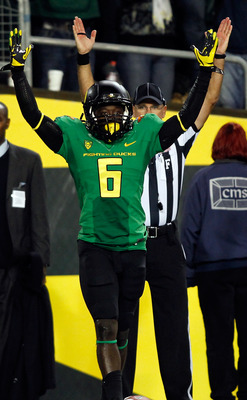 Jonathan Ferrey/Getty Images
Arguably one of the best freshmen in the nation this season, DeAnthony Thomas (AKA the Black Mamba as termed by Snoop Dogg) has become one of the most important weapons in the Oregon Duck game plan.
Although he had a rough start against LSU, where he fumbled the ball twice on kick returns, DeAnthony has become one of the biggest playmakers in the nation and one of the more important aspects of a dangerous Oregon Duck offense.
Originally committed to USC, DeAnthony switched to the Oregon Ducks at the last minute because he believed he would shine in the Oregon system, and he has done just that.
Primarily used as a receiver to this point, DeAnthony is the Ducks' leading receiver with 17 receptions for 286 yards and four TDs.
With LaMichael James out, expect DeAnthony to also share some time in the backfield with Kenjon Barner, and despite limited time rushing the ball, Thomas has still thoroughly impressed in doing this as well. In fact, DeAnthony is second on the team in rushing with 25 carries for 191 yard (7.6 average) with two touchdowns.
Expect DeAnthony to garner a lot of attention from the Sun Devils defense and to get a lot of touches on the football this weekend, which will open up the Oregon offense and keep the Ducks at the same offensive pace that they have been on throughout the entire season.
The Kenjon Barner Factor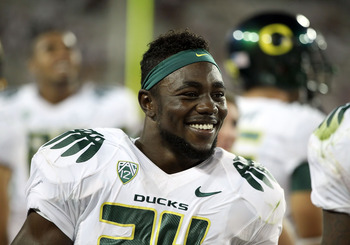 Christian Petersen/Getty Images
In the 2010 season, the Ducks had what was considered the most dangerous backfield in the nation, and that was because of LaMichael James and Kenjon Barner. Though James carried most of the load for the Ducks, Kenjon Barner is a big offensive weapon that is ready to burst back into the national spotlight.
Though his production has been off from his outstanding 2010 season, Barner is geared up for a big game against the Sun Devils where he will be replacing the talents of his best friend LaMichael James.
Thus far this year, Barner has carried the ball 27 times for 167 yards (6.2 average) and three TDs, including a 68-yard touchdown run against Cal which turned the tides in a surprisingly close game at Autzen Stadium last week.
If you are still questioning the production of Barner, if you look at his stats from the 2010 season (91 carries, 551 yards, six TDs), you can see that even though he missed 2 games after a concussion, Barner was still a very impressive player.
Kenjon may just be a step behind LaMichael, and with his best friend out due to injury, expect Kenjon to have a huge game and allow the Oregon offense to not skip a beat.
Oregons Defense Finding Its Identity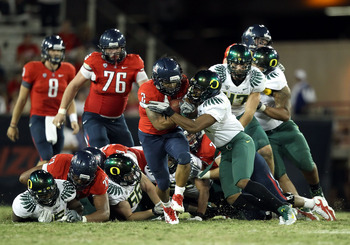 Christian Petersen/Getty Images
After losing key playmakers on their defense to the NFL and graduation, there were many questions heading into the 2011 season about the Ducks' defense, but those questions are now being answered as the Ducks seem to be finally finding a defensive identity.
Oregon is currently allowing 22.6 points per game, which is 45th in the nation, but with the rate that the Ducks score points, this is almost acceptable.
The Ducks are currently coming off one of their most impressive defensive performances as they limited Cal to only 15 points, including shutting out the Bears in the second half of the game.
Though there may not be any superstars on the Oregon defense, the rate at which the defense plays as well as the speed they have on defense allows them to instill the "bend but don't break" kind of defense that is always ready to create an explosive play that will hand the ball back to their dangerous offense.
Adding to this defensive prowess is the return of CB Cliff Harris. After being suspended and not seeing much game time for the first five games of the season, it seems as though Chip Kelly is almost ready to let Cliff Harris loose again, and perhaps will let him see the most game time he has this season against a dangerous Arizona State passing attack.
If Cliff is allowed to play, expect him to shine in what should be considered his 2011 debut, although he still leads the Ducks' defense in pass breakups while being listed as thirrd on the depth chart.
Also aiding this defense will be the home-field advantage of Autzen Stadium that will allow the Ducks' defense to gain a step or two on the Arizona State offense.
Keep Reading

Oregon Ducks Football: Like this team?