Boise State Football: Why Are the Wisconsin Badgers Ranked Ahead of the Broncos?
October 14, 2011
Otto Kitsinger III/Getty Images
The Wisconsin Badgers are ranked ahead of the Boise State Broncos in both the AP and USA Today polls for no other reason than that they are a member of the Big Ten conference.  There is no legitimate explanation for their respective rankings other than BCS favoritism and a system intentionally built to protect the precious six AQ conferences and their financial war chests.  The obvious bias of voters that favors AQ conferences is staggering and has such an influence on college football rankings that it should fall under the RICO Act.
The definition of the RICO Act sounds just like the definition of the BCS to me.
Federal and state racketeering, profiteering, and RICO (Racketeer-Influenced and Corrupt Organization) laws make it illegal for criminal organizations to profit from any legitimate business operations.
With the basic understanding that to racketeer (strong-arm) and/or influence any legitimate business (college football) for personal profit is to be considered an illegal act under RICO, I'm not sure how the BCS doesn't qualify for federal prosecution under the statute.
Looking at the case of the rankings of Boise State versus Wisconsin, let's take as objective of an analysis as possible of the two teams and their records and performance to this point in the season.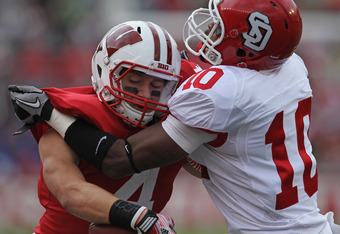 Jonathan Daniel/Getty Images
Wisconsin 5-0*            *one win over an FCS team
Boise State 5-0
Wisconsin wins over top 20 ranked opponents: one
Boise State wins over top 20 ranked opponents: one
Record of opponents:
Wisconsin: 10-12*        *FCS records not included
Boise State:13-15
In the opponents' record category, the numbers only slightly favor Boise State until you take a deeper look at the opponents who were defeated as well as their respective losses that came to highly ranked opponents.
Wisconsin has one win over a ranked opponent in Nebraska and Nebraska has received its ranking without playing any other ranked opponents and without truly dominating any FBS opponents thus far this season.  Of the other teams that Wisconsin has defeated this year, only one of those teams has a loss to a ranked opponent.  Oregon State lost to No. 25 Arizona State.  This can be extrapolated to mean that not only do the teams Wisconsin has played have bad records, but they additionally have bad records against other bad teams. Double negative.
Boise State also has only one win over a ranked opponent in Georgia.  Georgia has one other loss to No. 12 South Carolina by three points.  Although the win percentage of opponents only slightly favors Boise State, the quality of those opponents as well as a deeper look into the quality of the teams that those opponents actually lost to tells a different story.  The difference in opponents' records is dramatically different when one takes a closer look at the loss column of the teams that Boise State has defeated. 
Of the two losses Georgia has, both of them came at the hands of top 15 teams (Boise State and South Carolina).  Toledo has a total of three losses, however two of those losses were to teams ranked in the top 15 and the loss at Syracuse came in overtime on a botched call (close loss to Ohio St. in Columbus and the loss to BSU) .  Tulsa has three losses and all three of those losses came at the hands of top 10 teams (Oklahoma, Oklahoma State and Boise State).  Nevada also has three losses and two of those three losses were to teams ranked in the top 15 (Oregon and Boise State).  The last victim of Boise State was Fresno State who doesn't look great on paper with a 2-4 record, though two of the Bulldogs' losses came against top 10 teams in Nebraska and Boise State.
The strength of schedule of Boise State and Wisconsin thus far may look to be about equal based on the win/loss record of those opponents; however, as the statistics above clearly show, the competition faced by Boise State has been markedly tougher than those teams faced by Wisconsin. 
When looking at the competition faced thus far by both Wisconsin and Boise State it would be unexplainable for anyone to reason Wisconsin has faced a tougher strength of schedule than Boise State.  Simply look at the records of the opposition and then look further into the reason for the records of those opponents.
The best argument that Wisconsin has is that it beat Nebraska convincingly and the Huskers are currently ranked higher than Georgia, though despite the rankings of Nebraska and Georgia, I think if the two teams met on a neutral field today, most college football experts would pick that game as a toss-up or slightly favor Georgia.
If both teams have the same record (some may say that Wisconsin is only 4-0 due to an FCS win), and one has faced stronger competition and both teams have had similar results against their competition, wouldn't it be logical that the team facing the stronger competition be ranked higher?
Well, logic doesn't seem to fit well with human voters when they are comparing AQ teams against non-AQ teams.  I look forward to the BCS computer rankings that will show (based solely on logic) that Boise State should be ranked ahead of Wisconsin based on its performance against its respective competition thus far.