USC Football: 5 Things We Learned from Trojans Win over California Golden Bears
October 14, 2011
Ezra Shaw/Getty Images
The USC Trojans (5-1) were three-point favorites over the California Golden Bears (3-3) at AT&T Park, but aggressive defense forced five turnovers and a 30-9 victory.
This was a costly victory because starters RB Marc Tyler (dislocated shoulder), WR Marqise Lee (sprained AC joint in shoulder), who had four receptions for 81 yards and one TD, and CB Anthony Brown (broken ankle) were injured and never returned. Safety Demetrius Wright said he bruised his leg and was on crutches after the game.
After allowing 84 points and 946 yards the previous two games, raising criticism of Monte Kiffin's defensive schemes, the Trojans kept Cal off the scoreboard until late in the third quarter and limited the Bears to 329 total yards and only 35 rushing.
What are the five things the Trojans learned?
1. The decision-making of QB Matt Barkley (19-of-35 for 195 yards and two TDs) has improved significantly and offset a night where many of his passes were a little off the mark. USC continued to struggle on third downs, making only 6-of-15. Prior to this game the Trojans had made 49 percent of third downs.
2. Trick plays like the fake field goal that resulted in a fumble early in a game aren't worth the risk. However, special teams coach John Baxter has done an excellent job with the USC special teams, so an occasional misfire is tolerable as long as it doesn't cost a game.
3. USC's inexperienced offensive line improved run blocking slightly, and RB Curtis McNeal (17 carries for 86 yards and one TD) showed he can run against a good defensive line.
4. The Trojans offense continues to struggle in the red zone. USC scored 20 points on five opportunities in the red zone with two field goals, two TDs and one lost fumble. Prior to this game, USC had scored 75 percent of the time in the red zone and only 55 percent TDs, ranking 92nd nationally and 10th in the conference, and this didn't get any better.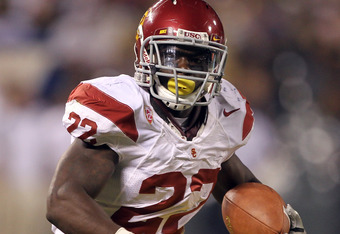 Ezra Shaw/Getty Images
5. Aggressive defense increases the likelihood of turnovers, as USC equaled the five turnovers from its first five games. MLB Chris Galippo had one INT and one fumble recovery, and RS freshman LB Dion Bailey had two INTs to thwart the Cal offense. Cal had only turned the ball over four times in its first five games.
Freshman George Farmer made his debut as a running back and had two very good plays. One was a tackle inside the 10-yard line on a kickoff, and the other was a swing pass for 14 yards that was one diving tackle from going all the way for a long score. However, he looked like a freshman who hadn't played much RB, fumbling one handoff and looking tentative on his four runs.
Freshman Andre Heidari continued his outstanding kicking with 3-of-3 field goals and all extra points. He is 10-of-11 for field goals and perfect in extra points for the season. OT Matt Kalil blocked his fourth kick of the season. Punter Kyle Negrete had a good game with five punts, averaging 42 yards and one downed on the Cal 3-yard line.
Here are grades from ESPNLA's Pedro Moura.
The Trojans play the much-improved Notre Dame Fighting Irish (4-2) on October 22 in South Bend. The Irish will have two weeks to prepare, and USC may be even more short-handed if Tyler, Lee and Brown cannot play.