BYU to the Big 12: Why the Cougars Were "Leapfrogged"
October 14, 2011
Tom Pennington/Getty Images
With the large amount of dollars networks invest in college sports nowadays, there are without question going to be consequences with media rights and league alignment.
Last week, many were flabbergasted with the decision by the Big 12 to move forward with an invitation to Texas Christian University, ahead of long thought to be the favorite Brigham Young University.
BYU administrators felt broadsided by the move, but for the record did not turn down a Big 12 invitation, merely filing an application at the urging of the Big 12 directors to join the league during the final week of September.
One of the longstanding rules that have been associated over the years with BYU has been its policy prohibiting participation in Sunday athletic events. 
In 1959, BYU shocked the NCAA by declining an invitation to the College Baseball World Series in Omaha. As a result, the NCAA moved to prohibit Sunday championship events in the future.  As much as anything, this is why the NCAA basketball tournament finale is played as a Monday night event.
As more stories come to light on what happened last week with BYU, Salt Lake Tribune Sports writer Jay Drew and Tulsa World Sports writer Dave Sittler have made it known that LDS Church rules first and foremost made the Big 12 media partners balk at the idea of inviting BYU.
While ESPN has long known and dealt accordingly with BYU, FOX TV Sports presents some additional issues since, more recently, they signed a substantial billion-dollar second-tier cable TV rights deal with the Big 12.
Most notably, "the media partners" didn't like the idea of not being able to have the Big 12 basketball tournament championship game on Sunday in the future, despite the event not being played on that day since 2008.
While the Big 12 directors have been for the most part VERY supportive of BYU in its strict "no Sunday play" rule, ultimately the media deal negotiated by former commissioner Dan Beebe that was thought to stabilize the league last spring proved costly to its first-choice expansion candidate.
How will this bode in the future for BYU potentially getting into the league? This remains to be seen, but nonetheless makes BYU fans even more defiant about their religious values and beliefs.
Particularly with a forthcoming U.S. presidential campaign with two Latter-day Saint candidates being questioned about their religious beliefs by diehard Evangelical Protestant Ministers.
According to Big 12 interim commissioner Chuck Neinas, the league will move forward as a 10-institution league for the 2012-13 academic year, yet many speculate there will be a movement back to 12 as the league nears the point where it will have to renegotiate first-tier rights.
Could BYU be part of such a not too distant future move by the Big 12? I certainly wouldn't rule it out.
While BYU is going to have to realize joining the Big 12 won't be relegating itself to the lack of exposure it suffered year after year in the MWC under the thumb of the Comcast Cable TV Cartel, the Sunday Play issue is something that can be worked through—particularly in a larger league.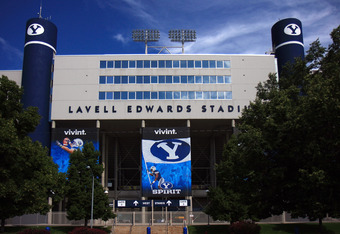 For years, the MWC played Olympic sports on Sunday (women's basketball) and didn't include BYU, so to clear up another myth, BYU doesn't insist on an all-inclusive league policy with respects to no Sunday play.
For the time being, BYU can afford to spend one more academic year as an independent, but football fans in particular will sadly have to endure another year of lackluster WAC opponents during October and November.
Likewise, athletic director Tom Holmoe will have to again continue to schedule by contingency with Bronco Mendenhall and put together opponents with contracts he can easily reschedule or have a minimal dollar escape clause to cancel as he has done.
In all fairness, BYU fans should not be critical of Tom Holmoe or President Cecil Samuelson in any way since this entire process came down at least one to two years ahead of when they both anticipated it coming.
They will embrace the present "refugee" deal with the West Coast Conference for the time being, but continue to look out for what is best for BYU.
The Big 12 has emerged from this latest round of instability clearly in better shape despite losing a third school and has the stability any suitor institution will want, and will have the expansion rumor around its neck like a millstone with only 10 schools.
BYU fans should similarly not embrace independence as a long-term goal of the athletic mission of BYU, unless the Big 12 does something totally unbelievable such as inviting institutions like SMU, Houston or San Diego State that are stalking it more than Missouri stalks anyone who will rescue it from the Big 12.
For the time being, there will without question be ongoing dialogue between BYU administrators with the Big 12 for a possible 2013-14 academic year entry for BYU and fans must be patient.
As the Big 12 moves closer to renegotiating first-tier rights, media partners will have less veto power over the league directors whom they want.
BYU remains in play for BCS league expansion, and BYU and the Big 12 is a partnership that can still happen. Under the right circumstances, it isn't as impossible as many would like to think.