College Football Rankings: Predicting the 5 Bowl Championship Series Matchups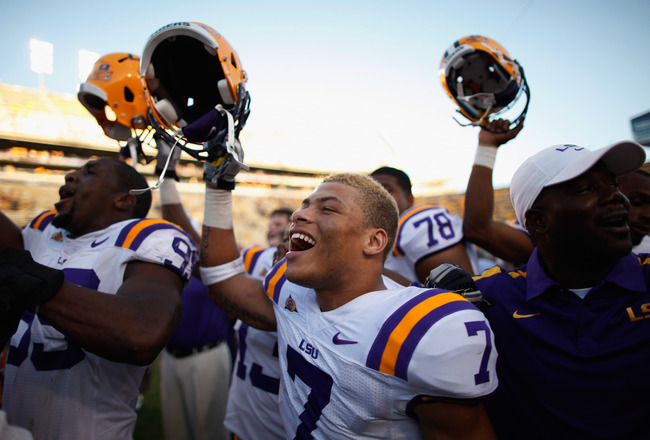 Chris Graythen/Getty Images
The 2011 college football season has had plenty of excitement throughout the first six weeks of the season. A number of teams made an early exit from the AP Top 25, and there are several teams with the chance to make a name for themselves by shocking the country week after week.
The BCS standings are coming out next week, and with that in mind, it's time to start thinking about the teams that will be in contention to play in one of the BCS bowl games. There are a few teams that are all but guaranteed a spot in one of the games, but anything can happen in sports, and that's why there's no such thing as a "lock."
The following slides are my predictions for which teams will square off in the Bowl Championship Series games.
Allstate Sugar Bowl: Alabama vs. Oklahoma
Kevin C. Cox/Getty Images
The Allstate Sugar Bowl is going to include a couple of teams that will suffer their one, and only, loss in the last month of the season. Alabama and Oklahoma are both undefeated as of now, but these two teams will both drop one game by the time the season has concluded.
Alabama has yet to struggle to earn any of their six wins, but they're set to exchange blows with the No. 1-ranked team in the country, LSU, the first weekend in November. Alabama looks fantastic, but LSU looks even better.
Oklahoma is in the same boat as Alabama. The Sooners are currently sitting undefeated, and they're likely to remain that way for quite some time. But Bob Stoops' team has to travel to Stillwater the last week of the season to take on their in-state rivals, the Oklahoma State Cowboys.
OSU, who currently score the most points in the nation, will prove to be too much for Oklahoma. The Sooners will suffer their lone loss the last week of the season.
Rose Bowl: Stanford vs. Michigan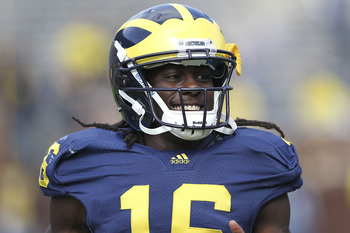 Leon Halip/Getty Images
The Rose Bowl will feature two undefeated teams and two Heisman Trophy candidates. Those teams will be the Stanford Cardinal, led by QB Andrew Luck, and the Michigan Wolverines, led by dual-threat QB Denard Robinson.
Both of these teams have schedules that give them the opportunity to run the table and finish the year with an undefeated record. And both of these teams will do exactly that. Thus, Stanford and Michigan will square off in what may be one of the best Rose Bowls ever.
Strap on your seat belts. This one could get crazy.
Discover Orange Bowl: Clemson vs. West Virginia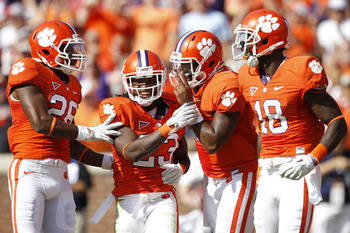 Joe Robbins/Getty Images
If you told me before the season that Clemson and West Virginia would play each other in this year's Orange Bowl I'd have laughed at you.
Now, Clemson is turning the entire country into believers with their strong defense and very well-balanced offense that puts up 35 points per game.
West Virginia has the opportunity to end up in the Orange Bowl because of their remaining schedule. They've only played one ranked team all year, LSU, and they put up 21 points on them. They're not scheduled to play another ranked team all year, barring any changes, and since they're already ranked No. 13, it's very likely they'll continue to climb in the polls with every win.
Tostitos Fiesta Bowl: Oklahoma St. vs. Boise St.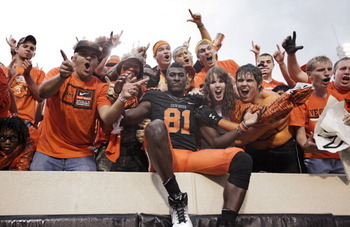 Brett Deering/Getty Images
As I said earlier, Oklahoma State is going to host the Oklahoma Sooners the last week of the season, and they'll win. That win will cap off the Cowboys' undefeated season, resulting in a Fiesta Bowl appearance.
Oklahoma State will play against the Boise State Broncos because they, too, will finish the season with a zero in the loss column.
It's easy for Boise State. The Broncos don't play any significant competition all year, so they don't lose. Because they have a Heisman Trophy candidate in Kellen Moore and they've won for so many consecutive years, they put themselves in position to land in a BCS game at season's end. All they have to do is run the table.
Allstate BCS National Championship: LSU vs. Wisconsin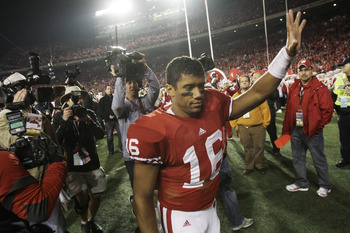 John Gress/Getty Images
The National Championship will feature the two best teams in the country in LSU and Wisconsin. Both teams are undefeated, and both teams will remain undefeated.
LSU is amazing to watch. The Tigers' defense is unbelievable. Tyrann Mathieu is a Heisman Trophy candidate because he's a turnover machine. LSU's offense ain't too shabby either, especially now that Jordan Jefferson has been reinstated and Jarrett Lee has gotten the Tigers this far without Jefferson.
Wisconsin, who I believe is right behind the Tigers, will have the opportunity to play in this game because of losses suffered by Alabama and Oklahoma before the season ends. Wisconsin's defense allows a mere 10 points per game, and the Badgers' offense lights up the scoreboard every week. The addition of QB Russell Wilson has officially put Wisconsin over the top.
Keep Reading