College Football Week 7: Predicting the ACC Matchups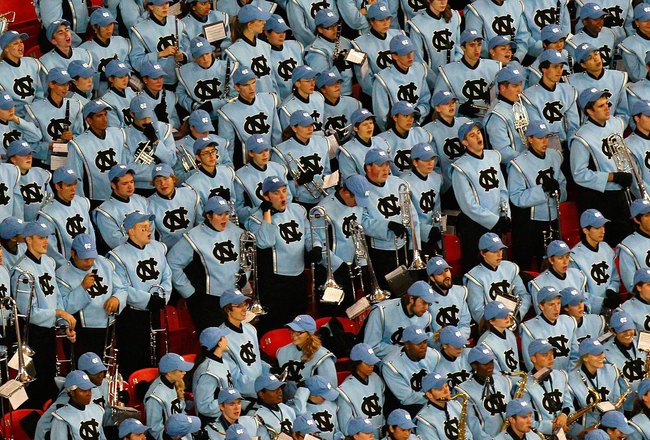 Kevin C. Cox/Getty Images
Well, here we are once again. A new week brings a new slate of ACC Football games to the table. And this week is more important than ever, because for the first time this season, every single matchup in the ACC is between conference foes.
The pressure is on now more than ever. Boston College and NC State have the bye this week, so we get five matchups between the ten active ACC teams.
As for my predictions last week, I guess I had too much faith in the 'Noles, and too little faith in Jim Grobe and his Demon Deacons. That was the only game I missed last week, although regrettably some teams kept the scores closer than I would've thought (thank you Louisville and Maryland). So after my first week of picks, I currently sit with a 5-1 record.
On to this week, where I will hopefully keep that record going up.
Georgia Tech Yellow Jackets @ Virginia Cavaliers
Scott Cunningham/Getty Images
The first matchup we will look at pits ACC Coastal foes against one another. Georgia Tech has continued its impressive run through the first half of the season, already off to their best start in 45 years. Virginia, which currently sits at 3-2, had a bye last week, and hopes to use that extra time to hand the Jackets their first loss of the season.
However, after struggling with Idaho in their last game, I get the feeling that UVA may not have the firepower to keep up with the Jackets in this game. I'm fully expecting the GT offense to get out of whatever funk they've fallen into, and defeat the Cavs in comfortable fashion.
Prediction: Georgia Tech 38, Virginia 17
Florida State Seminoles @ Duke Blue Devils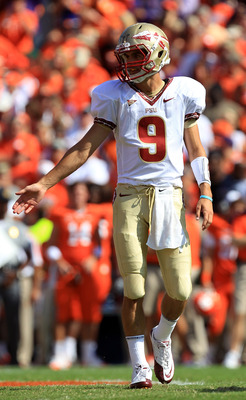 Streeter Lecka/Getty Images
So, as previously mentioned, Florida State surprised me last week, turning the ball over five times in a loss to Wake Forest. Now, they go back on the road to face a Duke team that has slowly been improving throughout the season.
After an early season loss to Richmond, and then a crushing defeat at the hands of Stanford, most people were fully ready to write off the Blue Devils as they have for so many years. However, three straight wins since then is quickly making the thought of going to a bowl game seem somewhat realistic this season.
In her blog on ESPN, Heather Dinich made this game her upset special by picking Duke to defeat the Seminoles. While I fully love what David Cutcliffe has done for Duke so far, I'm going to go out on a limb and say that even with their current struggles, the Seminoles are simply too much for the Blue Devils.
Prediction: Florida State 28, Duke 17
Clemson Tigers @ Maryland Terrapins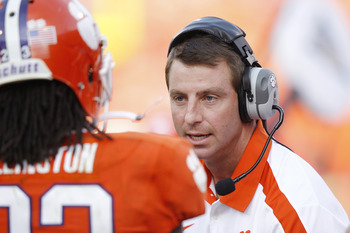 Joe Robbins/Getty Images
Last week proved to be interesting for both of these Atlantic Division teams, but for vastly different reasons.
While Maryland proved to be a much tougher challenge than most thought for Georgia Tech, the Tigers from Death Valley all suffered a brief scare, as star QB Tajh Boyd went down with a hip injury. To this point, all signs are pointing to Boyd being good to go this week, but I'll be watching closely to see if his play is affected at all by the injury.
Meanwhile, the Terrapins are currently at a major crossroads. They got a stellar performance out of their defense last week, but the offense continued to struggle, with former ACC Rookie of the Year Danny O'Brien getting benched in the middle of the game.
I expect the Maryland defense to keep this game somewhat interesting, but ultimately the lack of offense will once again do them in.
Prediction: Clemson 27, Maryland 13
Miami Hurricanes @ North Carolina Tarheels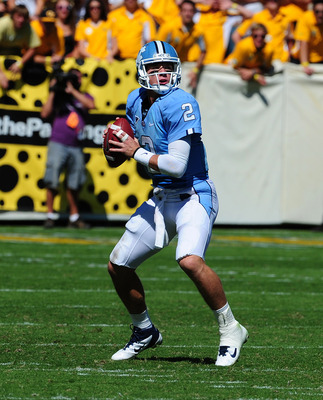 Scott Cunningham/Getty Images
Now it is time to take a look at the first of two games I will be watching very closely this week. Coastal foes Miami and North Carolina are both going to be looking to stay in the Coastal race with a win, and for Miami, it might be time to enter all-out desperation mode.
A loss to UNC in this game would drop them to 2-4 overall, and 0-3 in the ACC, with two losses against Coastal foes. And with a matchup against current Coastal leader Georgia Tech looming next week, a loss might send the 'Canes into a tailspin.
For the Tarheels, getting back into the Coastal races isn't as much of a daunting task. With only one loss on the season to the aforementioned Jackets and their best start in many, many years, the Heels still sit in a very good position in the ACC race. But a loss to Miami would hurt those chances tremendously.
I'm expecting a fun game between these two teams, and can't wait to see some of the top running backs in the league in Lamar Miller and Giovanni Bernard, but ultimately I think the Heels pull out the victory.
Prediction: UNC 24, Miami 21
Virginia Tech Hokies @ Wake Forest Demon Deacons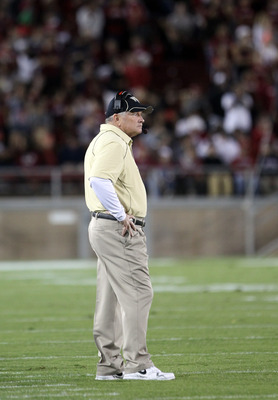 Ezra Shaw/Getty Images
In the game that could easily be the game of the week in the ACC, we have a cross-division matchup between the Hokies and Demon Deacons.
Last week, VT got back into the win column after a tough loss to Clemson behind an all-world effort from QB Logan Thomas, as the Hokies downed the 'Canes in what might have been the game of the year for the ACC.
Wake Forest, on the other hand, gave me the surprise of the week last week when they upset the Seminoles to improve to 4-1 on the season and present themselves as the biggest challenger to the Tigers in the Atlantic.
Last week, I couldn't bring myself to pull the trigger and go with the Deacs. This week however . . . I'm going with the upset. It took a Heisman-esque performance from Logan Thomas for the Hokies to down Miami, and I just don't see them getting the same type of performance against a team that is arguably better than the 'Canes this season.
So, this is your upset special for the week.
Prediction: Wake Forest 31, Virginia Tech 27
Conclusion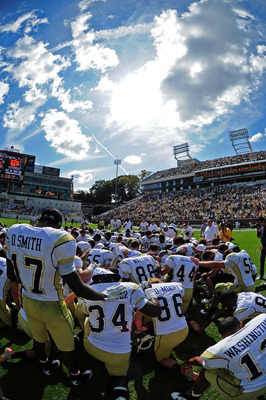 Scott Cunningham/Getty Images
There you have it. My second week of picks in the ACC. As with last week and in any future articles to come, I would love to hear your opinions on how this week in the ACC is going to turn out, and I would love to know how much you agree with my picks, or how much of an absolute fool you think I am with my picks.
As always, I'll keep a running tally on the picks, and I hope the football goes as great for y'all as it does for me.
Keep Reading