Boise State vs. Colorado State: Last Minute Spread Info, Line and Predictions
October 13, 2011
Otto Kitsinger III/Getty Images
The Boise State Broncos and the Colorado State Rams will collide inside of Hughes Stadium this weekend in a game that will help the Broncos kickoff their Mountain West season on the right foot.
Boise State hasn't run into any roadblocks thus far, and they will be hoping their success continues against the Rams this week.
Where: Hughes Stadium
When: Sat, Oct. 15 at 6 p.m. EDT
Watch: Mountain West Sports Network
Spread: Boise State (-33)
Do you really feel comfortable betting on Colorado State?
Even if they were playing well this season, would you pull the trigger on them? You shouldn't. The Rams are just 3-2 this year, and they dropped games against both San Jose State and Colorado.
This isn't an easy spread, as it's always tough to win by 30-plus points, but Boise State certainly has the talent to pull off a huge victory in this one.
Bet Boise State, but don't be overly confident with this spread.
Key Injuries for Colorado State:
Joe Caprioglio (OT) will miss the remainder of the year after injuring his knee against Colorado. Broderick Sargent (DE) is also out for the remainder of the season after tearing his ACL. He recorded two sacks and 37 tackles last season for the Rams.
The biggest loss for the Rams was senior LB Mychal Sisson, who is out for the season after breaking his ankle. He led the nation with 40 career tackles for loss and was the captain of the defense.
Key Injuries for Boise State:
WR Chris Potter, who has just five catches on the season, has been nursing a hamstring injury and is questionable for this week's game.
Senior FB Dan Paul is also questionable, as he has been nursing a groin injury.
Injury reports courtesy of the USA Today.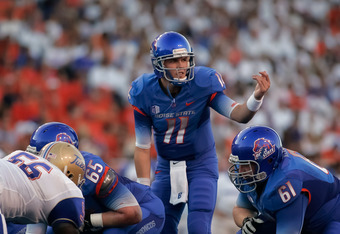 Otto Kitsinger III/Getty Images
BCS/Top 25 Implications:
Obviously, the Rams are not going to crack the Top 25, even with a victory. However, if Boise State were to falter, they would suffer drastically.
If they lose this game, their BCS hopes would be dashed, and they would fall dramatically in the Top 25.
Keys to Victory for Boise State:
Boise State just needs to come out and play their game. They should have no problem running or throwing on Colorado State, but they need to be sure not to turn the ball over.
Turnovers have a way of swinging a football game, so if the Broncos can protect the ball, they will skate to victory.
Keys to Victory for Colorado State:
Much like the Broncos, the Rams need to protect the ball. If they get caught turning the ball over, they are going to falter in this game.
They are also going to have to play incredible defense, especially in the secondary. Kellen Moore is one of the best QBs in the game, and if the Rams can't slow him down, they stand no chance of pulling a monumental upset.
Prediction: Boise State 49 Colorado State 13