Kansas State Football: Wildcats' QB Klein Can Run but He Can't Hide
October 12, 2011
Al Messerschmidt/Getty Images
With the exception of the Wildcats' 10-7 win over Eastern Kentucky opening weekend, Bill Snyder's football team has yet to struggle to generate enough offense to win each of his team's first five games.  They've had enough success to find themselves ranked in the AP's top 20 for the second consecutive week.
The Wildcats' wins have not come easy.  In fact, four of the team's five victories finished with a winning margin of seven points or less. 
That doesn't mean Kansas State got lucky.  That means Kansas State has executed enough times each week to come out on top week after week.  However, K-State has not earned a 5-0 record because of one player who has run wild all over every team and is a clear candidate for the Heisman Trophy. 
Junior QB Collin Klein doesn't have the prettiest stats for a 5-0 quarterback in the Big 12, but his stats don't sum up what he's done under center.  In his five games this season, Klein has yet to throw for 150 yards in a game (593 total passing yards) and has only found the end zone six times.  However, Klein is one yard away from being the team's leading rusher with 468 yards on the ground, in addition to seven rushing TDs.
Klein hasn't done it alone on offense.  The team's leading rusher, John Hubert, has rushed for more than 90 yards in three of the team's first five games; he's had over 100 yards of total offense in four of those games. 
Yes, he's only found the end zone a mere two times this season, but when you can break off a run for over 20 yards like Hubert has in more games than not, you're giving your team the field position they need to put points on the board.  And that's what Hubert and Klein have been doing thus far in the 2011 season.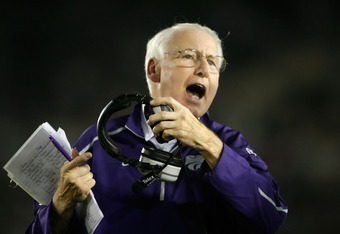 Jeff Gross/Getty Images
Klein and the Wildcats have a great opportunity to collect another two wins over the next two weeks.  They're scheduled to play in Lubbock, TX against Texas Tech this Saturday, and then they travel to Lawrence, KS for a rivalry against Turner Gill's Jayhawks the following Saturday.
Both Kansas and Texas Tech have found ways to score points, even if they're back door points at the end of the game, but they both tend to give up plenty of points each game; that's where Klein and the Wildcats' offense will capitalize. 
Tech and KU combined for 79 points when they played each other October 1 (45-34) when Tech won in Lawrence to ruin KU's Homecoming Weekend. Neither team has since figured out how to fix their defenses.
Texas Tech averages 36 points against in the Big 12; KU averages an embarrassing 50-plus points against in the same category.
Yes, K-State has the potential to go 7-0, but the team's true colors could be exposed the following week when Bill Snyder's Wildcats host arguably the best team in the country, the Oklahoma Sooners. 
Klein and his offense may not have enough manpower to go back and forth with Landry Jones and the Sooner offense.  According to ESPN.com, the Sooners rank in the top 15 in points for, points against and passing yards.
And then things don't get much easier for Bill Snyder's Wildcats as they have to travel to Stillwater, OK to take on the nation's most lethal offense with over 51 PPG in the Oklahoma State Cowboys.  Cowboys WR Justin Blackmon has caught as many touchdown passes as Collin Klein has thrown and he almost has as many receiving yards as Collin Klein has passing yards.
The Wildcats have had plenty of success five weeks into the college football season, but they've only played one ranked team thus far.  After the team's next two games against Texas Tech and KU, K-State has four straight games against ranked opponents. Two of those teams are currently ranked in the top 10. 
Collin Klein has been able to escape each game with his subpar statistics, but those may only get him so much success in the near future.  The people in Manhattan, KS shouldn't be surprised when their 7-0 Wildcats lose two straight to OU and OSU and most likely another one to Texas two weeks later.