Stephen Garcia Dismissal: Too Little, Too Late
October 12, 2011
Streeter Lecka/Getty Images
20 is greater than five.
It's simple math, really.  Stephen Garcia remained the quarterback at South Carolina University simply because 20 wins, which ranks second all-time in school history, is greater than five, the number of times he was suspended from the team.
It would be worrisome enough if that were the most inglorious part of this cautionary tale, but it isn't.
The worst part of it all is that he would still be quarterbacking the Gamecocks if it were not for one little truth—Stephen Garcia was no longer the best QB on the roster.
A minimum of three times, after Garcia suspensions, Coach Steve Spurrier stated publicly that the next infraction would be his last.  Yet, here we are—several suspensions, and more than enough embarrassing episodes later.
Public drunkenness, vandalizing a professor's car, underage drinking, breaking curfew, and showing up to an SEC mandated leadership conference drunk and disruptive.  None of these were enough to bring Stephen Garcia down.
What was?
How about a 47 percent completion rate against East Carolina?  Or 44 percent against Georgia?  Or maybe, just maybe, it was the four interceptions thrown against Vanderbilt, or the 39 percent completion rate and two interceptions thrown against Auburn in a 16-13 loss.
In reality, it was all of these.
Whether it was the added scrutiny with which Stephen Garcia was now being followed, or just simply the haphazard approach he took toward game preparation, the fact is that his production was slipping.
Stephen Garcia is an adult and, as such, shoulders the bulk of the responsibility for his dismissal from the South Carolina football team.  But he does not bear complete liability.
Many college students, perhaps even most, learn the hard way that living away at school is littered with as many responsibilities as it is freedoms.  Mom and Dad are no longer looking over their shoulder, telling them to pick up their clothes, or put down that beer and study.
Luckily, many of them learn, whether or not it's the hard way, that they must take control of their own lives, make their own decisions, and take that first fateful step toward adulthood.  Sure, some students wind up on the seven year plan, but eventually they make the right choice, and do what has to be done. 
For those who don't, there's always the fast track to convenience store night manager.  The point is, most students find this all out on their own.  There is no one watching over them, guiding their every move.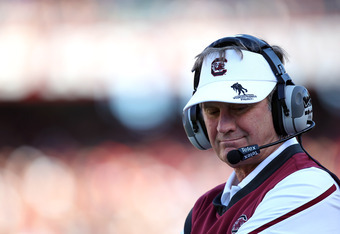 Streeter Lecka/Getty Images
This is where playing on a Division I college football team is supposed to offer advantages the typical student doesn't have access to.  Courses in time management, auxiliary study facilities, tutors, mentors—it goes on and on.  These were supposed to be the safety nets that kept Stephen Garcia out of trouble and on the football field.
There are only two things that can screw the system up.
The student athlete has got to be made aware of what is at stake, and must be willing to take advantage of all these perks, realizing that he or she will most likely be making a living doing something other than playing sports.
Just as important, the university must focus first on the student, and then on the athlete.
This is where Stephen Garcia, and so many others are failed.  The rush to get the student-athlete back on the field usually takes precedent over making sure they have a life waiting for them once the cheering stops.
Garcia should have been made aware after his first infraction that he would not be allowed back on the field until he could prove that he deserved to be there. It also should have been crystal clear that any further breach of school or team rules would result in his dismissal from both.
There is a system in place to make sure that student-athletes receive what they theoretically came to school for—an education. The problem is that it won't work if it's not used.
Stephen Garcia is no longer a Gamecock.  Where he lands is no longer the concern of the University of South Carolina.  Remember, there's a game to be played this Saturday.