Nebraska's Win over Ohio State: A Turning Point in Taylor Martinez's Maturation?
October 12, 2011
Eric Francis/Getty Images
At halftime, as the Huskers made their way to their locker room, they were pelted with boos, like the steady rain that had fallen most of the night.
Taylor Martinez has just thrown an interception with just under a minute in the first half; a half in which the offense had been largely ineffective. Much of the fans' vocal displeasure was directed at Martinez himself.
The entire week leading up to that moment, there had been a growing discontent towards Martinez, one that spilled beyond the boundaries of the media, despite the protestations of his coach and his team that he was the one they wanted to lead the offense.
It was a long way from opening day 2010, when a roar of approval had risen up from the Sea of Red as word spread that Martinez had been named the starter against Western Kentucky.
Forgotten was the fact that Martinez was still only halfway through his sophomore season and that he had wowed crowds as a freshman before injuries slowed him down.
In less than a season-and-a-half, he had gone from "T-Magic" to plain ol' Taylor Martinez. An incredibly ugly loss at Wisconsin seemed certain to be followed by another horrific loss, this time at home against the Buckeyes, both in front of a national television audience.
All the so-called "fans" that had slammed Martinez on the Internet, around the water cooler and even on his own campus felt their taunts and screams were justified as the Huskers trudged inside the bowels of Memorial Stadium.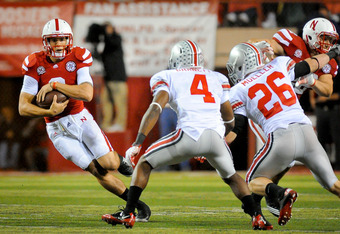 Eric Francis/Getty Images
For the first half of the third quarter, it appeared Husker Nation was in for more of the same until Lavonte David stripped the ball from OSU quarterback Braxton Miller.
Offensive coordinator Tim Beck would later say that it was the spark the team needed.
It's hard to argue. Two plays later, Martinez ran 18 yards straight up the middle for Nebraska's first touchdown of the game.
Granted OSU's Miller went down with an ankle injury during Ohio State's next drive (a defining point in the game, head coach Bo Pelini later conceded), but the emotional spark had become a fire, largely stoked by Martinez.
Every Husker fan knows what happened next.
After the historic comeback, center Mike Caputo told the media how Martinez urged his team to victory.
"Taylor was smiling and confident. He kept coming up to the offensive line and saying that we're going to win this game when we were down a couple touchdowns. His confidence was really high," he said.
In his post-game interview, the ever-perfectionist Pelini claimed the team is still a work in progress, but also expressed pride in the way the Huskers responded.
Eric Francis/Getty Images
"They showed a lot of character tonight," Pelini said. "When everybody kind of gave up on us and booed us off the field at halftime, we believed and we came back and fought our tails off and look what happened."
"I hope tonight's second half was our jumping-off point," he said. "(We had) some trial by fire for some guys. They played well and we responded. We'll see how it carries on from here."
Surely, one of the players to whom Pelini was referring was Taylor Martinez.
On the subject of his much-maligned quarterback, Pelini had this to say:
Taylor played his butt off. That guy, he's one of the leaders on the team. I'm proud of him.

Everyone wants to doubt him. Whatever. You guys can choose to write whatever you want and attack him like the fans will. And now they'll praise him. But like I told him, you're not as bad as you think you are...he kept fighting, he led the team, he played a heck of a second half. ...

That's why he's our starting quarterback.
And how did Martinez, recently named the Big Ten Offensive Player of the Week, respond after his sudden redemption on the heels of the most severe criticism that he has endured in his short career?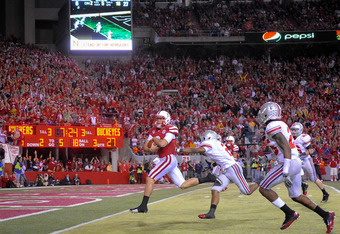 Eric Francis/Getty Images
"We were just playing together as a family. That's been our motto all week: togetherness and family," Martinez said. "We just came together. I'm glad we came through with the win."
As for the media?
"You'll write what you want."
Nebraska has a bye week before travelling to Minnesota, which is currently 1-5 and 0-2 in Big Ten play.
Meanwhile, Husker fans (not surprisingly, fewer of them are questioning Martinez this week, as winning tends to have that effect) hope that the last 22:30 of the game against the Buckeyes wasn't an aberration.
However, true Martinez supporters would like to think the historically momentous win over the Buckeyes, while a turning point for the team, will also become a watershed moment in Martinez's development.
A confidence-building "trial by fire" for the sake of a young man with the expectations of an entire state on his shoulders, not just the team he represents.