Stephen Garcia: Tragic Rise and Fall of a South Carolina Gamecock Quarterback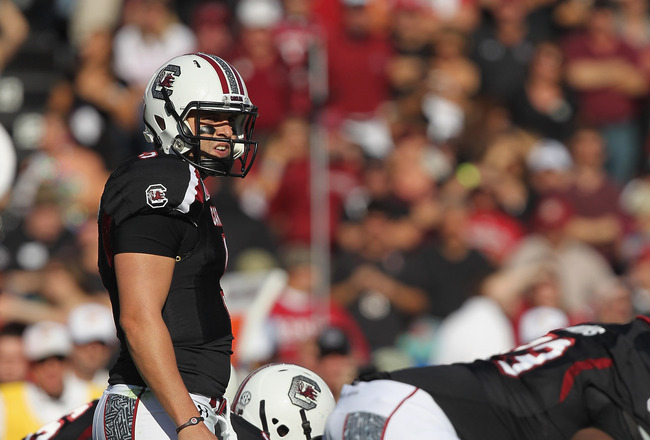 Streeter Lecka/Getty Images
Stephen Garcia is now legendary at South Carolina.
For a whole lot of things.
Most of them...bad.
However, one can't help but take a look back at the sightings of brilliance and the heart of a warrior that Garcia showed throughout his five years with the program, despite his horrendous off-field behavior.
As a fan, I am deeply saddened by how his career with South Carolina ended.
12/6/2006: The 4-Star Savior of Spurrier's Offense Arrives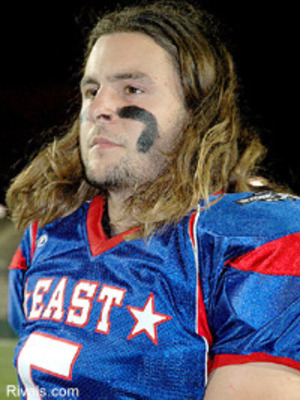 South Carolina needed a savior. They needed a quarterback that Steve Spurrier could lead and mold into a great one.
Stephen Garcia was that guy. As a 4-star prospect from Rivals.com, he came in as the fourth-ranked QB and a member of the Rivals top 100.
According to JC Shurburtt of Rivals.com,
His intangibles, particularly his moxie and leadership skills are what give him the chance to be special, but its not as if he isn't blessed with good physical tools. Has an above-average arm and is athletic enough to escape pressure, move around in the pocket and make plays.

Also has great size, meaning he will be prepared, at least physically, to take the field early during his college career. Needs to work on being a more precise passer and a has a few fundamental flaws, but most quarterbacks at the high school level do.
He commits to South Carolina on 12/6/2006, and the Garcia legend begins.
2/17/2007: Stephen Garcia Arrested for Drunkenness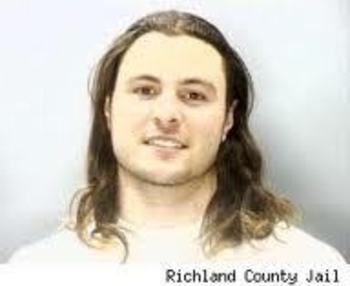 Stephen's first misstep happened a month after he enrolled early.
Found in Five Points in Columbia, Stephen was spotted stumbling around. He then refused to stop for the police.
More details can be found on the NBC Sports page, linked here.
This was just the first of many transgressions for the hot-headed young quarterback.
3/5/2007: Stephen Charged with Keying a Professor's Car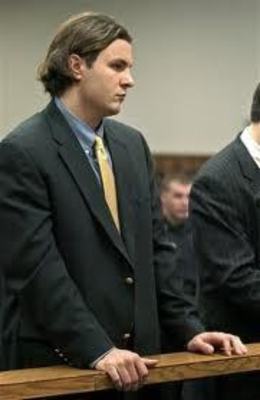 Less than a month later, and just a couple of weeks after being reinstated from his first arrest, Garcia had a verbal confrontation with a Claflin University professor.
He was spotted by the man walking up to his car with a key out. For a person with no prior transgressions in high school (at least from a legal standpoint), he was surely making himself known to the local police.
This arrest led to his conditional reinstatement, and redshirt.
3/25/2008: Ticketed for Possession of Alcohol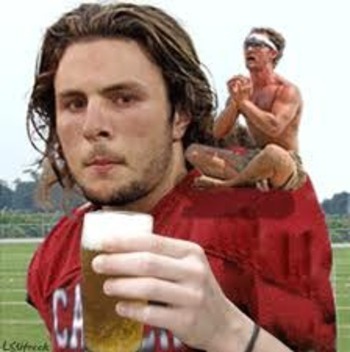 Stephen Garcia and two teammates were found in the possession of beer. They were not drunk. However, this led to another suspension.
This time, coach Steve Spurrier had no control over the reinstatement process. According to the article from The Post and Courier, Spurrier had this to say:
"His fate is out of my hands, we'll put it that way," Spurrier said Monday after the team's spring practice session. "Stephen Garcia's fate is in the hands of the University of South Carolina. He may be out here; he may not be out here. We'll just have to wait and see.

"We've got the president, the athletic director, the dean ... we've got a whole bunch of people over there. If they say he'll be here, he'll be here."
He would later be reinstated for a third time.
10/11/2008: Garcia Comes off the Bench To Beat Kentucky in First Real Action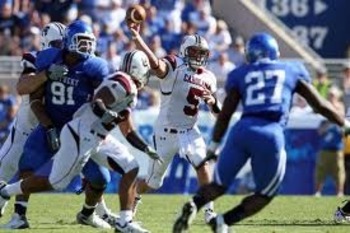 Stephen Garcia looked every bit the wunderkind he could have been coming off the bench to replace Chris Smelley and throw for 169 yards with one touchdown and no interception against one of the SEC's top defenses in 2008.
The 24-17 victory didn't make people forget about his previous arrests, but it was a start.
10/18/2008: Garcia Makes First Start Against LSU, Has a Strong Showing in a Loss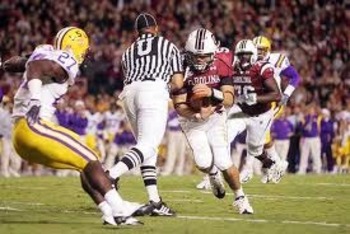 The infamous "ref tackle" game. Stephen Garcia played a fantastic game against LSU, and had the team in position to win. However, during a run that looked as though it could have been a scoring run, a ref steps in the way and makes the tackle.
It was an obvious tackle, as he positioned himself to make the play.
Very weird.
However, Stephen showed great leadership and threw for 215 yards in his first start.
1/1/2009: Garcia and Team Get Destroyed by Iowa To Finish Garcia's First Season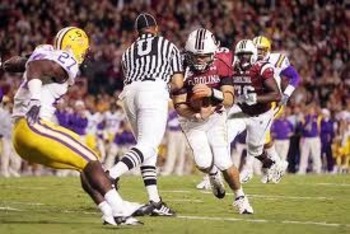 Stephen Garcia makes the Outback Bowl start against Iowa.
The results? Not pretty. This starts a disturbing trend with Garcia involving bowl games...he is horrible in them.
Garcia finishes the season only starting three games, while throwing eight interceptions to six touchdowns. However, his play shows promise, and fans couldn't wait to see what this newly reformed quarterback could do in future seasons.
9/24/2009: A Star Is Born in Columbia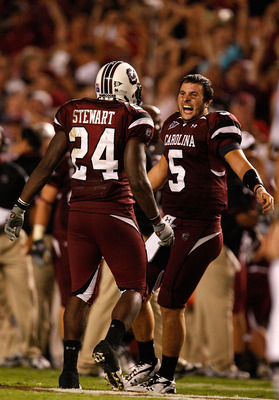 Streeter Lecka/Getty Images
South Carolina wins against its highest-ranked opponent ever when it beats No. 4 Ole Miss.
Now, at the time, it seemed like a huge win. Chris Lowe of ESPN called it "Spurrier's signature win" in Columbia. Suddenly, Garcia's transgressions seem far away, and this begins a string of impressive highs and devastating lows that will come to define Stephen Garcia's legacy.
2009 Season: Glimpses of Greatness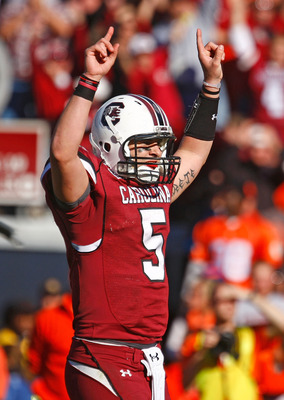 Scott Halleran/Getty Images
Throughout 2009, South Carolina achieved some big things and some not-so-big things in 2009. After the exhilarating victory over the obviously overrated No. 4 Ole Miss Rebels, the Gamecocks closed in on a magic season by going 6-2 through the first eight games of what Philip Steele called the toughest schedule in college football.
Then Garcia and the rest of the team self-destructed.
They only won one game the remainder of the year, but it was a big one...a 34-17 win over arch rival Clemson.
Garcia threw for 300 yards in four games (Georgia, Vanderbilt, Tennessee and Arkansas).
He finished the season with 2,862 yards, 17 touchdowns and 10 interceptions. He also rushed for four touchdowns, setting him up for a gargantuan 2010.
10/9/2010: South Carolina Beats No. 1 for the First Time Ever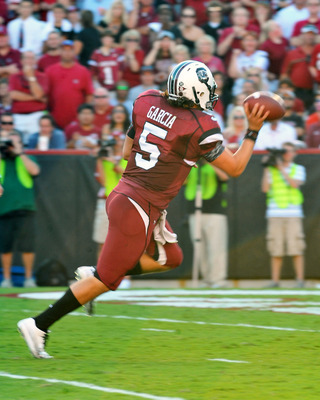 Al Messerschmidt/Getty Images
Stephen Garcia played arguably his best game ever against the No. 1 team in the country, the Alabama Crimson Tide.
He completed 17-of-20 passes for 201 yards, three touchdowns and only one interception.
This is the game he will be known for the most in a positive light, and the game that people would point to and say "Look what he could have been."
A sad reminder of the potential that Mr. Garcia had.
South Carolina rightfully cherishes that win, and it spurred them to a great 2010.
11/13/2010: The Unthinkable Happens...Led by Garcia, SC Wins the East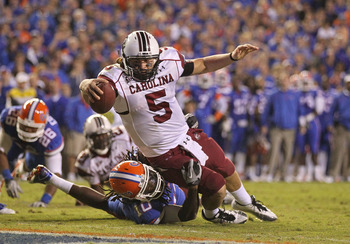 Mike Ehrmann/Getty Images
Stephen Garcia will always be the first quarterback to win the SEC East. He played his heart out against the Florida Gators, as he led the team to a dazzling 36-14 win over the Gators.
2010 Season: A Huge Step Forward in the Program, and for Stephen Garcia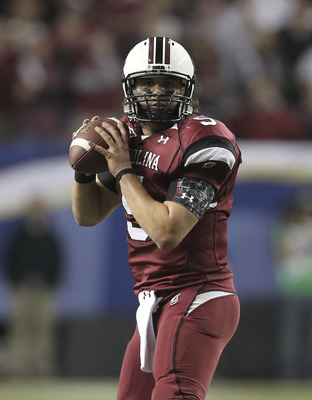 Mike Zarrilli/Getty Images
With more good than bad going on in 2010, there is no need for multiple slides. You would be here all day.
Stephen Garcia led the Gamecocks to arguably one of their greatest seasons ever, until the very end. They finished the regular season 9-3 with wins over Georgia, Florida, Tennessee and Clemson.
Don't forget the aforementioned Alabama game, in which he showed what he truly could have been.
The Gamecocks won the East for the first time as a program, and regardless of how down the East is, that was a special feat.
They then had a slot in the SEC West coronation game, where Cam Newton basically swatted them like flies.
That game and the Florida State bowl game turned out to be more than an aberration...it became foreshadowing to the nightmare 2011 that Garcia would have.
3/15/2011: The Beginning of the End for No. 5
Kevin C. Cox/Getty Images
Stephen Garcia was suspended through spring practice due to his behavior before South Carolina's Chick-fil-A Bowl
Stephen broke curfew, and broke multiple team rules. This was just the beginning of Garcia's trouble in 2011.
4/6/2011: Issue During a Mandatory Meeting Makes His Suspension Indefinite
Streeter Lecka/Getty Images
Well, for a while, he kept to himself. Until he went to a mandatory SEC leadership meeting and caused trouble. He was removed from the meeting, and then suspended indefinitely.
9/3/2011: Conner Shaw In, Stephen Garcia Out...for One Quarter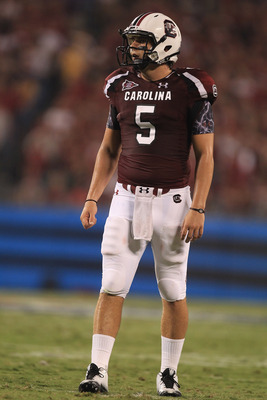 Streeter Lecka/Getty Images
All of these suspensions culminated with Garcia being reinstated, but losing his starting job to true sophomore Connor Shaw.
That lasted all of one quarter. As Connor struggled, Stephen came off the bench and led a comeback...to the tune of 56-34.
The fans thought they would never look back, and that Garcia was back in business.
10/8/2011: Connor Shaw Rises Again
Streeter Lecka/Getty Images
The good Garcia moment only lasted for that one half. He played abysmally for the next four games. However, with the loss against Auburn, Steve Spurrier knew he had to make a change.
Connor Shaw was getting a second chance.
He was so impressive in a win over Kentucky, that Stephen Garcia was suddenly a major afterthought.
10/11/2011: The End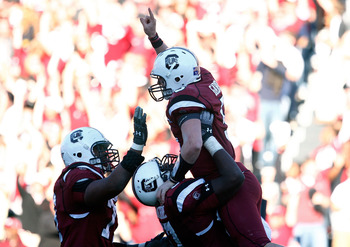 Scott Halleran/Getty Images
In what can only be called a sad way to end a productive career, Stephen Garcia was kicked off the Gamecock football team on Tuesday of this week.
The ups and downs are officially over, for better or for worse.
The Good
Stephen was third all-time in most passing lists, throwing for over 7,500 yards and 40 touchdowns.
Wins against Clemson, Tennessee, Florida, Georgia and Alabama.
Over 23 wins as a starter.
First quarterback to ever win the SEC East.
The Bad
Offseason issues.
Costly interceptions.
Record of 0-3 starting bowl games.
Constant drama.
For what it is worth, Stephen Garcia was always a great student. He graduated, and was involved in all of his classes. He is also a good person...who seems to have a problem.
Gamecock Nation will never forget the positives this young man brought, and the hope he gave this football program—hopefully, as much as he will be remembered for screwing things up and getting himself kicked off.
Good luck, Stephen, in all your future endeavors. Thank you so much for all of the great things you brought to the South Carolina fanbase. It is now time for me to sadly hang my No. 5 jersey in the closet.
For more information and tidbits about SC, please fan me on Facebook.
Keep Reading

South Carolina Football: Like this team?