SEC Football Predictions: Week 7 Winners and Losers
October 12, 2011
Chris Graythen/Getty Images
Last week was a perfect pick at 6-0. That brings my record to 46-5 on the season. I missed on a few points here and there, but nothing that I can't live with. Bama pulled the shutout which I thought was possible but if Vandy had a kicker my six points would of put that game to a tee.
Georgia did what I assumed they would do and beat UT at home. Not that UT has anything, but UGA is in a good position to rally to an eastern division title. Alas, there are many more games to go.
This weekend gives us a couple of challenging games but for the most part easy picks.
Alabama at Ole Miss
 There is just no getting around it. This Ole Miss team is not very good. No running game and even less of a passing game along with a lethargic defense equals another loss in the Ole Miss books. Alabama wins 28-6
Georgia at Vanderbilt
 Now that Vandy has been rendered hurt in the quarterback position the Dawgs should be thanking the Tide for the softening up. The defense, on the other hand, is Vandy's strong point. If you want to call it that. The UGA defense is doing what they are supposed to do against weaker teams like UT and will continue this weekend. UGA wins 24-6
LSU at Tennessee
 If you are looking for an upset then you have come to the wrong place. LSU's defense is kicking on all cylinders and should have Neyland Stadium cleaned out by halftime. With Bray and Poole sidelined, the Vols are just going through the motions over the next four weeks. Only by a miracle does Tennessee keep this game close. LSU wins 31-3
South Carolina at Mississippi State
 We are at the point in the season when the Gamecocks start their descent into mediocrity. Conner Shaw is the man and Garcia is out. This is an interesting game. Both teams are a shell of what they could have been even though USC only lost one game. Shaw had a big game against the Wildkittens last weekend, but who doesn't? The issue with this game is rushing defense. Who has it and what is the other team going to do about it?
MSU has not found a passing game while the Gamecocks have found Conner Shaw. The question is can Shaw do what he did last weekend on the road in cowbell country? Not quite. As for Lattimore the MSU defense will do what they can, but I expect to see him rush for about 110 yards and Shaw should run a bit as well. This balanced attack will help the Gamecocks win comfortably. But then again, the Ole Ball Coach could always find a way to make a mistake. South Carolina wins 27-14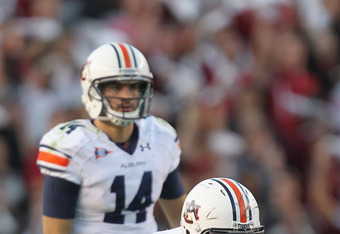 Streeter Lecka/Getty Images
Florida at Auburn
 Two decent running games accompanied with two horrid passing games. With quarterback questions on both teams the soup de jour will be anybody's guess when it comes to who will pass the best.
Auburn, as per the beginning of the season, showed off their inexperience last weekend against Arkansas. The only problem was this time they played a team that was better prepared and coached. Frustration turned into penalties and missed assignments gave way to big plays and key drives turned into interceptions. 
Florida on the other hand has been manhandled two weeks in a row. From what was the best 3rd down conversion defense in the nation to third in the SEC in two weeks along with first in offensive rushing to fourth does not bode well for the Gators. This is a downhill slide that seems to have no end.
The Gators come into this game with a third-string quarterback, a star unhealthy running back and a defensive front seven which has allowed more rushing yards in each of its last two games than in all four of its first games combined. UF has been dismantled in every aspect of the game from offensive line play to special teams, even coaching.
From a running perspective Florida has been hampered on the inside run. The speed sweep and wheel route type plays benefit them well. However, against this Tiger defense I'm not sure that is going to make a difference. Dink and dunking passing will do a little to open up the run but how far will the run go when you have little inside running capability?
Here is how I have to look at this game. Who gets the check mark?
Rushing, Auburn. The Tigers have Mike Dyer and Onterio McCalleb.
Passing, Auburn. They still have their starting quarterback, albeit a bad one.
Rushing defense, Auburn. Even though the Gators have a better statistical number they are about to meet another hard hitting running back combination of inside and out.
Pass defense, Florida. What does it matter in this game? Neither team has a passing offense to scare the other. But, if UF gets the passing game going then it may be all she wrote for the Tigers.
Kickoff return, Auburn. Do we expect this to be a factor in the game? Only if there are a lot of points scored.
Punt return, Florida. I do expect this to be a factor as far as field position. The kicker here (pun intended) is that Auburn's punter has been very good at placing the ball in fair catch territory.
Punting, Auburn. As mentioned above.
Penalties, both. Each team has had the propensity to play poorly when getting beat. Hurry up offenses create more false starts and unfamiliar schemes are like putting square pegs in round holes.
Coaching, neither. Both teams have shown when it comes down to crunch time the victory lies in the competence of the other team's coaches. 
Out of the last four games these teams played Auburn has come out on top three times. The Tigers also own the home field advantage for this game. All of that aside and we could still be looking at one ugly game.
Auburn wins 24-20
The Backtrack
 I don't see Dan Mullen and the MSU Bulldogs besting Steve Spurrier and Lattimore. I do see the Gamecocks crumbling under the weight of what has been the usual fold the tents and go home scenario of midseason play. Part of that weight comes in the form of Connor Shaw knowing that there is no one to back him up. I think he gets by it.
As for Auburn, well, let's just say that if they don't get some leadership on that offensive side of the ball and the coaches don't put the right people in the right seats on the bus this could be one ugly defensive game. If it came down to it though, I would have to give the luck to Auburn.