Remember, Remember, the Fifth of November: A Really Early LSU-Bama Preview
October 10, 2011
Kevin C. Cox/Getty Images
If you aren't excited about the LSU Tigers playing the Alabama Crimson Tide on Nov. 5, you absolutely should be.
Unless you're at a funeral, or it's your own wedding (the question: Why in the hell would you be having it on college football day?), or the world has been wiped out, you should be sitting, gawping at a television.

This game isn't the biggest game of the season. It's THE biggest game of the season.
Of course, everyone will talk about how we haven't had the SEC championship game yet, or Oklahoma hasn't played Texas A&M or Baylor or gone to Oklahoma State yet, but let's make this clear: This is the granddaddy of them all—2011-style. Whoever wins this game wins the SEC West, goes to the SEC championship game and goes to the national championship game.
Wow. So not much to lose, then?

Here's why:

1. LSU and Alabama have two of the best defenses the country has seen and have beaten the crap out of everybody in their way so far. We expect it to continue until Nov. 5.
2. Both teams will boast of NFL first-round picks. Trent Richardson will try to ram the ball down the front of the LSU defensive line, while Tyrann Mathieu is a human highlight reel who will be in the secondary, trying to help stop that ramming.
3. There is so much damned speed on both teams—a big reason why both teams are going to be unbeaten going into the "Tussle in Tuscaloosa."
4. Awesome fanbases. Both sides are going to be loud, rude and in the mood. For the record, we love drive-through daiquiris more than we love deerstalker hats, but it's a close-run thing. And for both sides, there's Bama Bangs, Ramming Jamming and gloating. Oh, and they absolutely hate each other. And love to gloat.
5. Nick Saban. Or as LSU fans call him, Nick Satan. The poison dwarf left LSU, failed to coach well in Miami and returned to LSU's most hated rival—the Crimson Tide. Gulp. On the other side of the field is the world's craziest coach, one Les Miles. Call him what you want, but he's been awesome. He eats grass, he's "at one" with his team and he calls crazy plays—and gets pissed when he gets called out.

Oh, and it wasn't a bad game last time.



Chris Graythen/Getty Images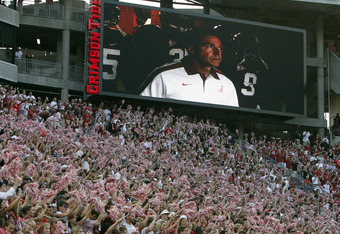 Butch Dill/Getty Images