Tennessee Volunteers: Life Without Tyler Bray in the SEC
October 10, 2011
Sam Greenwood/Getty Images
A season that began with so much promise appears to be on the brink for Derek Dooley's Tennessee Vols. Murphy's Law has been in effect for the Vols after dismantling a good Cincinnati team in the second week of the season.
Now after dropping its second conference game in as many tries in a 20-12 loss at home to Georgia, Tennessee finds itself having to replace sophomore quarterback sensation, Tyler Bray. Bray broke his thumb late in the fourth quarter against Georgia and will be out four to six weeks.
It only gets worse for Tennessee; between now and his potential return date, Tennessee will play four teams currently ranked in the top 15.
The situation has left many UT fans ready to give up on the season.
However, all is not loss with the return of Matt Simms as the starting quarterback. Yes, Tyler Bray's numbers are sexy but his numbers against his two toughest tests, Georgia and Florida, aren't any better than what Simms did against stiff competition last year.
When Simms was pulled for good against South Carolina, he was arguably having his best game of his career: 10-13, 153 yards and a touchdown at halftime in a tie at South Carolina.
I'm not going to sugar-coat the situation and say Simms is going to lead Tennessee to a late run at the division crown, but Simms did lead Tennessee to being a second away from upsetting LSU in Tiger Stadium last year and he still has one of the best WRs in the conference to throw to in Da'Rick Rogers, as well as an emerging weapon at TE in Mychal Rivera.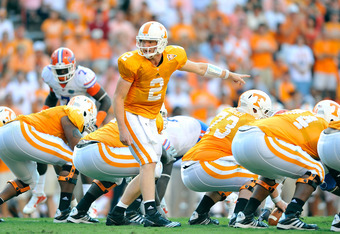 Grant Halverson/Getty Images
People calling for Coach Dooley to burn the red-shirt of the former national Gatorade player of the year, Justin Worley, need to calm down. Simms will be able to give UT just as good a chance at winning as Bray would against the brutal upcoming schedule.
Matt Simms is a fifth-year senior with a chip on his shoulder; he could surprise Vols fans and somebody around the SEC very soon.  
Following the spring game—where Simms outplayed Bray and led the White team to victory—Simms had this to say, "I believe I have ability, I played against some pretty good teams in this conference. I have experience and that's a good thing to have for a second quarterback, God forbid if anything happen. I just take it one day at a time, and I'm happy to be here."
If Simms wanted another shot, he just got it. Time to prove the doubters wrong.