Georgia Football: Key to SEC East Title Hopes May Be Offensive Line's Progress
October 11, 2011
The Georgia Bulldogs are 4-2 and in the hunt for the SEC East title. Everybody's talking 'bout the 'Dawgs. Drop the names of some Bulldogs, and the reactions are instantaneous. Aaron Murray? "That's my boy! What a QB!"  Brandon Boykin? "When's BB going to break another one?" Isaiah Crowell? "Gonna' be a great one! The next Herschel!" And Malcolm Mitchell? "AJ Who?"
But mention these names — Justin Anderson, Dallas Lee, Ben Jones, Kenarious Gates and Cordy Glenn — to casual fans, and you may draw only blank stares. These names are more likely to elicit responses like: "Who?"  "Nope, never heard of him," "I think I've heard that name," "Doesn't he play basketball?" and "Yeah! Love that last song he made!"
Why? Because except for maybe Ben Jones, a senior team captain that goes out for the coin toss each game, those names just aren't bell ringers. Why the apparent lack of love for these Bulldog players? Because these guys are the grunts. They're the Hawgs. Space-eaters. The big boys in the trenches. They're the "O" line, baby.
These are the guys who do the dirty work along the line of scrimmage, going mano y mano with whomever crosses their paths.They create the holes and running lanes. On passing plays, they take on all comers, often in superior numbers, striving to keep their QB safe from harm while he makes his reads and hones in on his targets. Without them, the offense is going, well, they are going nowhere—except, perhaps, three and out and a quick trip back to the sideline for some Gatorade.
When fans ruminate about their team's offensive performance, they usually talk about these kinds of things: the quarterback and his completion percentage, touchdown passes and interceptions; the running backs and their yards per carry and fumbles; or the receivers and their catches (or drops), yards per reception and yards after the catch. Other than making blanket generalizations, which tend to be either positive or negative and rarely in between, hardly anyone makes more than casual and fleeting reference to how the offensive line is playing.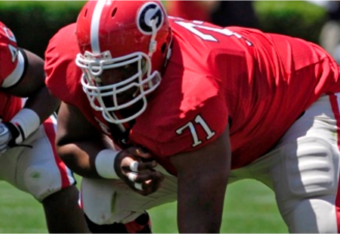 So, how exactly do you assess the performance of your offensive line? Grading the performance of offensive linemen, in terms of how effectively they carry out their assignments and execute their techniques from play-by-play, is a painstaking and tedious task that really only the coaching staff can perform. The average fan simply doesn't have the tools and/or know how to accurately make this evaluation.
So for layman, talking football around the office water cooler, is it efficacious and valid to judge the performance of the offensive line by examining and talking about stats that are associated with the skill players? Well, to a degree, yes. If you combine these skills stats with other team offensive stats, such as sacks, first downs, time of possession, third down conversions, points scored by the offense, one can, with a general degree of certainty and confidence, roughly assess how effectively the "O" line is doing its job.
How so, you may ask? Simple. Because even if your team's current skill players were named Matt Leinart, Red Grange, Herschel Walker, Desmond Howard, Larry Fitzgerald and Keith Jackson, the offense still wouldn't be productive without quality play from these few, these brawny, beefy few. Even an offense consisting of these college greats would get stymied and stove up behind five average Joes pulled from the bleachers
So, what about Georgia's offensive line? How are they doing? Well, The Dawgs are 4-2. Things at least seem a far cry better from the Liberty Bowl loss that sealed a woeful 6-7 season a little more than nine months ago. The offensive line has to be playing better, right? Well, as Lee Corso would say, "Not so fast!," in jumping to that conclusion, my friend.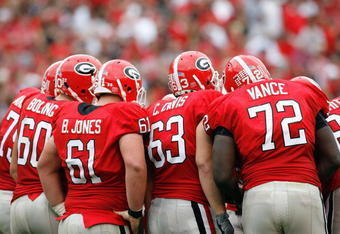 The stats below compare Georgia's current offense through the first six games with those of the 2010 edition at the same point in the season, the midpoint. The two schedules feature three common opponents, South Carolina, Mississippi State and Tennessee. Coastal Carolina roughly parallels with last year's opening foe, Louisiana-LaFayatte, while Boise State and Ole Miss replace Arkansas and Colorado on this year's slate. At the very worst, the two "first half of the season" schedules are comparable in strength.
Let's examine these stats and see what they reveal.
Offensive Category (Games 1-6)                  2010             2011        
Total Rushing Yardage                                    821             1020
Average Yards Per Rush                                 4.14              3.9
Longest Rush                                                 40                 80
Total Passing Yardage                                   1399             1415
Average Yards Per Pass                                 8.63              8.3
Average Yards Per Reception                         14.13           13.47
Longest Pass Completion                                55                 71
Completion Percentage                                  61%            61.70%
Sacks Yielded                                                14                 14
Total Yards Lost                                            101                 84
Quarterback Hurries by Opponent                      9                   1
Interceptions                                                    3                   6
Average Time of Poss./Game                         30:19            33:04
First Downs Per Game                                    18                20.6
3rd Down Conversion Percentage                   41.25%         38.60%
4th Down Conversion Percentage                     50%              50%
Offensive Touchdowns Per Game                      3                   4
Total Plays (Excluding Punts)/Game             368/61.3        429/71.5  
Yards Per Play                                              6.03               5.7
Across most measures, there appears to be little support for the contention that the offensive line is playing significantly more productively than last year's group. In many categories, last year's numbers were slightly higher, even without AJ Green's services in the first four games. In terms of their yards per rush, per pass and per play averages, this year's production is, in fact, down from last year's in all three areas. So is there any evidence of separation favoring this year's unit under the leadership of their new position coach, Will Friend?
These are a few areas of note. Georgia seems to have a little more big-play capacity this year. How much this correlates to the offensive line's performance is up in the air. Perhaps more helpful is this fact. The offense is averaging about 10 more plays and two more first downs per game this season and, in the process, is holding onto the ball about two minutes and 45 seconds longer each Saturday than last year's offense.
Beyond that, the other most telling stat is that the Dawgs, to date, are scoring a touchdown more per game behind this year's line. Whether this is "O" line related, big play related or a combination of the two is uncertain.
The increased time of possession probably results from a combination of the offense methodically grinding out those extra couple of first downs each night and much improved defensive play, putting the ball back into the hands of Georgia's offense more often. Mix in a few big plays, and "Voila!" You have increased ball control and more points. As suggested, how much of this relatively meager increase in productivity is due to the improved play by the "O" line? It's hard to say. 
To put this year's offensive line into a bit of perspective, let's compare their per play means to the other division leaders: Alabama and LSU, tied in the West, and South Carolina and Georgia, with whom the Dawgs are tied for the East lead. Let's also look at the cellar dwellers in each division, Ole Miss (West) and Kentucky, each tied for that honor but chosen because of their lesser overall record:
2011                          Alabama  LSU    Carolina  Florida   Georgia  Ole Miss Kentucky
Yards Per Rush              5.6       4.1        5.3         5.0         3.9         3.4          3.2
Yards Per Pass              7.5       8.3        7.0         8.2         8.3         6.3          4.1
Yards Per Play               6.4       5.5        6.0         6.2         5.7         4.6          3.6
Clearly the Bulldogs, except for their stellar per pass average, are trailing three of the other four leaders, while well ahead of those in their respective basements. One could conclude that a) there are offensive lines in the SEC that overall are outperforming Georgia's, and b) that perhaps Georgia's line does better in pass protection that they do in blocking for the run. Should Georgia be fortunate to win the East, they would likely have a very difficult time against the miserly defenses of the West leaders unless there is significant improvement,
For the moment, however, what seems certain is this. If the Bulldogs are to remain in the thick of the chase for the Eastern division title, the offensive line must continue to improve each game and work to build the chemistry that is so important to five or six guys being able to work together as one. It is well chronicled that mass is not the issue for this group, as the line is likely the Dawgs' biggest ever and as big as any in the conference.
As those familiar with football would conclude, as the offensive line goes over the next six games, so likely will Georgia' chances of returning to championship relevance in the SEC — unless, of course, Georgia's defense becomes even stingier down the stretch.