BCS Busters: Who Has the Inside Track to the BCS National Championship Game?
October 9, 2011
Christian Petersen/Getty Images
LSU, Alabama, Oklahoma, Wisconsin, Boise State, Oklahoma State, Stanford, Clemson, Oregon, Arkansas, Michigan, Georgia Tech, West Virginia, Nebraska, South Carolina.
Aside from being a cheap way to get more reads by listing a ton of keywords to start the article (guilty as charged), that is also a list of the top 15 teams in the AP poll released this week.
I was originally going to analyze only the top 10, but as you will see, there is cause for me including the next five. In what has become an annual tradition for me, I release this analysis the week prior to the first BCS standings: i.e. before craziness hits the fan, as it inevitably does in college football, beginning over the next two or three weeks, at which point the title picture will be a lot clearer.
Breaking down the remaining schedule, I will be categorizing each team in the top 15 in one of four categories: Controls its Own Destiny, Just Outside, Long Shot, and Needs a Miracle.
For the purposes of argument, I will assume that the team being analyzed runs the table for the remainder of its schedule, and I will go in order of the AP Poll's rankings.
1) LSU: Controls its Own Destiny.
Obvious call here, no need for a ton of analysis. Already the No. 1 team, has the No. 2 team on the schedule, plus the SEC title game. Run that schedule and it's mathematically impossible for the BCS to keep them out of the title game.
2) Alabama: Controls its Own Destiny.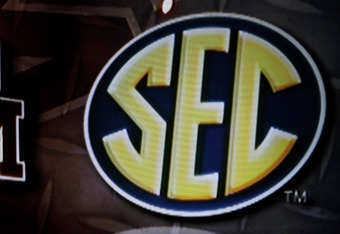 Aaron M. Sprecher/Getty Images
Has the same advantages held by LSU, along with the same disadvantage (the two schools have to play each other, so one will lose, and perhaps lose its shot at the title). However, the game is in Tuscaloosa and I trust Nick Saban more than the Hatter (Les Miles).
3) Oklahoma: Controls its Own Destiny.
Skip Bayless on ESPN is already on record as fearing an undefeated OU team could be left out of the big game in favor of a one-loss Alabama or LSU, but I'm not buying that reasoning. The Sooners will get in if they run the table—end of story. Skippy is just an antsy OU homer.
4) Wisconsin: Just Outside.
Sorry, Badgers—undefeated SEC and Big 12 champions will get in ahead of you. Realistically, even a one-loss SEC champ could get in ahead of you, too, so we're talking about losses from the Big 12 champ, and to be on the safe side, also the Pac-12 champ. I think Wisconsin would get in ahead of the Pac-12 champion, but there is just no way for me to know.
5) Boise State: Needs a Miracle.
They just don't play *anybody* the rest of the way. They would very easily make some noise in a playoff situation and I think they are shoo-ins for a BCS bowl assuming they take care of business.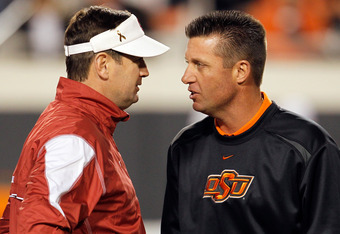 Tom Pennington/Getty Images
But for the big game? Not gonna happen. The SEC champion will get in, and the Pac-12, Big 12, and ACC champs will all need to lose because the pollsters and computers simply hate the MWC.
I considered making them "long shot," but in reality, they have no way to move up the polls; they can only hold strong. That isn't a winning formula for a team in a weaker conference.
6) Oklahoma State: Controls its Own Destiny.
Surprised? You shouldn't be, because—think about it—they have undefeated Oklahoma dog-eared and circled furiously as their last game this season. Even if OU loses prior to that game, the computers love the Big 12, which is a big-time tiebreaker over teams pursuing them. If OSU wins that showdown, it gets in. Period.
7) Stanford: Just Outside.
This team is hurt by the fact that preseason contender Oregon has already lost in 2011. The Cardinal are lower in the polls than Wisconsin, and will require the Big 12 champ to have a loss if they are to get into the title game.
Andrew Luck will, in all likelihood, be a fantastic professional, but I think it is so unlikely Stanford makes the big game that I almost ranked them "long shot".
Simply, too much has to go right for them in a season where the top three teams have really separated themselves from the rest.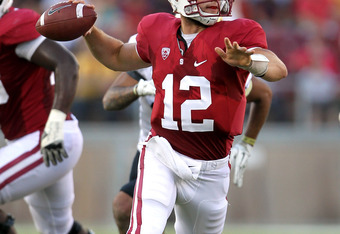 Ezra Shaw/Getty Images
8) Clemson: Long Shot.
Sorry, Tigers, but you play in the ACC, which is a basketball conference that just so happens to play football—and got the 'Canes from the Big East after they were relevant as annual national title contenders.
I'm a big ACC fan in all sports, because I hail from your footprint. But let's be honest—an undefeated ACC champion gets in after undefeated champs from the SEC, Big 12, Pac-12, AND Big Ten.
That means a lot of good teams will need to lose in order for your champion to get in. Besides, you're Clemson.
Eventually you'll lose to some lowly conference foe like Boston College or Duke. Isn't that the script, after all?
9) Oregon: Needs a Miracle.
Oregon already has a loss, and while I know it came early, and against the current No. 1 team in the land, I don't think they can even jump Boise State with a conference win over Stanford.
Essentially, if you're talking about having to jump Boise State with a big win, as opposed to your strength of schedule, you're not in good shape.
10) Arkansas: Needs a Miracle.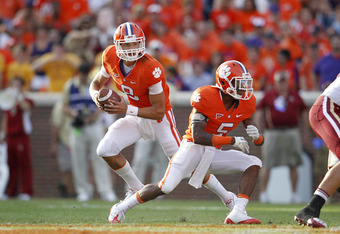 Joe Robbins/Getty Images
They have already lost to Alabama, which gets LSU at home, and then they play Auburn.
Even if there's a three-way tie at the 7-1 record mark in conference (Bama, LSU, Hogs), they will have to win on tiebreakers to get into the national title game: which simply won't be Arkansas.
So basically, they need Alabama to lose twice. Not gonna happen. And by the way, they won't beat LSU, either.
11) Michigan: Long Shot.
Tough road to hoe for the Wolverines, who have emerged as one of the preeminent success stories in 2011 during Brady Hoke's first season.
They do have a Big Ten title game this year (finally), and they are still undefeated, but they won't jump over an undefeated Stanford, even if they can get past Wisconsin, never mind a lackluster defense on their own sideline...
Having said that, they are Michigan, a true brand name in college football. You can never count out that effect on pollsters. 
12) Georgia Tech: Needs a Miracle.
Nope, not gonna happen. This team struggled to put away Maryland and has looked weakened upon entering ACC play.
They won't run the table, but even if they do, they have to get over the perception of playing in the ACC—which they won't. They won't even jump Boise State.
13) West Virginia: No Chance.
OK, creating a category after the fact here. WVU is out, they cannot get in under any circumstances. Sorry.
14) Nebraska: Needs a Miracle.
They already have a conference loss to Wisconsin—one of the teams ahead of them. Wisco will need to lose twice, and even then the Cornhuskers will require a lot more help. It's a very unlikely scenario, despite T-Magic living up to his nickname in the comeback this weekend.
15) South Carolina: Just Outside.
Never underestimate the power of a one-loss SEC team, even coming from the weaker Eastern Division, and within striking distance of the top 10.
Why? Because they will have a chance to play the undefeated Western Division champion in the SEC title game. That is a potential BCS bonanza on the last week of the season—which is absolutely crucial.
Despite its inglorious 16-13 home loss to Auburn last weekend, Steve Spurrier's charges aren't out of the running yet—but they might need some help because undefeated Big 12, Pac-12, and even Big Ten champions are ahead of them.
That's a lot of teams to jump.