Michigan Football: Do We Know If the Wolverines Are for Real Yet?
October 9, 2011
Leon Halip/Getty Images
The Michigan Wolverines are now 6-0 on the season after their 42-24 win on the road against Northwestern.  
Their schedule has not been all that impressive.  Their opponents have a combined record of .500—although in fairness, Minnesota's 1-5 record does draw the total down. With that said, you do have to play and beat whoever is on your schedule, regardless of their record.
The defense still is not where it needs to be, but they are showing signs of improvement.  The main difference between this season's unit and last year's is an ability to adjust as the game goes on. 
Notre Dame had their way in the first half of their game.  Western Michigan started their game with three impressive drives before the Wolverines defense was able to shut them down.  Even Eastern Michigan found some easy running lanes on their initial drive.
They key is that they seem to be able to turn it around in the middle of a game.  After a horrible start against Notre Dame, where they fell behind 24-7, they held Notre Dame to seven points the rest of the way to allow an improbable come-from-behind win.
Against Northwestern, three first-half interceptions had them down by 10 at halftime.  They were able to hold the Wildcats scoreless in the second half as they stormed back to win 42-24.
At best, they have a frustrating defense.  Entering today's game, they were third in FBS in points allowed yet 33rd in yards allowed.  So far, the bend-but-don't-break style has worked, but one has to wonder if it will last.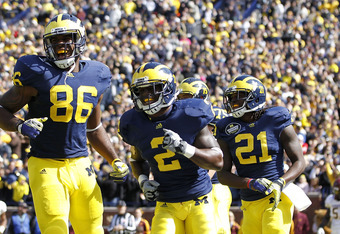 Leon Halip/Getty Images
The biggest question coming into the season was if Denard Robinson could run a pro-style offense.  The answer has been a resounding no. 
He is still a running back who occasionally throws rather than a quarterback who can run, but it works.   He has a tendency to put way too much air under the ball, making it easy to intercept, and his accuracy still needs work.  His ability to run forces defenses out of the comfort zone and often allows receivers to be more open than they really should be.
Despite that, he is still one of the quickest players in the game and a threat to score from anywhere on the field.  He has a never-quit attitude that the team rallies around.  Robinson is a dynamic, once-in-a-generation type of playmaker.
He is still relied on for too much of the offense.  Fitzgerald Toussaint and Vincent Smith have had moderate success running the ball, but everything goes through Robinson.   It is a concern to have so much of the load on one player.  Unlike last season, Robinson has been able to stay healthy, which has greatly helped.
The team has added backup quarterback Devin Gardner into the mix over the last three games.  This new wrinkle allows for even more options and really throws off the defense.
The Big Ten is not as good as usual.  This year it appears to be Wisconsin, then everyone else.  Illinois is better than expected, while Nebraska and Ohio State do not seem to be as good as advertised, and Michigan State has fallen off from last year's play.  That means that the race for second place is wide open.
There is no question that this team still has many questions, and they do not belong among the elite of college football.  They will likely be 11th in the AP rankings this week.  While that is too high for this team on paper, this is a team that just seems to figure out how to win.
So are they for real? 
Probably not, but with their exciting style of play they will provide a lot of entertainment this year.  Michigan State and Illinois will provide the toughest challenges over the next month.   
For the time being, enjoy the ride and expect some crazy results.  They are not the best team, but they may be the most exciting to watch.