Army Football
College Football: Miami of Ohio Rally Beats Army 35-28
Miami's Zac Dysert Throws for Four Touchdowns Against Army
Sam Greenwood/Getty Images
October 9, 2011
The "Thayer Week" endured by many of the cadets may have been a factor, a third road game in the Mid-American Conference proved to be a challenge, but the 503 yards of offense by the Miami of Ohio Redskins (1-4) was without question the key to their victory over Army (2-4) Saturday in Oxford, Ohio.
Miami quarterback Zac Dysert threw four touchdown passes on the day including a 20 yard TD completion to Nick Harwell capping off a nine play 98 yard drive with 7:05 left that proved the difference in the game. A sophomore from Missouri City, Texas, Harwell had 186 yards receiving from 10 catches on the day and two touchdowns.  He went into the day as the second-leading receiver in the NCAA.    
"We knew that he (Harwell) was going to be a challenge" Commented Coach Ellerson afterwards. "We knew whoever was going to be in his vicinity was going to need help, but the thing that's scary about him is the things he can do after the catch. He knew how to pick apart our defense and made us pay."
Dysert opened the scoring in the game with a 13-yard scoring pass to Harwell in the first quarter to give Miami an early 7-0 lead.  Late in the third quarter, he threw a 17-yard pass to Justin Semmes followed up just two minutes and 32 seconds later by a nine-yard strike to Andy Cruse just four seconds into the fourth quarter to tie the game at 28 all.  Overall, Dysert completed 24 of 37 pass plays for 342 yards in the air.
In addition to the success of the Miami offense to move down the field against Army, two turnovers were costly.  In the second quarter, with the score tied at 14 all, Steelman on the 12th play of a drive fumbled at the Miami 28. 
In the third quarter Miami gave one back.  With Army ahead 28-14, Miami fumbled on a second and one play at the Army 4-yard line. That could have been a back breaker but to the RedHawks credit; they continued to come back.  Later in the third, with Army leading 28 -21, Raymond Maples fumbled at his own 35-yard line.  The RedHawks took over and scored six plays later on a nine-yard Zac Dysert pass to Andy Cruise to tie the game at 28 all early in the fourth.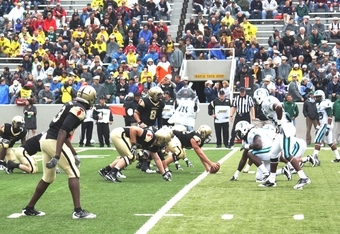 Army Offense ran for 326 yards. (K. Kraetzer)
"That's one of those things that is consistently seen with success" commented Rich Ellerson afterwards.  "There's nobody on our schedule that won't beat us if we don't win the turnover battle. If we take care of the football and get some turnovers on defense, we will have a chance every week. We're not matching up to people very well on defense, and we need to find a way to get off the field on third and fourth down."
Army's offense played its normal, consistent grind-it-out game on the ground with the Black Knights and even had their best passing day of the year but came up short on the final drive. Army rushing the football for 326 yards led by sophomore Raymond Maples who gained a net 111 yards and scored on a 25-yard run in the first half. 
Driving late in the game, Army almost tied it up until a defensive stand by Miami ended the game.  Trailing 35-28, Army moved the ball from their own 32 to a first down at the Miami 13.  Losses on two running plays and a short gain on a pass play set up a 4th-and-12 at the Miami 12. 
Army quarterback Trent Steelman had already scored two touchdowns on the day, was tackled for an eight-yard loss by Jaytee Swanson of Miami with 24 seconds left to all but end the game.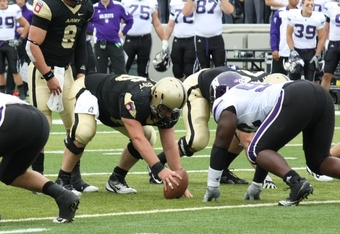 Trent Steelman threw for 124 yards versus Miami (K. Kraetzer)
The Black Knights often ask Trent Steelman to run the ball in short yardage situations, went into the game as the NCAA's leading touchdown scorer among QBs,scored two more with scoring runs of one yard in the first half and five in the second.  The Bowling Green, Kentucky native played in his 31st consecutive game at QB an Academy record. 
Trent Steelman will be moving up towards the very top of many of Army's career all-time offensive records as the season continues.  His touchdown scored ties him for fifth place on the Army all-time list with with Heisman Trophy winner Felix Doc Blanchard with 26. 
This game was reminiscent of the Rutgers game last year when Army dominated the first half only to give up big drives in the second half.  Army held a 28-7 lead early in third quarter but let the RedHawks rally to score three consecutive times to pull out a come from behind victory. 
Perhaps, some of the five sophomores on the defensive were feeling the effects in the second half of the exam heavy "Thayer Week" late in the second half.  Perhaps, this is an example that Army being an independent sometimes has to play a road game in order to schedule opponents.  Army will again visit Miami of Ohio in 2015 before the RedHawks travel to Michie Stadium in 2016 and 2018.
The road to the Kraft Fight Hunger Bowl now looks very questionable at best with Army needing to win four of its next five to qualify.  The only true home game is in three week against Fordham.  After this week's bye, Army travels to the South East Conference and Vanderbilt (3-2) revived under new coach James Franklin. 
Vandy endured a 34-0 beating at Alabama Saturday night and face a visit from Georgia this week.  Later on the schedule are a home game of sorts at at Yankee Stadium against Rutgers (4-1) who just beat Pitt 34-10 and the last game in November in Philadelphia against a team trying to play itself back into the Big East, Temple (4-2) who just beat Ball State 42-0.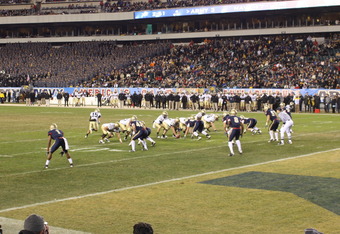 Army's Commanders In Chief Games Coming Up (K. Kraetzer)
The Commander In Chief games should be very competitive. Air Force is 3-2 on the year after having their defense taken apart by Notre Dame Saturday 57-33 in South Bend.  Navy is 2-3 after losing this week to Southern Mississippi 63-25.  Air Force of course defeated Navy last week 35-43 in overtime on a disputed celebration call contributing to a missed point after touchdown.  Appears that all three Academy football teams are good offense and suspect on defense. 
Should be interesting as we enter the second half of the season and these traditional matchups approach and loom large.  Enjoy the Army bye week, perhaps take in the game of another team in your area.
Ken Kraetzer produces the West Point Football Report by Sons of the American Legion Radio heard most Tuesdays in the season on WVOX 1460 AM broadcast from New Rochelle, NY and heard nationally on WVOX.com.  Ken can be reached on kgk914@aol.com.
Like the new article format? Send us feedback!