4 College Football Teams That Won't Win Conference Title with Current Coaches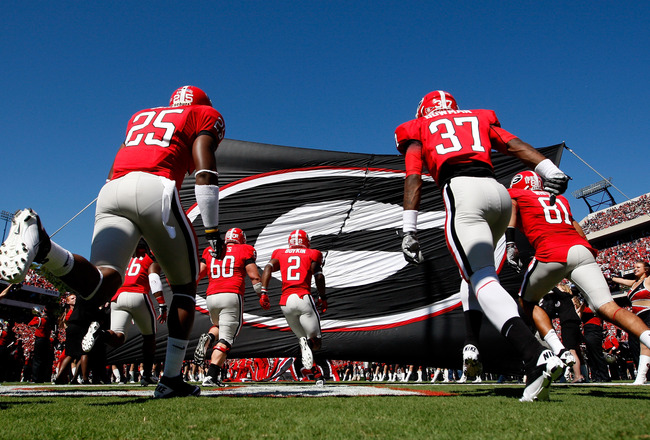 Kevin C. Cox/Getty Images
In college football the ultimate goal of a team is to win the national championship, but in order to achieve that goal the team must first win their respective conference. Some teams are built to contend for the conference championship year in and year out, but just don't have the coaching to get over the hump.
Several teams have the potential to make the conference championship, but their coaches just can't coach them to the trophy. In college football it is a difficult decision to let your head coach go especially with all the loyalty involved and several coaches having long tenures with their schools, but if they can't get you to the big game and further, something has to change. Great records are nice, but they don't always equate to conference and national championships.
Oklahoma State Cowboys: Mike Gundy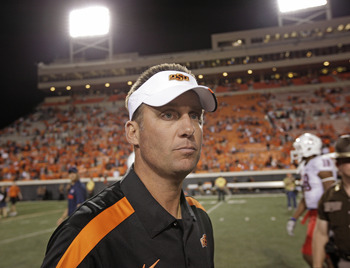 Brett Deering/Getty Images
The Oklahoma State Cowboys are a perfect example of a team coached to great records, but they never have anything to show for it. Mike Gundy has been the head coach at Oklahoma State for six years, and has posted winning records each season including an 11-2 record last season, but has yet to win a conference championship or play in a BCS bowl game.
It doesn't matter who you are, you can post winning records your entire career, but in the Big 12 with competition like Texas and Oklahoma, you need to win out if you want to win the conference. The Cowboys are 4-0 to start this season, but they have yet to play Texas, Baylor, Kansas State, and rival Oklahoma. Gundy just doesn't have what it takes to coach the Cowboys to an undefeated season in the Big 12, maybe he could win a conference title in a different conference, but it isn't happening in the Big 12.
Georgia Bulldogs: Mark Richt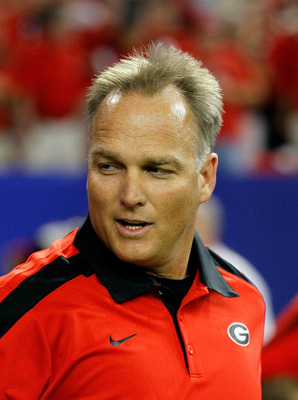 Kevin C. Cox/Getty Images
We all know how difficult it is to win the SEC Championship, and it doesn't get any easier for a team in Georgia with Mark Richt as the head coach. Despite his early success as the head coach in Georgia that saw him lead the Bulldogs to SEC titles in 2002 and 2005, in recent memory he is a dismal 17-14 over the past three campaigns.
Mark Richt's run of dominance ended years ago in Georgia. Richt was given the fabulous talent in Aaron Murray to run his offense and he has failed, as has his defense. Richt is going downhill fast and it doesn't look like he will be winning any more conference titles with the Dawgs down in Athens.
Washington Huskies: Steve Sarkisian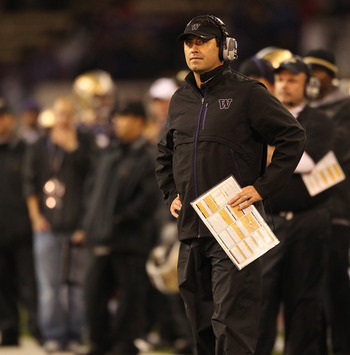 Otto Greule Jr/Getty Images
The Washington Huskies have so much upside, and Steve Sarkisian is a terrific head coach, but in the ever expanding Pac-12 and competing with super powers like Oregon, Stanford, and USC, will be the eventual downfall of Sarkisian's time in Seattle.
In three years with the Huskies, Sarkisian has posted a record of 16-14, including a 4-1 record so far this season. Sarkisian has yet to lead his talented offense to multiple point wins over ranked opponents, and his defense is not good. It is unfortunate to see a coach as talented as Sarkisian put in a position to lose, but in the Pac-12 that happens to coaches more often than not. For the foreseeable future, Sarkisian doesn't have a Pac-12 title in his sights, and his time with UW is limited.
Nebraska Cornhuskers: Bo Pelini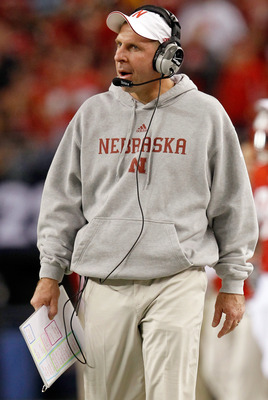 Tom Pennington/Getty Images
Bo Pelini and the Nebraska Cornhuskers may have just joined the Big Ten, but their chances of a conference title are slim to none. Pelini led the Huskers to three consecutive Big 12 North Division titles before leaving to the Big Ten, but was never able to win the Big 12 Championship game. If he couldn't win in the Big 12 after facing such high competition and winning, he won't lead the Cornhuskers to the Big Ten title either.
In their first Big Ten game, the Huskers got stomped by Wisconsin 48-17, and it doesn't get any easier with Michigan state, Ohio State, and Michigan still on the schedule. Bo Pelini does not have what it takes to win a Big Ten championship, and the Huskers won't be seeing much success within the conference if they still have him calling the plays.
Keep Reading