RussellMania XVI: Russell Wilson's Twitter Feed and Other Great Tags We'd Use
John Gress/Getty Images
Russell Wilson, Robert Griffin III, and Andrew Luck are dominating college football; hashtags are dominating Twitter and social media.
With the 2011 season in full swing and the Heisman race heating up, here are ten front-runners for an invitation to the Downtown Athletic Club and their appropriate tags.
Russell Wilson (#RussellManiaXVI)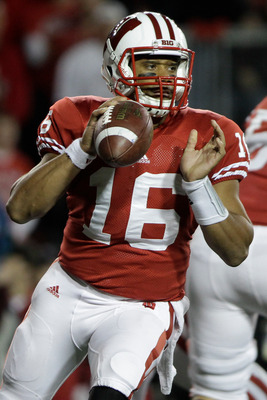 John Gress/Getty Images
Who knew Vince McMahon was a Badger fan?
Russell Wilson's white-hot start has led the Badgers to a 5-0 record, a top five ranking and a clever, wrestling-themed moniker for their starting QB.
With 1,400 yards passing and 13 touchdowns in five games, RussellMania is making a run at the Heisman title.
Robert Griffin III (#RG3)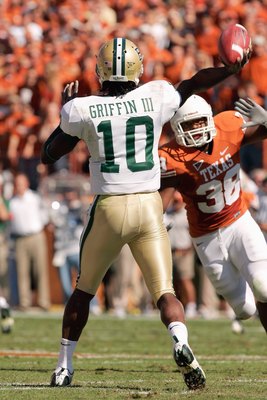 Brian Bahr/Getty Images
Whoever was first to name Baylor's Robert Griffin III "RG3" is a genius.
Like Chris Paul before him, Griffin has used the Star Wars-themed moniker to bolster his name, brand and popularity.
The 82 percent completion rate and 18 touchdowns haven't hurt, either.
Andrew Luck (#LuckbeaCardinal2Nite)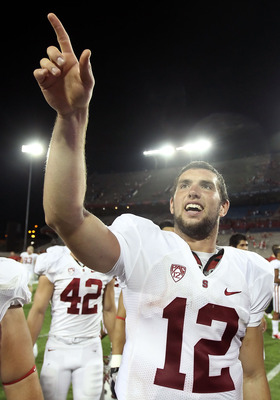 Christian Petersen/Getty Images
To win the Heisman, Stanford quarterback Andrew Luck has to be good, and he is. Him throwing for than 1,000 yards passing and 11 TD's in four games would attest to that.
To win the national title, he needs to find literal meaning in his last name.
There's a logjam of undefeated, AQ teams at the top, and Stanford could find themselves on the outside looking in come January.
Trent Richardson (#IngramWhoDat)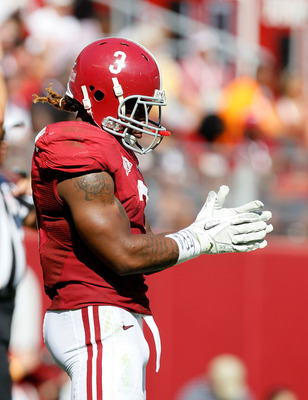 Kevin C. Cox/Getty Images
Alabama tailback Trent Richardson has fans in Tuscaloosa asking "Who Dat?" when people bring up former Alabama star and current New Orleans Saints running back Mark Ingram.
In five games this season, Richardson is averaging 6.5 yard per-carry and he's rushed for 11 touchdowns.
Don't be surprised if Richardson joins Ingram in the Heisman Fraternity.
Kellen Moore (#QBSmurf)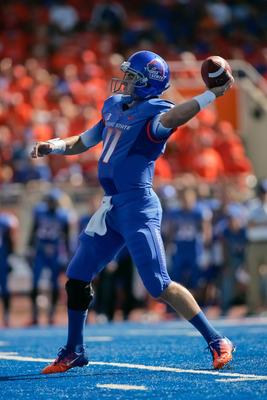 Otto Kitsinger III/Getty Images
Boise State is known for two things: BCS busting and bright blue turf.
Their leader, Kellen Moore, is a fine quarterback—throwing 14 TD's and for more than 1,100 yards passing in five games.
With the uniforms, the turf, and the underdog status, is their a better nickname for Kellen?
Marcus Lattimore (#GimmetheballCoach)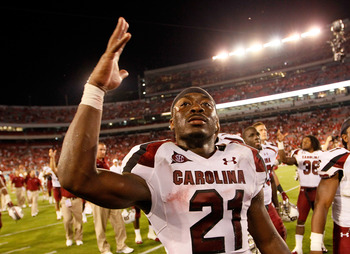 Kevin C. Cox/Getty Images
The Ol' Ball coach is known for grooming signal-callers, and the constant quarterback shuffle in Columbia has to have Marcus Lattimore screaming "Gimme the ball, Coach!"
Lattimore has nine TD's and almost 700 yards rushing in just five games.
Imagine what he could do if Steve Spurrier took as big an interest in him as he has Stephen Garcia.
Landry Jones (#Stash)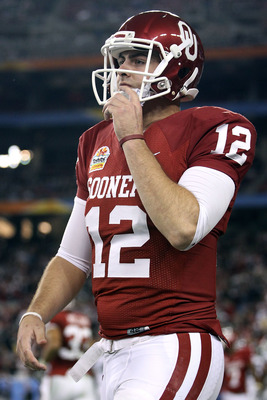 Christian Petersen/Getty Images
Landry Jones is a better quarterback now than he was a couple of years ago (almost 1,500 yards passing, ten TD's in four games), but he isn't nearly as cool.
Most people don't remember that Jones had a sweet mustache when he bursted onto the scene a couple of seasons ago, and that's a shame.
Denard Robinson (#ShoeLace)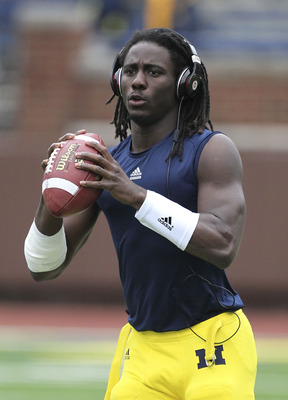 Leon Halip/Getty Images
Michigan's dynamic quarterback might not know how to tie his shoes, but he sure knows how to use his feet.
In five games, the junior quarterback has run for 600 yards and six scores.
When he's not busy running around making breath taking plays, he's thrown for almost 800 yards and eight more touchdowns.
LaMichael James (#PacifistDuck)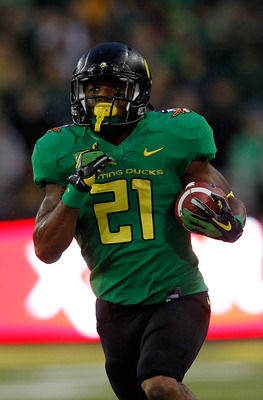 Jonathan Ferrey/Getty Images
Oregon running back LaMichael James isn't as violent as his predecessor, but he is a better player.
In five games this season, James is averaging a whopping nine yards per-carry and he leads the nation in rushing with 852 yards.
He might not be a boxer, but he is one heck of a football player.
Alshon Jeffrey (#MiniTron)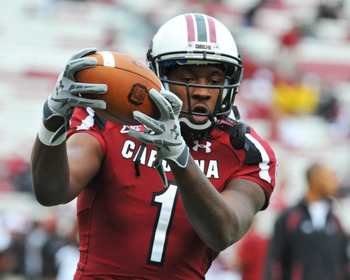 Al Messerschmidt/Getty Images
Inconsistent quarterback play at South Carolina has caused a dip in Jeffrey's numbers, but he still catches everything.
Despite his decline in production, expect Jeffrey to go high in the draft whenever he decides to leave school, and don't be surprised to see his quarterback chuck it up to him in all situations in an attempt to mimic the Stafford-Johnson connection in Detroit.
Keep Reading

Wisconsin Badgers Football: Like this team?