LaMichael James Injury: 4 Ways Oregon Ducks Can Make Up for Star RB's Loss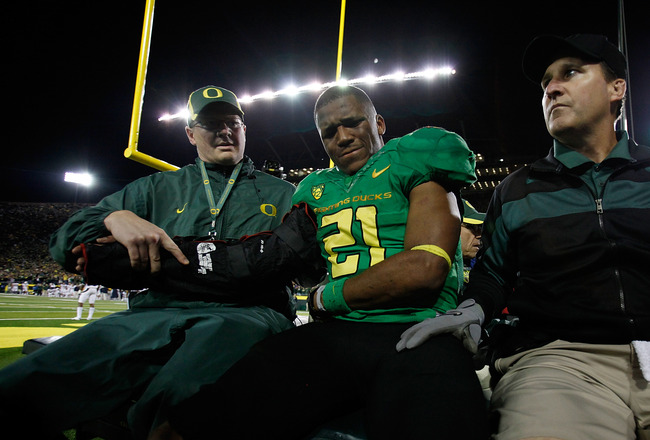 Jonathan Ferrey/Getty Images
With LaMichael James out for a few weeks, the Oregon Ducks lost their biggest offensive weapon, but the team has a number of talented players that together could make up for this tough loss.
The nation's leading rusher, LaMichael James, sustained a dislocated elbow in Thursday's win against the California Bears.
Why James was even on the field in the fourth quarter, after running for 239 yards and his team leading 36-15, is the big question that Duck fans ask themselves.
Oregon's coaching staff has until October 15, 2011, when the Ducks host Arizona State, to come up with a strategy of how to make up for James' loss.
De'Anthony Thomas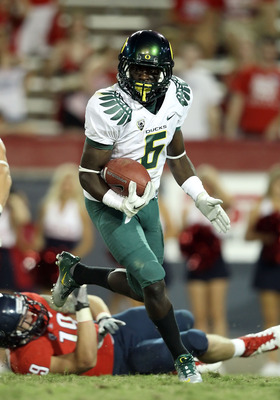 Christian Petersen/Getty Images
Oregon freshman De'Anthony Thomas has been nothing less than sensational in his first five games with the Ducks.
The Black Mamba is the team's second leading rusher with a total of 191 yards, including two touchdowns.
He also is the Ducks' leading receiver with 17 receptions for a total of 286 yards and four touchdowns, two of which he caught in Thursday's win against Cal.
With James on the sideline, the 18-year-old Thomas will play an even bigger role in Oregon's offense.
Kenjon Barner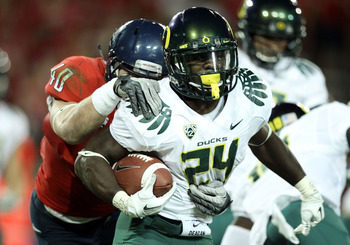 Christian Petersen/Getty Images
Oregon backup running back Kenjon Barner will have to shoulder the major part of the Ducks running game as long as James is recovering from his injury.
The 22-year-old junior has been able to perform at a high level in the shadow of James over the last two seasons.
Barner has rushed for a total of 167 yards on 27 carries and three touchdowns this year. In addition, he has caught four balls for 23 yards and a touchdown.
With Barner and Thomas sharing the spot in the backfield, the Ducks should still have one of the best running attacks in the Pac-12.
Darron Thomas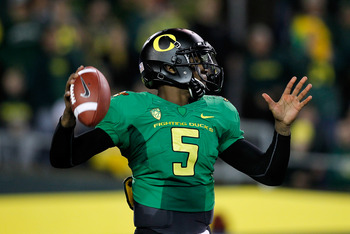 Jonathan Ferrey/Getty Images
Not having James running for an average of 170.4 yards on 19 carries per game puts Ducks quarterback Darron Thomas in an even bigger spotlight.
Thomas had the luxury of having arguably the best running back in all of college football behind him; James represented some sort of security for Thomas.
Now, with James out, the 21-year-old Texas native has to take on more responsibility and make the right decisions and reads.
Without the threat of James' speed, opposing defenses could focus more on pass defense.
Thomas has completed 59.4 percent of his passes this season for 15 touchdowns and only two interceptions.
Chip Kelly's Game Plan
Christian Petersen/Getty Images
The final decision of how the Ducks will handle the loss of their top running back lies with head coach Chip Kelly.
The man who led Oregon to its first-ever national championship game last season probably has to make the toughest decision of his coaching career.
Oregon's game plan simply does not work without James on the field. The Ducks cannot keep up their unbelievable speed on offense and have to play a more settled type of offense.
If Kelly and his assistant coaches can make this happen in just eight days remains to be seen.
Keep Reading

Oregon Ducks Football: Like this team?