College Football: Can Army Overcome a "Thayer Week" Road Trip to Miami of Ohio?
October 7, 2011
The biggest challenge facing the West Point (2-3) football team this week might not be injuries, playing on the road or even a hungry Miami of Ohio (0-4) team.  It could just be the many young players on the team getting through the rigors of a "Thayer Week," a week of strenuous academic and military requirements that is unique to the US Military Academy.
Sylvanus Thayer was a graduate of the class of 1808 who was sent to France in 1815 to study the teaching methods at the Ecole Polytechnique.  He came back and was named the superintendent where he set about raising standards, implementing regular exams and developing the Academy into the first professional engineering school in the country.  If you watch a parade conducted by West Point cadets, you will notice the style of dress uniforms is handed down from the Napoleonic era. 
Superintendent Thayer emphasized science, math and self-learning by the cadets. Many say things remain much the same.  He is known at West Point as the "Father of the Military Academy."*  
West Point remains primarily focused on training young men and women to serve as Army officers and "leaders of character," as their officials often tell us.
Herman Bulls, a graduate and official of the West Point Association of Graduates, described a Thayer Week as:
"An unfortunate week for Cadets where from an academic perspective, it is time for Written Partial Reviews.  There could be two or three WPRs due, which are big tests, which represent up to a third, 20 to 30 percent of the semester grade.  It is possible that a Cadet could have two of these exams on the same day.  This is true student-athletes in action.  There is no special dispensation made for football players. They must take the same exams and do everything that must be done."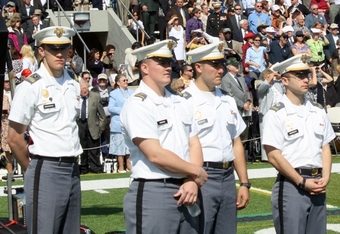 Head Coach Ellerson discussed the challenge of preparing his team for a game during a "Thayer Week" at West Point. "Can we, in a difficult week academically, go on the road to the scene of several crimes, the Midwest, where we have played poorly, and manage our week, manage our enthusiasm, manage our legs, manage our time and get our rest and play well; play well on the road."
Coach Ellerson often expressed concerns about his players, especially the sophomores and plebes (freshmen) getting enough sleep because of staying up studying and getting up early for morning formations, inspections and classes. He went on to say:
"We have the experience of what a Thayer Week can do to you the last time and we didn't handle it very well, so we're going to do some Draconian things in preparation for this contest. Our sophomore class is in an especially difficult week; a challenging week. So, we're going to do whatever we need to to accommodate those guys, so they can get their work done, prepare and at the same time get enough sleep so physically and nutritionally they're going to be ready to go."
The other challenge comes from the team across the line playing on their home field in Oxford, Ohio, the Miami of Ohio Red Hawks—a hungry and frustrated football team who would be eager to put their first W on the board against a team that has struggled on the road this year.
Don Treadwell is in his first year coaching at his alma mater after four years as the offensive coordinator for Michigan State.  Last week Miami was shut out at home against Cincinnati. To start the year they lost to Missouri and Minnesota before a home-opening loss to Bowling Green. 
Miami struggles at running the football, ranking 120th in the NCAA.  They have a capable passing game led by quarterback Zac Dysert, who is averaging 263 yards per game in the air.  He has completed 61 percent of his passes for 1,036 yards and two touchdowns. Nick Harwell is a favorite receiver with six catches for 149 yards.   
Coach Ellerson said, "Miami hasn't won a game, which is crazy when you look at the video tape. You see an offense and a quarterback and a bunch of receivers who are as talented and efficient and dangerous as any we've seen or any we will see. Their defense has done some tremendous things.  In many instances we're going to be lined up against the best guy we've faced this year.
"You can watch them push Missouri around," added the Black Knight coach. "You can watch them throw the ball against teams that are much better right now defending the pass than we are and have great success moving the football.  They know how hard it is, especially for us, to win on the road because we haven't come close to doing that.  We have a lot of respect for our opponent. You can almost feel the frustration on that football team watching them play because they're doing so many good things and the scoreboard just won't reflect it."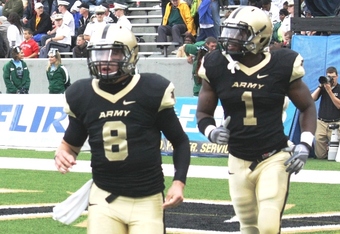 Army junior quarterback No. 8 Trent Steelman, with the start Saturday, will set an Academy record with his 31st consecutive start, surpassing the record of Leamon Hall who led the Army offense from 1975 to 1977.  Steelman is having another solid year for the Black Knights, averaging 87 yards per game rushing the ball—fifth best in the NCAA among QBs.  His nine touchdowns rushing leads all QBs in the NCAA and is tied with two others for 5th among all players.
In last week's 45-6 win over Tulane, Steelman rushed for two touchdowns and was able to complete three passes including a 40-yard pass play to Davyd Brooks. As we thought might happen, he completed two passes to slot back No. 1 Ray Maples and a 25-yard completion to fullback No. 26 Larry Dixon.
Coach Ellerson reacted to my question about opportunities for his starting quarterback to reach higher levels
"He (Steelman) really plays a fine game. He's making good reads, he's distributing the ball. He was much more efficient throwing the ball (against Tulane). He was a very efficient player this last week, but we still have the ball on the ground at least one time and I say that's a needless opportunity we gave our opponent. We need to eliminate that. We're leaning on his experience and his prowess within the offense and that will continue to be the fulcrum for our success."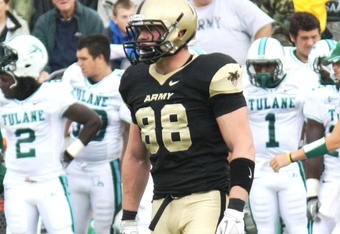 Last week on the opening series, Tulane moved the length of the field in three plays, a 10-yard pass, then two runs up the middle, a 67-yard run, and a three-yard pass for a score.  After that the Green Wave runners were held to 55 yards on the day.  One of the players anchoring the defensive line is 225-pound sophomore left tackle No. 88 Holt Zalneraitis.  I asked the coach about how he is able to handle the much bigger offensive linemen:
"Well, he's `undersized' for that position in the classic sense. He is extraordinarily quick. He's very strong, he's very quick. To make him effective, you have to move him. He can rush the passer, but sometimes he gets lost in there because of just the size differential and it can turn into a pile, but he is extraordinarily explosive. He's got rare ability in that regard. Every week he gets a little bit more comfortable in that world. He's very productive at some things that we do. There are still some challenges in his game."
The punts last week of junior No. 18 Chris Bolt were booming spirals. Bolt has been the punter the past three games after senior No. 38  Kolin Walk punted in the first two games of the year.  Bolt's punts have a slightly longer average at 41.9 yards versus Walk's 41.0 but appear to provide more hang time.  I asked the coach if he was pleased with Bolt's performance:
"We're a directional team. We try to play a little keep away from returners. That's where I still think he can be much more consistent and much better. The good news is that the timing and the placement has improved. We're getting the ball off. We're covering well. He's capable of being a very good punter, but the consistency remains a challenge."
Last week we said it was "crisis week," a vital win to keep a chance for a New Year's Eve date in the Kraft Fight Hunger Bowl in San Francisco and to regain their confidence after a disastrous trip to Ball State. 
This week Army has a chance to even their record at 3-3 before their off week.  Trent Steelman described the importance of this week:
"It's huge. A win here would put us back to .500 heading into the meat of our schedule. A win this weekend would be huge for our program and huge for our motivation. It's a must."
To do that they need to play well on the road, which they have failed at in two prior trips to Mid-American Conference teams. This is surprising considering that West Point was 5-0 on the road last year.  They also have to handle what it means to be a West Point cadet, handling the concentrated academic and military challenges thrown at the cadets during a "Thayer Week."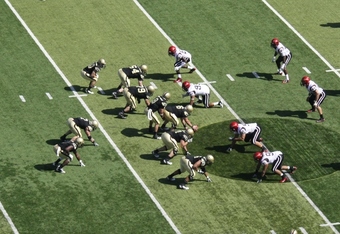 "I'm expecting that we're going to get this week right," commented Coach Ellerson, adding, "We're going to have our preparation right. We're going to have our minds and our feet and everything in the right place when we kick this thing off on Saturday because we haven't done that the last two times on the road."
Keys to the game are the standard ones for West Point:
1. Avoid giving up big plays at the start; don't play from behind.
2. Complete drives on the ground with the consistent running game
3. Contain the Red Hawks' passing game.
4. Win the turnover battle; avoid fumbles and interceptions.
Army showed a lot of growth and maturity last week, dominating a quality opponent.  They should be ready to demonstrate a strong level of performance on the road. Watch for improved play by the middle of the Black Knights defense.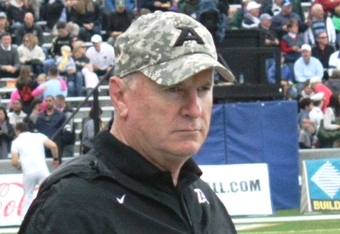 Prediction: Army 27, Miami 17
Ken Kraetzer produces the West Point Football Report broadcast Tuesday nights at 5:30 PM EST during the season on WVOX radio 1460 AM and nationally on WVOX.com from New Rochelle, NY. Reach him on kgk914@aol.com
* Shell, Amy E,  The Thayer Method of Instruction at the United States Military Academy: A Modest History and a Modern Personal Account.