Tennessee vs. Georgia: Tyler Bray and 5 Key Players for the Volunteers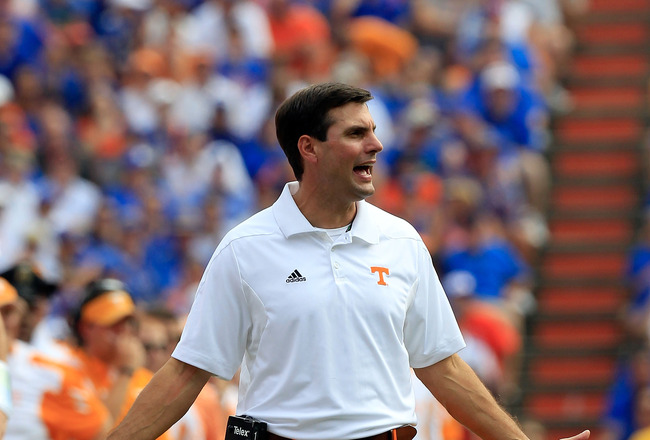 Coach Dooley
Sam Greenwood/Getty Images
College Football is a wild and unpredictable game. It once seemed like the SEC's eastern division was predestined to be represented by either Florida or South Carolina in the SEC championship game, one upset loss and one humiliation handed out by the Crimson Tide later the East is suddenly up for grabs.
This coming Saturday on the banks of the Tennessee River, rivals Tennessee and Georgia will meet once again in Neyland Stadium. This is a huge game for both programs. Tennessee is desperately looking for a signature win to prove that its rebuilding process is ahead of schedule and Georgia, after starting 0-2, is now 3-2 and looking to show its Lazarus impression is not a fluke.
The winner will also emerge as legitimate contender for the Eastern division crown. For Tennessee Vols fans, here are six players to keep an eye on Saturday night.
Tyler Bray
Even the not easily pleased Derek Dooley has admitted that Tyler Bray is playing great football so far in the 2011 season. Bray, in just four games has 14 touchdowns and over 1,300 yards with two interceptions.
The fate of the Tennessee Vols success during the conference schedule rest on his right arm. If Bray can come close to duplicating the production he has had against non-conference opponents against Georgia, the Tennessee offense will be in for a very good evening.
Daryl Vereen
Daryl Vereen is not exactly a house hold name, but the 5th-year senior could play a very pivotal role for the Tennessee defense against Georgia. Tennessee D-coordinator Justin Wilcox has had his Vols defense in the nickle package for almost 50 percent of its' snaps so far this season. When the nickle is on the field, Daryl Vereen comes on as the "nickle-backer."
Why does that matter? Well, Georgia quarterback, Aaron Murray's best target is his tight end, Orson Charles. Expect Vereen to be matched up with Charles at least a handful of times throughout the game. If Murray isn't able to find his security blanket it could be a long day for the sophomore.
Devrin Young

First Play

Devrin Young, a true freshmen and Knoxville native made his UT debut with a 43-yard punt return against Buffalo last week. That return was good enough to be UT's longest return in four seasons. The former All-State running back will be returning punts again for Tennessee against Georgia.
For the Vols, he provides something Tennessee hasn't had in a while—a dynamic return threat on special teams. As Malik Jackson, Tennessee DT, said, "it's nice to have somebody that knows what they are doing back there."
In a tight competitive game, like most battles between SEC powers, there are always a handful of plays that turn momentum and provide the winning edge. Could a big return by Young be one of those plays?
Da'Rick Rogers
Da'Rick Rogers is now, following the injury to Justin Hunter, Tennessee's biggest playmaker. However, he faces the best corner he has seen all year on Saturday in Georgia's Brandon Boykin.
Boykin, one of fastest players in the conference, is also a senior. He will have the speed and experience to hang with Rogers all game and until another one of the Tennessee wideouts makes Georgia pay, expect Boykin to also be getting safety help over the top to bracket Rogers.
If Rogers is to keep up his torrid 2011 pace, he is going to have to the game of his young career.
Michael Palardy
The former No. 1 kicking prospect in the country coming out of high school, Palardy hasn't quite lived up to expectations in his sophomore season.
Palardy has yet to hit a field goal of over 40 yards in his UT career. Can he be counted on to make a big kick in the fourth quarter? Michael has also struggled with his kickoffs. With Georgia's speedy Brandon Boykin returning kickoffs, this has to be concerning for the Big Orange Faithful.
Prentiss Waggner
Prentiss Waggner, who led the Volunteers with eight interceptions last season—including a NCAA best three returned for touchdowns—hasn't recorded a pick after four games this year. Waggner, will be playing center field as the deep safety in Tennessee's bast defense and will play the role of the nickleback in nickle coverage.
Waggner should have plenty of chances for a breakout game against Georgia's Aaron Murray, who is coming off a 3 INT performance against Mississippi State last Saturday.
Keep Reading

Tennessee Volunteers Football: Like this team?