College Football Predictions: Dissecting Missouri's Remaining Schedule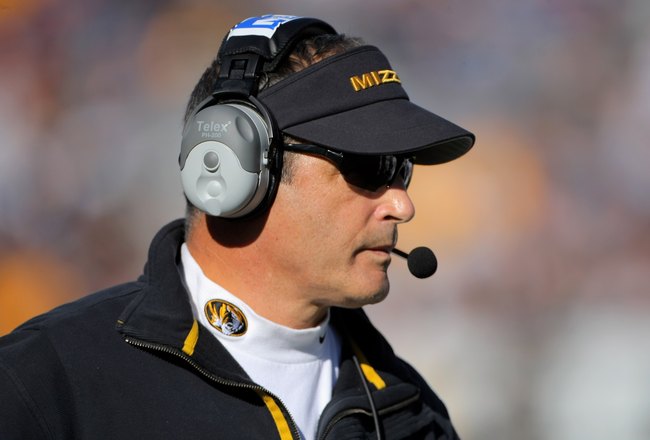 Doug Pensinger/Getty Images
Walk around Mizzou's campus in Columbia, Missouri, and you'll hear very little about what the Tigers are doing on the field. The topic of conversation, naturally, is the latest gossip about the team's potential move to the SEC.
I'm not here to talk about that, though—that discussion is a migraine all its own.
I'm here to take a closer look at Mizzou's remaining schedule.
Currently sitting at 2-2 (0-1), the Tigers are off to a bit of a shaky start.
Coming off a bye week, and with conference play directly on the doorstep, will the Tigers step up to the plate?
This Saturday's game at Kansas State will be a real tell-tale sign of what Missouri is going to offer in Big 12 play.
Take a look.
Saturday, October 8: @ No. 20 Kansas State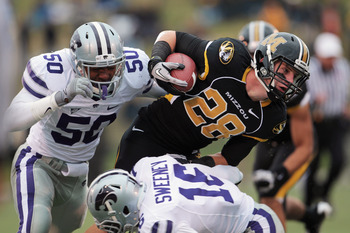 Jamie Squire/Getty Images
Previous Meeting: Missouri 38 Kansas State 28 (2010)

Kansas State comes into this game hot—knocking off Miami and Baylor in consecutive weeks.
Mizzou shouldn't take this game lightly, despite being four-point road favorites, since K-State is arguably the most improved team in the Big 12.
It's time for Kansas State to come back to reality. They are a good team that really relies on defensive stops in crucial situations to get victories.
I don't see this game being close. The Wildcats are going to be exhausted having to play three big games in a row.
James Franklin will protect the ball as Missouri climbs to an even record in conference play.
Record: 3-2 (1-1)
Saturday, October 15: Vs. Iowa State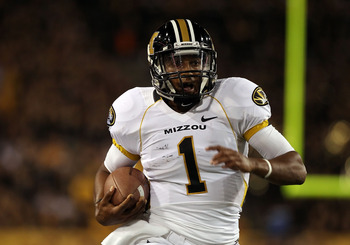 Christian Petersen/Getty Images
Previous Meeting: Missouri 14 Iowa State 0 (2010)

Iowa State opened a few eyes, upsetting Iowa in triple overtime earlier this season.
Unfortunately, Missouri is not Iowa.
I'm going to make this short and sweet—there is no way the Tigers can lose this one.
It's the 100th Homecoming at the school where the tradition was conceived. The environment will be unlike any other.
Simply put, Iowa State won't be ready for what James Franklin and Henry Josey have to offer.
Record: 4-2 (2-1)
Saturday, October 22: vs. No. 6 Oklahoma State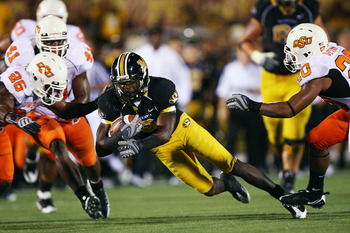 G. Newman Lowrance/Getty Images
Previous Meeting: Oklahoma State 33 Missouri 17 (2009)
I'd be foolish to actually think that Missouri was a team that matched up with the Pokes, because, frankly, Oklahoma State might be the best team in the Big 12.
Brandon Weedon and Justin Blackmon are going to put up a boatload of yards against Missouri's secondary, who is susceptible to the big play.
Missouri is at home and the crowd is going to be electric at Faurot Field.
The Tigers will hang around for the first half, but will ultimately be overmatched after the break.
Record: 4-3 (2-2)
Saturday, October 29: @ No. 24 Texas A&M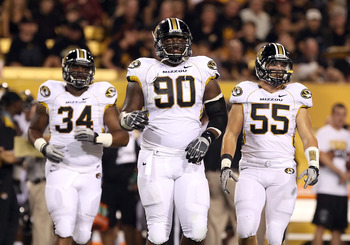 Christian Petersen/Getty Images
Previous Meeting: Missouri 30 Texas A&M 9 (2010)
This is a game that I'm particularly excited about. With Texas A&M already on their way to the SEC, Missouri will look to go out and impress the haters who don't believe they're worthy of a spot themselves.
For the Aggies, this has the potential to be a huge look-ahead game, as they visit the Sooners the following week.
Missouri really dominated the Aggies defense through the air a year ago—albeit with Blaine Gabbert—and James Franklin will have have a field day of his own.
The Texas A&M defense has given up a mind-blowing 950 yards passing in their last two games. That's going to need to change quickly before the Aggies find themselves in some serious trouble.
Franklin and the Tigers will try and come out, land the first few punches, similar to how they played against Oklahoma. This time, though, they won't lose their footing.
Record: 5-3 (3-2)
Saturday, November 5: @ No. 25 Baylor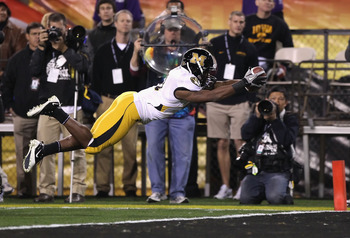 Christian Petersen/Getty Images
Previous Meeting: Baylor 40 Missouri 32 (2009)
I anticipate the Bears to enter this game at 4-3 and desperate for a victory after two straight losses to Big 12 opponents.
I can tell you that both teams are going to put up major points, seeing as how Baylor puts up 47.3 points per game.
Both quarterbacks are going to have memorable games, I'll also tell you that.
With Baylor playing at home, and desperate to not fall to 1-4 in their conference, the Bears will sneak a win.
Robert Griffin III will make a big play in the fourth quarter to seal it for Baylor.
Record: 5-4 (3-3)
Saturday, November 12: vs. No. 11 Texas
Jamie Squire/Getty Images
Previous Meeting: Texas 41 Missouri 7 (2009)
Texas has climbed all the way up to No. 11 in the latest polls.
Do I think that's warranted? No, absolutely not.
When Texas rides into Columbia for this game in early November, they can expect a Tigers team hungry for an upset after their close road loss to Baylor.
Texas currently marks the Tigers' fourth consecutive ranked opponent, and beating Texas will put them at 2-2 in that stretch.
Expect a big game from a much-matured James Franklin. Tigers win.
Record: 6-4 (4-3)
Saturday, November 19: vs. Texas Tech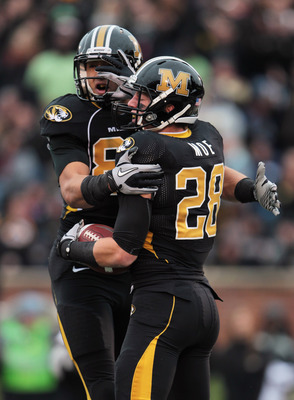 Jamie Squire/Getty Images
Previous Meeting: Texas Tech 24-17 (2010)

The Red Raiders cost Missouri a trip to the Big 12 championship game a year ago when they handed them their second and final loss of the season.
This year, at home, I'm anticipating the Tigers come out with a little chip on their shoulder.
The Red Raiders have played nicely in out-of-conference games, but I expect them to falter in conference play.
They'll limp into this game after consecutive blows from Oklahoma State and Texas. On the other hand, Missouri will still be riding high off their upset of Texas.
I see a blowout from the Tigers at home.
Record: 7-4 (5-3)
Saturday, November 26: vs. Kansas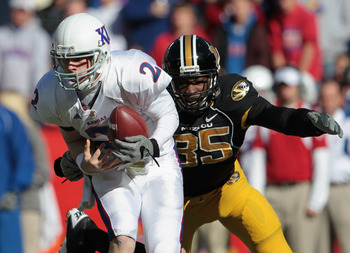 Jamie Squire/Getty Images
Previous Meeting: Missouri 35 Kansas 7 (2010)

In the final game of the season, and possibly the final installment of the epic "Border War" (or showdown, for the politically correct), the Tigers and Jayhawks meet at Arrowhead Stadium in Kansas City.
Now forgive me if I sound brash here, but Kansas isn't my favorite bunch.
I wholeheartedly expect the Tigers to wipe up the Jayhawks in this game—Kansas has no shot of matching up with Missouri.
The Tiger defense dominates the point of attack, and will create hell for Kansas quarterback Jordan Webb.
Like I said: Tigers roll.
Mizzou-Rah!
Record: 8-4 (6-3)
Final Record and Bowl Game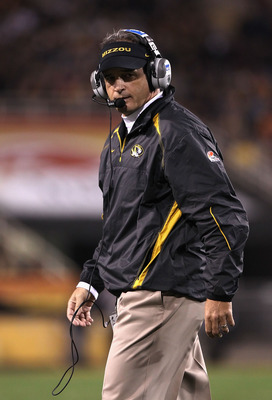 Christian Petersen/Getty Images
As alluded to, I foresee the Tigers finishing the regular season at 8-4 overall, with a 6-3 conference record.
Now the Big 12 bowl tie-ins play out as such:
BCS National Championship, BCS No. 1 and 2
Tostitos Fiesta Bowl, Big 12 No. 1
AT&T Cotton Bowl, Big 12 No. 2
Valero Alamo Bowl, Big 12 No. 3
Insight Bowl, Big 12 No. 4
Bridgepoint Education Holiday Bowl, Big 12 No. 5
Meineke Car Care of Texas Bowl, Big 12 No. 6
New Era Pinstripe Bowl, Big 12 No. 7
Here's the breakdown: Like I have thought all season, I expect Oklahoma to represent the conference in the BCS National Championship. In turn, that would leave the Fiesta Bowl open to the Big 12 No. 2—Oklahoma State.
I expect Texas to finish third, grabbing the Cotton Bowl and playing Arkansas.
The battle for fourth and fifth will come down to the Tigers and the Aggies of Texas A&M. With the game being played in Texas, I wouldn't be surprised to see the Aggies get the nod for the Alamo Bowl—especially after Missouri's strong fan showing at the Insight Bowl a year ago.
Missouri gets the Insight bowl for the second straight year, against an Illinois or Michigan State—although they still might have an outside shot at the Alamo.
Keep Reading

Missouri Tigers Football: Like this team?