Ohio State vs. Nebraska: TV Schedule, Radio, Game Time and More
October 6, 2011
Nebraska and Ohio State are in the midst of free falls. The good news for Nebraska is they have only been falling for one week. Ohio State's free fall happened roughly at the end of last year.
These two will meet in Nebraska for a Big 10 clash. Both teams will need to win this one to get their season on the right track.
Where: Memorial Stadium in Lincoln, Neb.
When: Saturday, Oct. 8 at 8 p.m. EST

Watch: ABC
Radio: Full list of Ohio State radio networks, full list of Nebraska radio networks
Betting Line: Nebraska -11.5 according to Bodog Sports
Injury Report for Ohio State
Injury information via USA Today
Probable: OL Mike Adams (suspension), DE Solomon Thomas (suspension)
Questionable: DB Corey Brown (ankle), RB Jaamal Berry (disciplinary), RB Adam Homan (knee)
Out: WR Verlon Reed (knee), DL Nathan Williams (knee)
Injury Report Nebraska
Injury information via USA Today
No injuries to report
BCS/Top 25 Poll Implications
Nebraska needs to bounce back in a big way against a struggling Ohio State team if they want to have any chance at making a BCS Bowl game.
If they lose, they will likely find themselves outside the top 25, which would be a shocking fall for a team that was ranked No. 8 just a week ago.
Ohio State would need this win and a couple more before they could work their way back into the top 25.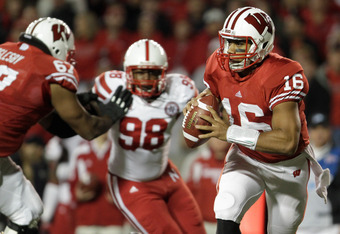 John Gress/Getty Images
Key Storyline: Can Nebraska bounce back from their humiliating loss?  
Nebraska was completely exposed and over matched against Wisconsin. Their defense was torn to shreds and has been weak all season.
Cornhusker fans will be looking to see if this team can handle such a big defeat. This is almost the same team that ended 2010 in a complete free fall.
What They're Saying: ESPN quotes Bo Pelini about the need to bounce back and his going against the school where he played.
"'We need some guys to step up and man up and start playing football,'" Pelini said.

Pelini, who played safety for Ohio State from 1987-90, insists facing the Buckeyes won't weigh on his mind any more than facing another opponent.

"'I don't really pay attention. It's not more meaningful, less meaningful,'" he said. "'It's about doing a job, and doing your job right, and doing what you can to get our football team better. I want us to walk off that field Saturday night a better football team than we were when we started this week.'"
Meanwhile  ESPN also talks about Ohio State having to deal with yet another round of suspensions.
"The Buckeyes were expected to get running back Dan Herron and receiver DeVier Posey back from five-game suspensions this week, but athletic director Gene Smith announced Monday their punishments for receiving improper benefits would be extended at least one more game.

"It's yet another blow to Ohio State (3-2, 0-1), which has been in the news more for its scandals off the field than its play on it...though that hasn't been going so well, either."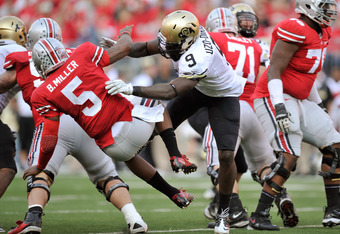 Jamie Sabau/Getty Images
Player to Watch for Ohio State: QB Braxton Miller 
Ohio State used two QBs last week. Miller started and was awful, so Joe Bauserman came in to relieve him. He was not much better put he did put a touchdown on the board, and that is something Miller could not do.
Miller will again get the start this week, and if he doesn't improve, chances are he will get yanked again.
Player to Watch Nebraska: QB Taylor Martinez
No player needs to bounce back more for Nebraska than Martinez. He chucked three picks last week, and looked completely lost at times.
He spent much of the game out of his comfort zone as he had to throw the ball due to facing such a large deficit. The Cornhuskers will be hoping he doesn't have to throw as much this week.
Key Matchup: Taylor Martinez vs. Buckeyes defense

As I just mentioned, Martinez needs to bounce back in a big way. Ohio State needs him to perform similarly to how he did last week.
There is a good chance of that happening if Ohio State can limit the amount of damage Martinez can do on the ground.
Prediction
Nebraska 24, Ohio State 20