Conference Realignment: Is a Big 12/Big East Merger Possible?
Let me set the stage for you. The year is 2016. The world has survived the 2012 apocalypse and college football has survived realignment, emerging from the ashes like a phoenix, stronger than ever.
Four giants have taken control, uniting 14+ teams each under their banners. The SEC, B1G, ACC, and Pac-16 all vie for humongous TV contracts and millions of viewers each season.
For the sake of this article being based in reality, let us all assume the following has happened:
1) Texas and the Pac-12 got over their differences and formed the Pac-16 with Oklahoma, Oklahoma State, and Texas Tech
2) Texas A&M joined the SEC along with West Virginia receiving the invite the following season
3) Syracuse and Pitt leave on schedule to their new home. Meanwhile, UConn and Rutgers get plucked out of the Big East and are warmly welcomed to the ACC, and
4) Notre Dame finally gives in and brings a more than grateful Missouri with it to the B1G.
These are all reasonable assumptions considering the circumstances the schools and conferences are in now. In five years, conference realignment will be finally over and we will be looking at our playing field for the next couple of decades (at least).
Now the Big 12 is left with TV contracts that the networks don't want to be sued over, and the Big East is left in obscurity. A merger might seem like the best option for both sides, but will it be enough? If not, who else gets the invite to a fringe BCS conference?
Begin Slideshow

»
Joe Robbins/Getty Images

The remaining loyal Big 12 members will be in a nice position with their TV contracts that go into the 2020s. Baylor, Iowa State, Kansas, and Kansas State will need to invite some universities to their party if they want to hold onto some of that money though.
WIth only four schools left, finding enough to get up to 10 (or maybe even 14) will be tough. Luckily for them, the Big East was in this car wreck too. Newly appointed commissioner Chuck Neinas (possibly someone else by that point) will need to make reaching out to the Big East a top priority over the next few years.
Jeff Gross/Getty Images

Out of the bloody mess that is the Big East will emerge four solid programs ready for a new start. This whole basketball-for-all/football-for-some will come to an end, leaving Cincinnati, Louisville, USF and TCU as the remaining members.
Their only real option is to look west to the Big 12. TCU is very familiar with that territory already, and reigniting an old rivalry with Baylor would be a plus.
Cincy and Louisville comprise the still very basketball crazed Big East and will love the addition of Kansas. The Jayhawks provide a great rival in the west for them to brag about to recruits in the east.
USF would have loved to get an invite to a bigger conference, but playing in Texas has no downside recruiting-wise. They are no football powerhouse but have improved dramatically as of late. Competing against similar foes to those of the Big East will allow them to grow and flourish in Florida.
Bob Levey/Getty Images

With only eight teams in the Big 12/East, they will need some new blood. The Cougars should be a prime target, considering their control of the powerful Houston TV market in addition to their football prowess as of late.
Houston is a top-10 TV market, and holding onto both of the two big Texas markets (TCU has Dallas-Fort Worth) would be a huge victory for the new league.
Additionally, UH has recently provided a steadily good football team. They consistently make an impact on the college football landscape and would be a home-run competitively.
Chris Graythen/Getty Images

The Memphis Tigers would be a perfect "bridge" school between what's left of the Big East and the Big 12. They sit almost right in the center geographically and would provide a more-than-solid choice for expansion after Houston.
The Tigers have never been strong on the gridiron, but basketball-wise they provide a storied program that can only get better going into a better conference. Memphis also grants the new league a big TV market with the city of Memphis (ranked No. 48), allowing for more exposure.
Erich Schlegel/Getty Images

BYU is a long shot for the new Big 12/East formation. Unless the Big 12 snags them before losing Texas, Oklahoma, Tech and OSU, convincing BYU to leave the safety of independence will take some big bags on money and lot of wooing.
Recently, the Cougars have flourished into a football favorite in the Mountain-West. They have a national following as well as the Salt Lake TV market. This would be a school the league would go after on a hope BYU wants to be in competition for a conference title every year, which they most certainly would.
Sam Greenwood/Getty Images

Although the Blazers, the Knights and the Golden Eagles are quality choices, they rank behind Memphis and Houston for a couple of solid reasons. Houston is better for its market and its football team which will create a lot more exposure. Memphis is similar but with basketball and a somewhat worthy TV market.
Additionally, Birmingham and the followers of UAB don't exactly have a lot to offer to the new league. Southern Miss has the same problem in a population challenged state. UCF, however, is so close to USF that having both in the same conference could be detrimental recruiting-wise to both schools.
If BYU turns down the league, either it decides to stay at 10 or expand to 12 with two of the three schools. Conversely, if BYU joins up, then all will be taken and will boost the Big 12/East to 14. UAB and Southern Miss seem like the more likely choices just because there isn't anyone else in the area, but don't expect the decision to be easy for such a young conference.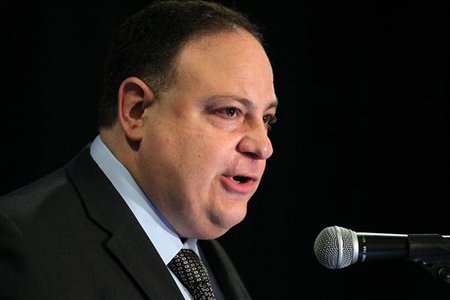 The new league wouldn't be a candidate for any kind of BCS admittance, but it would certainly put itself on the map. They retain strong ties to schools that will be in the Pac-16 and the ACC, and this alone will help them get into bigger bowl games every year.
The new conference (assuming BYU's acceptance):
West: Baylor, TCU, Houston, Iowa State, Kansas, Kansas State, and BYU
East: Southern Miss, UCF, USF, UAB, Memphis, Louisville, and Cincinnati
This new culmination of schools will create a conference worthy of some respect in the two biggest sports this nation follows annually. Expect now to be the time the two start glancing at each other hoping to get together sometime in the next couple of years.