Notre Dame Football: Irish Return Home to Face Air Force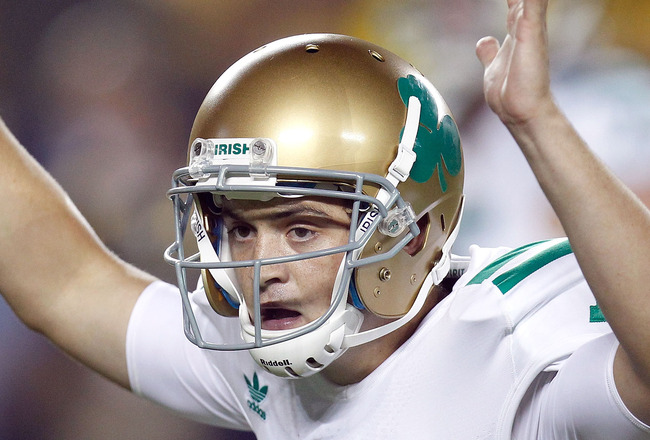 The Irish will be 4-2 after Saturday Night!
Gregory Shamus/Getty Images
Notre Dame (3-2) vs. Air Force (3-1)
South Bend, Indiana 3:40 p.m. ET
TV: NBC
The Irish return home after two straight road wins with a record of 3-2. Solid defense and an excellent running game have been the catalyst for the Irish. Air Force comes into the game 3-1 after an emotional win over Navy. The Falcons blew a big lead and then held on in overtime to grab the inside track for the Commander-In-Chief Trophy. Many analysts felt the Falcons would challenge for the Mountain West Title, however an early season loss to TCU has Air Force in chase mode in the Conference Race. For the Irish, this is a must-win game in order to keep their flickering BCS hopes alive.
Air Force Offense vs. Notre Dame Defense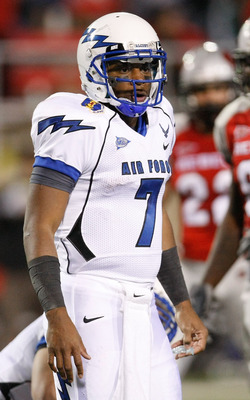 Ethan Miller/Getty Images
Tim Jefferson leads the No. 3 ranked rushing offense in the nation into South Bend. The Falcons are averaging 364 yards per game on the ground and over 500 yards total offense per game. Jefferson has hit on 70 percent of his passes for 500 yards and five touchdowns. He has also rushed for close to 200 yards.
Jefferson reminds me of a little bit of former Navy quarterback Ricky Dobbs. Dobbs was a much better runner than Jefferson while Jefferson is probably a better passer. The Falcons are also putting up close to 39 points per game, although they were held to only 19 against TCU.
How will the Irish defense match up against this attack?
Last year as has been well documented, the Irish struggled badly against Navy and were very sound against Army. So which Irish defense do we see on Saturday? Notre Dame is currently 31st in the nation in total defense as they are giving up slightly over 300 yards per game. It is funny that when Lou Holtz was at Notre Dame he went 20-1 against the service academies. His only loss was an overtime loss to Air Force.
Irish fans rarely worried about the academies. That was because Notre Dame frequently featured big athletic defenses. This particular defense fits that mold. Air Force is going to get their yards on Saturday and they will score some points. However, Notre Dame will do enough on defense to minimize the very potent Air Force offense.
EDGE: NOTRE DAME
Notre Dame Offense vs. Air Force Defense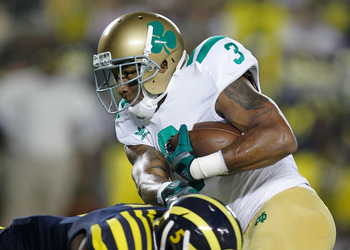 Gregory Shamus/Getty Images
As I've mentioned throughout the season the most effective team at stopping the Notre Dame offense has been Notre Dame. Air Force brings the 89th ranked defense in the nation to Notre Dame. In four games they have given up an average of 28 points per game. They have also shown a propensity for letting leads get away from them.
Notre Dame on the other hand, seems to be getting better on offense particularly in the running game. They feature a large, physical, mobile offensive line. I believe Air Force will struggle mightily to contain this offense. The Falcons do not have a starter in their 3-4 defense over 260 pounds. Yes the Falcons will play hard, yes they will play disciplined; however, I look for the Notre Dame offense to wear down Air Force over the course of the game.
If the Irish can stay away from turnovers they should move the ball at will versus an undersized and less athletic Air Force defense.
EDGE: NOTRE DAME
Special Teams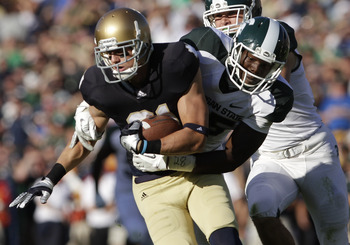 John Gress/Getty Images
Much has been made of the ineffective Notre Dame special teams. We have been critical of the return teams and all aspects of the kicking game. Air Force punter David Baska is averaging over 47 yards per kick and field goal kicker Pat Herrington is 3-4 on field goals with his lone miss being from 49 yards. David Ruffer has not had a stellar season especially in light of last season's performance. Ben Turk has been much better lately after a slow start. The return teams have been inconsistent for the entire season.
One interesting stat is Air Force is giving up close to 15 yards per punt return. However, they have only punted four times the entire season. Given the continued inconsistency of the Irish special teams I'm inclined to give the advantage to Air Force.
EDGE: AIR FORCE
Intangibles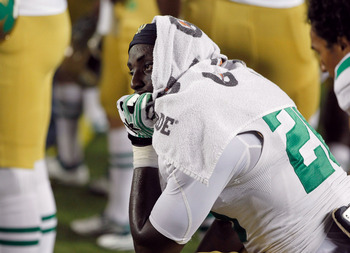 Gregory Shamus/Getty Images
After a brutal start the Irish have appeared to right the ship. It is funny how college football changes week to week. Suddenly their close victory over Pitt looks like a quality win given Pitt's upset of South Florida. With two consecutive road wins and renewed BCS hopes the campus will be buzzing as the Irish return home for the first time since the Michigan State game.
I believe Bob Diaco will have his defense fired up and ready to play against a good option football team. This will be another opportunity to showcase the improved Irish defense and put to rest once and for all the Navy game from last year. With a bye week awaiting them, the Irish will turn in a stellar effort.
This game comes at a great time for Notre Dame. Normally service academies summon their maximum effort and energy when they play the Irish. I believe Air Force is going to play hard but, how much gas will they have after the emotional win at Navy last week?
EDGE: NOTRE DAME
Final Analysis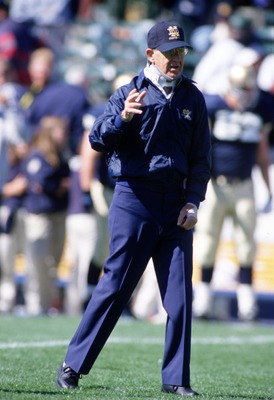 Matthew Stockman/Getty Images
Lou Holtz dominated the service academies. This was a result of superior players and superior coaching. As recruiting and coaching fell off in the post-Holtz years playing the academies seemed to become increasingly difficult for Notre Dame. The Army game last year looked like the games I remember watching as a kid as Notre Dame dominated in every phase of the game. I believe as Kelly continues to recruit well we will see more games like Army. Air Force will score some points but nearly enough.
Notre Dame 41, Air Force 21
Keep Reading

Notre Dame Football: Like this team?