College Football: How Week 5 Upsets Will Affect the Rest of the Season
October 4, 2011
Ned Dishman/Getty Images
The ACC, Big 12 and SEC races became a little more defined this weekend. More importantly, the national championship and bowl picture is starting to take shape.
Clemson, Arkansas and Kansas State made loud statements that they are contenders in their respective conferences, and on the national stage. Virginia Tech, Texas A&M and South Carolina have major strides to make to regain their national prominence.
What happens to the pretenders and how long will these contenders stay?
Clemson
Clemson has answered the call three times this year against Top 25 teams and has come out the other side victorious; No. 21 Auburn 38-24, No. 11 Florida State 35-30 and at No. 11 Virginia Tech 23-3 in consecutive weeks.
All three wins hold significance in different ways on the national scene.
Auburn was riding a 17-game winning streak and the defending BCS National Champions. Florida State was a unanimous preseason top 10 team, touted as a possible BCS National Championship contending team, and picked to win the ACC. Virginia Tech was the Tigers' first road test against a Top 25 team and undefeated going into their matchup.  
Key Player
If you have not seen Tigers quarterback Tajh Boyd play yet, do yourself a favor and set the DVR for Clemson's next game. Going into the Virginia Tech game, Boyd was ranked 12th in the NCAA in total offense with 327.50 yards per game. Boyd's 313.75 passing yards per game with 14 touchdown passes and only two interceptions will start to merit serious Heisman talk as the season progresses.
2011 Outcome
Head coach Dabo Swinney has his Tigers believing and playing at a high level. This team, dare we say it, could go undefeated.
The toughest games left on the schedule are against North Carolina at home, No. 13 Georgia Tech on the road, and they finish the season against in-state rival No. 18 South Carolina.
During Clemson's 6-7 2010 season they played tough with UNC (21-16), beat Georgia Tech (27-13), and lost the Battle of the Palmetto State (29-17).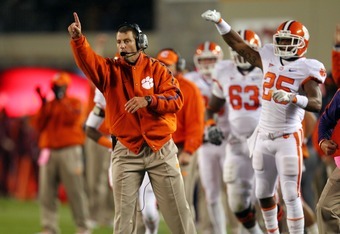 Ned Dishman/Getty Images
Should the Tigers win the Atlantic Division, their ACC Title Game could have them in a rematch game against Coastal Division winner Georgia Tech or No. 21 Virginia Tech.
An undefeated regular season is within the Tigers reach, making them a legitimate contender in 2011.
Worst case scenario is an Orange Bowl bid come January 4th.
Arkansas
If one only follows the Razorback's by their headlines then your perception could be tainted towards their 2011 team. "Escaping Troy", "Bad loss to Alabama" and "Comeback victory over Texas A&M" does not tell their full story. The Razorbacks have battled through injuries to three of their top running backs and lost four starters on defense at different points during the season and for multiple games.
Through all of the injuries, somehow the Razorbacks have managed a 5-1 record with a No. 10 national ranking and a promising season ahead.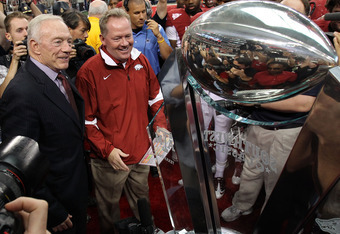 Ronald Martinez/Getty Images
Key Player
Junior quarterback Tyler Wilson is the easy choice for the Razorbacks. Wilson is a first year starter for the Hogs and has taken to the role quickly. His 305.60 total yards of offense per game and quarterback rating of 154.32 ranks him second in the SEC behind Tennessee's Tyler Bray.
Wilson has missed a game's worth of snaps due to early Razorback leads and concussion-like symptoms versus the University of New Mexico. Still, he leads the SEC in passing yards (7th in the nation) with 1,517 yards, second in the SEC with 10 passing touchdowns with only three interceptions in 172 attempts.
2011 Outcome
Arkansas plays No. 15 Auburn this weekend in Reynolds Razorback Stadium; their third straight Top 25 team. After the Auburn game, the Hogs will only face two more teams that are currently ranked in the AP Top 25—South Carolina at home and LSU in Baton Rouge. The Razorbacks won both match-ups last season beating USC 41-20 and LSU 31-23.
The Razorbacks have a legitimate shot at running the table until the LSU game which should place them in the top five by seasons end.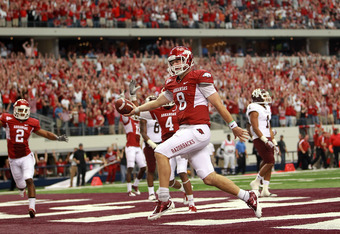 Ronald Martinez/Getty Images
Can Arkansas beat LSU?
Yes. Since 2005 Arkansas and LSU have split their series 3-3, 21 total points separates the winning team from the losing team with Arkansas having the largest winning margin, winning by 8 points in 2010 in Little Rock, Arkansas. That's a 3.5 average margin of victory between the two schools.
Only problem is their loss to Alabama. Bama's schedule is easy the rest of the season. Their only tough game left is a November 5th visit from LSU.
This places Arkansas' best case scenario in another BCS game, but not playing for the national championship, making them an outside shot to be a contender in 2011. Worst case scenario is the Outback Bowl on January 2nd.
Kansas State
For the second year in a row Bill Snyder has Kansas State starting their season 4-0. Last year the Wildcats went 3-6 over their last nine games, including a 36-34 Pinstripe Bowl loss to Syracuse in Yankee Stadium.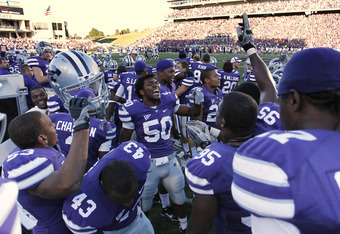 Joe Robbins/Getty Images
Now KSU is ranked 20th in the nation after a 28-24 victory at Miami and a 36-35 home win over No. 16 Baylor. Will the Wildcats be able to reverse their fortunes from a year ago?
Key Player
Collin Klein, a junior, is the heart and soul of the Wildcats team. He may not be the prototypical quarterback, but he's been getting the job done.
Klein is last in the Big 12 in passing yards (481), touchdowns thrown (six) and completion percentage. He leads all Big 12 quarterbacks in times sacked with 10 and his 121.40 quarterback rating is second worst in the conference to Iowa State's Steele Jantz (111.50).
On the upside his 423 total rushing yards is fourth best in the conference and his 226 total yards of offense per game ranks him 58th in FBS. These are all pedestrian numbers but at the end of the day, Kansas State is 4-0.
Outcome
The Wildcat defense ranks 16th in the nation, second in the Big 12 to Texas, in total defense only allowing 292 yards per game. Their stingy defense only gives up an average of 16.50 points per game, 17th best in FBS.
If the Wildcats can continue to run the ball as effectively as they have, 212.25 yards per game, and their defense continues to limit the opposition's scoring opportunities, Bill Snyder and company can have an eight or nine win season.
KSU has a four game stretch that will determine their season. Their biggest test starts with Oklahoma on October 29th at home followed by a visit to Stillwater, home against A&M, and finishing with a visit to Austin.
Look for KSU to be a pretender in 2011. A Holiday Bowl or Alamo Bowl could be in their future.
Virginia Tech
Virginia Tech's season is almost half way over and they have only played one team to date. That game netted them a 23-3 home loss to Clemson.
Winning warm-up games against Appalachian State 66-13, East Carolina 17-10, Arkansas State 26-7 and Marshall 30-10 has puffed up the Hokies record. However, it has done little to help them gain national respect, or to prepare their team for ACC play.
By virtue of their schedule, the Hokies only play one more team that is currently ranked, No. 13: Georgia Tech. Games at Wake Forest and at home against North Carolina could upend their season.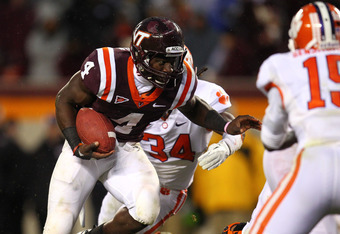 Ned Dishman/Getty Images
Key Player
Since Virginia Tech has only played one team to date, the player that stood out against Clemson is their key player. Running back David Wilson rushed 20 times for 123 yards and caught two passes for 21-yards. Wilson is averaging 127.80 rushing yards per game, 7th best in FBS. Wilson has only found the end zone five times in 107 rushing attempts.
Outcome
Virginia Tech always excels on defense and special teams. The Hokies defense kept Tajh Boyd well under his 313-yards passing per game holding him to 204 yards.
Their schedule seems easy but since they have only played one game this year, who knows how good they could end up being?
The old saying that teams improve the most between their first and second game should hold up here. Even if the Hokies first game of the season was actually their fifth game.
The Hokies will lose two more games, making them a pretender in 2011. Look for the Hokies to be in the Chick-fil-A Bowl in Atlanta December 31st.
Texas A&M
Two halves make a whole but Texas A&M has only played in the first half of their last two games. A&M has upended their own season by not finishing what they have started in back-to-back games against Top 25 teams. In losses to Oklahoma State and Arkansas, the Aggies have been outscored 52-12 in the second half and 31-0 in the third quarter.
OSU was down 20-3 at halftime in College Station. 27 unanswered points later and the Cowboys were up 30-20 halfway through the fourth quarter. The final score was 30-29.
Against the Razorbacks, A&M was up 35-17 at half in Arlington, Texas; 25 second half points later, the Hogs sealed a 42-38 comeback win.
Can the Aggies play complete games against upcoming Big 12 competition? Will their secondary be able to limit the oppositions passing attack?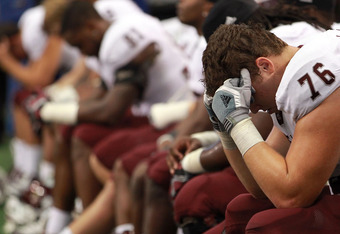 Ronald Martinez/Getty Images
Key Players
Running backs Christine Michael and Cyrus Grey are one of the best running back tandems in college football. Michael averages 102 yards per game while Grey averages 90.75. The Aggies rushing attack is ranked 15th in the nation at 223.75 yards per game.
Outcome
The upside is the Aggies have a senior laden team. They should be able to fix their second half woes with a change in attitude.
Four games remain against teams currently ranked in the Top 25; versus No. 25 Baylor, at No. 3 Oklahoma, at No. 20 Kansas State, versus No. 11 Texas. With only one loss in conference, all hope is not lost on their 2011 season should A&M win out.
The downside is no Big 12 Title game. The loss of Colorado and Nebraska puts the Big 12 below the NCAA required 12 teams needed for a conference title game. Regardless if A&M were to win the rest of their games and OSU loses two conference games, the Aggies will not have the ability to add another possible Top 25 win to their resume in a title game.
A&M should finish with two conference losses which makes them a pretender. A&M is looking at the Meineke Bowl in Houston, Texas come December 31.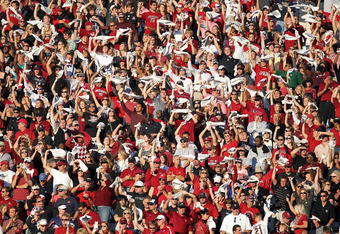 Streeter Lecka/Getty Images
South Carolina
The importance of a serviceable quarterback in college football can never be taken for granted. The Gamecock rushing attack, led by sophomore Marcus Lattimore, is averaging 197 yards per game. Their passing offense is ranked 102nd in the nation. The discrepancy on offense makes USC one dimensional and an easy game plan for SEC defensive coordinators.
Key Players
Everyone knows how great Lattimore is, but USC needs wide receiver Alshon Jeffery, quarterback Stephen Garcia and/or quarterback Connor Shaw to start playing well.
South Carolina coach Steve Spurrier has benched Garcia after his nine for 23, 160-passing yards, with one touchdown and two-interception performance against Auburn in favor of Shaw. Garcia was sacked three times and led an offense that only converted 20 percent of their third down conversion attempts.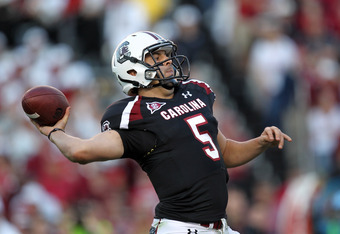 Streeter Lecka/Getty Images
Outcome
South Carolina's defense only allows an average of 24 points per game. That's a respectable average but also misleading, as they have not played a ranked team at the time of their game this season.
In a wide open SEC East, two conference losses can still land a team in the SEC Title Game. If South Carolina plays the way they did against Auburn all of their games will be tough for the rest of the season.
If they right the ship, their toughest game the rest of the season will be November 12th against Arkansas. The following week Florida comes to town, which looked like the SEC East game of the season until John Brantley was hurt against Alabama.
USC will lose two more games. At best the Gamecocks are looking at the Gator or Capitol One Bowl on January 2nd.