Florida Football: Previewing the LSU Game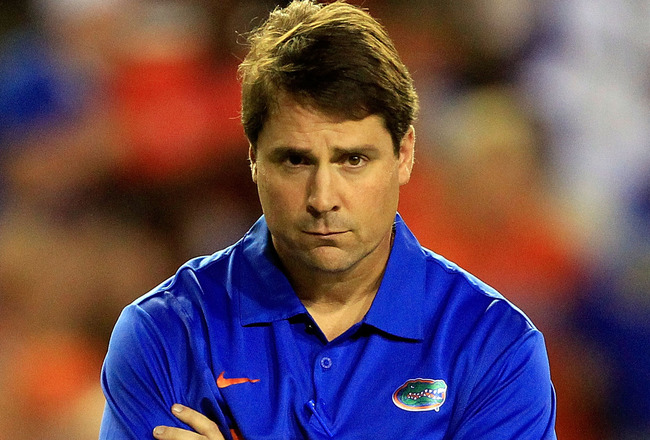 Sam Greenwood/Getty Images
Florida suffered a few setbacks in their 38-10 loss to Alabama.
The first being the blowout loss at home, the worst loss at home since 2002.
The second being losing quarterback John Brantley for the foreseeable future.
Brantley went down with a high ankle sprain right before halftime and didn't return to the field. The coaching staff has remained tight lipped about the injury, saying Monday only that Brantley would not need surgery, they would update the media every Monday on the quarterback's status and that Jeff Driskel would start against LSU.
After failing their first true test of the season, the Gators must regroup and face No.1 LSU on the road. This will be the most hostile environment the Gators play in all season long, as LSU has won 46 of their last 51 games at home. LSU has a current 12-game winning streak at home, with their last loss coming to Florida in 2009.
The start time of the game is scheduled for a 3:30 PM, and will give the Gators their first real road test. Can the Gators win a game that nobody thinks they can? Or will LSU be too much to handle for the young Florida team?
Let's take a look at how the Gators and Tigers will match up on Saturday.
QB vs. QB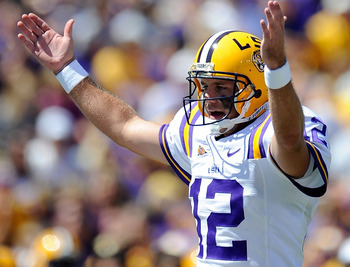 Stacy Revere/Getty Images
Florida
The Gators lost staring quarterback John Brantley last week and highly touted freshman Jeff Driskel will take over in the first start of his career. Driskel came into Florida as the consensus No. 1 high school quarterback, choosing Florida over LSU, Auburn and Alabama.
Driskel's high school accolades will not help him this week. Charlie Weis has only one week to find out what his quarterbacks strengths are and devise a game plan that will allow Driskel to be successful.
After taking over for Brantley, Driskel struggled against a stingy Alabama defense. Not all of it was his fault, as Florida's offensive line was manhandled for much of the second half. Driskel's bright spot came on a 31-yard run that brought back Tim Tebow nostalgia for Gator Nation. Driskel is a very capable runner and should not hesitate to tuck the ball and go if he can't find an open man.
Weis will be forced to gut dumb down the offense this week to make his quarterback comfortable, something the Gators do not want to have to do when going up against arguably the best defense in the country.
On the year, Driskel is 7-of-16 for 73 yards and two interceptions.
LSU
The Tigers come into this game undefeated and ranked atop most major polls. They have done this with senior quarterback Jarrett Lee. The Tigers starter from a season ago, Jordan Jefferson, sat out the first four games after being charged with assault in the offseason. His charges have since been dropped to a misdemeanor and made a return to the team last week against Kentucky. While Jarrett Lee remained the starter, Jefferson made his first appearance, rushing four times for 29 yards and a touchdown.
It doesn't appear that Jefferson will take the starting job from Lee, even after Lee's lackluster performance against Kentucky. Lee completed only 8-of-23 passes and added a touchdown. The most likely outcome with Jefferson's return to the lineup will be the Tigers will move to a rotation similar to the one they had last year, only reversed. Expect Lee to start and Jefferson to come in for some set packages that will allow the offense some versatility with the rushing threat Jefferson brings.
Breakdown: Jeff Driskel's baptism by fire continues this week in Death Valley. The Gators will struggle to move the ball on offense with the freshman taking snaps and a simplified playbook. LSU will put off their quarterback controversy for another week.
Edge: LSU
RB vs RB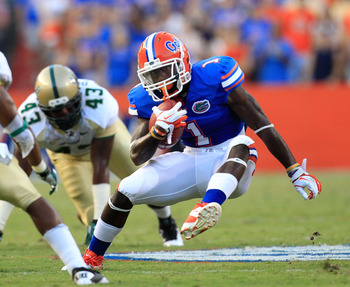 Sam Greenwood/Getty Images
Florida
The Gators' rushing attack took a hit last week when Florida only managed 15 yards the entire game. Chris Rainey and Jeff Demps struggled to find space and were ineffective the whole game. With a freshman starting at quarterback this week, the Gators will have to rely on their speedy duo to carry the load this week.
Rainey and Demps have combined for 111 carries, amassing 739 yards and six scores. Their success will rely on if they can make defenders miss and if they can find space to utilize their world class speed.
LSU
The Tigers will bring the second two headed rushing attack Florida has seen in as many weeks. The duo of Spencer Ware and Michael Ford will provide the Gators with a handful no matter which is on the field. Both runners like to run downhill, but Ford has the ability to get outside of the tackles and provides a home run threat for the Tigers, averaging just over five yards per carry.
Ware and Ford have combined for 142 carries amassing 645 yards and nine scores. Splitting carries have kept both backs fresh late into the game and allowed them to wear down defenses.
Breakdown
Florida faced probably the best running back duo last week against Alabama and failed miserably, giving up 226 yards on the ground. This week, Florida will be facing possibly the next best rushing duo in the nation. Florida will look to avenge a bad showing and stop LSU on the ground. Rainey and Demps will face the challenge of carrying the Gator offense this week and will also be looking for a bounce back game of their own.
Edge: Florida gets a slight edge because the Gator duo is more versatile in the offense than LSU's backs.
WR vs WR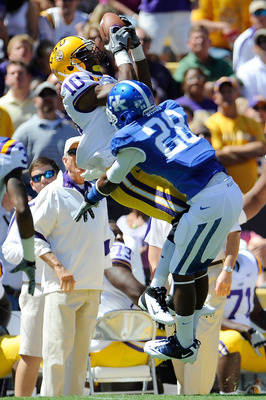 Stacy Revere/Getty Images
Florida
Florida's receivers were having their best game of the season against Alabama before Brantley left the game. Andre Debose hauled in two catches for 90 yards and a touchdown. His first catch, a 65-yard TD, started the game off, with Debose beating Dre Kirkpatrick in single coverage. Senior Deonte Thompson had two big first down catches, amassing 43 yards.
This is a unit that has been underused and ineffective for most of the season. Only running backs Jeff Demps and Chris Rainey have double digit catches. The unit will need to step up this week to pick up their freshman quarterback.
LSU
The Tigers come into this game with two standout receivers on the roster in Rueben Randle and Odell Beckham, Jr. Randle is a big receiver with great route running and strong hands, which allow him to go up for the ball and pull it away from defenders. Beckham Jr. is a quick smaller receiver who is leading the team in receptions.
Combined, the duo had 39 receptions for 587 yards and five scores.
Breakdown
Florida's receivers will need to get open and get open quickly for Jeff Driskel to be successful. They will struggle to do so against a very stout LSU defense. Randle will create a mismatch for Florida's smaller corners and he stands 6'4". Jordan Jefferson will also see some time split out for the Tigers, creating even more matchup problems for the young Gator secondary.
Edge: LSU
TE vs TE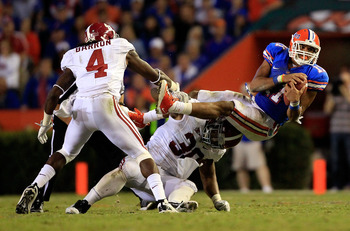 Sam Greenwood/Getty Images
Florida
The Gators finally returned to full strength at the position last week.
Jordan Reed returned to the lineup and hauled in five catches for 31 yards. Reed leads a unit of very young, talented tight ends. Florida's unit is more of a threat in the passing game than against the run, and their speed can create matchup nightmares for opposing defenses.
Look for the Gators to get their tight ends involved early with some short routes to give Jeff Driskel some confidence.
LSU
After the Tigers' big two at receiver there is a steep decline in receptions. Tight end Deangelo Peterson is the third leading receiver with eight catches for 95 yards and a score. At 6'4", 235 lbs, Peterson is a big body who is improving his ability in the run game.
Breakdown
Florida will look to their tight ends early to build confidence for their freshman quarterback. The speed that the Gators have at the tight end position will create mismatches when covered by line backers. This is the one position that the Gators have a clear advantage in talent over the Tigers.
Edge: Florida
O-Line vs O-Line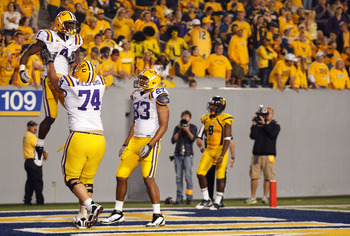 Jared Wickerham/Getty Images
Florida
The Gators' line was impressive through their first four games, allowing only two sacks during that span, while being the anchor to the SEC's best rushing attack. The line suffered a set back last week allowing three sacks and were manhandled for most of the second half. After last week, the line will try to fare better against an equally tough front seven. Their ability to open running lanes and protect the quarterback will determine how the Gators offense fares against LSU.
LSU
The Tigers have a veteran, battle tested offensive line. The Tigers' big men have allowed only three sacks this season and are the anchor for the Tigers' dual threat running game. After a game where Florida's defensive line was dominated by Bama, this unit will be looking to do more of the same this week.
Breakdown
Enough can't be said for how the home field advantage will effect the line play in this game. LSU is a tough opponent who becomes even tougher at home. Florida will struggle against a very tough LSU defense and will battle the crowd noise when trying to identify their protection schemes.
Edge: LSU
D-Line vs D-Line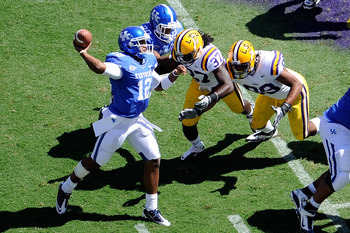 Stacy Revere/Getty Images
Florida
Florida's young defensive line took a step back last week. A unit that started slow in their first two games began to come into its own against Tennessee and Kentucky and was dominated against Alabama. The young line will face its toughest test Saturday night in Death Valley.
Something to keep an eye on leading up to the game is the status of sophomore DE Dominique Easley. Easley was accused of assaulting former Crimson Tide CB Reggie Myles after the game Saturday night. The Tuscaloosa news reported that Myles filed a complaint with the University of Florida police department stating "Easley tackled him from behind... on a walkway outside Ben Hill Griffin Stadium shortly after midnight. The status of Easley has not been discussed by the coaches, but the line will take a huge hit if Easley is forced to sit out.
LSU
The Tigers come into this game with arguably the best defense in the country. It all begins up front, where the Tigers have dominated opponents at the line of scrimmage. The defensive line has been responsible for 9.5 of the teams 12 sacks.
LSU has yet to allow a team to run for 100 yards this season and have only allowed three rushing scores.
Breakdown
LSU comes in with a bigger and more experienced line that the Gators. The Gators will be facing a team that is very similar to the one they faced last week against Alabama. That didn't work out too well for Florida, and the same kind of dominance can be expected for LSU this week.
EDGE: LSU
Linebackers vs Linebackers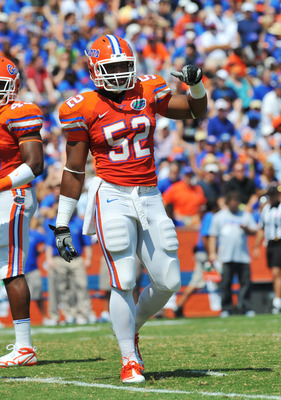 Al Messerschmidt/Getty Images
Florida
The heart and soul of Florida's defense has been Jelani Jenkins and Jon Bostic. Bostic and Jenkins have been on campus for three years waiting for their turn, and they have made the most of their opportunity. Bostic and Jenkins are leading the team in tackles with 29 and 26 respectively. They are also responsible for getting the play from the sideline and relaying it to the defense.
Their communication and strong relationship have led the defense to this point. When you include Ronald Powell, who plays the BUCK a hybrid lineman/linebacker role, the three have combined for five sacks.
LSU
This is the weakest part of a very tough LSU defense. Ryan Baker is the only linebacker who has recorded a sack (one), and no linebacker ranks in the top five for LSU in tackles. Kevin Minter leads the unit from the mike position with 20 tackles, 1.5 for loss. LSU creates enough pressure with their front four that the linebackers are not a big factor when it comes to creating pressure.
Breakdown
Florida has a younger unit, but is more talented. The Gators line backing core will play a big role in stopping the Tiger's rushing attack, and Jenkins has shown he is an above average cover man.
EDGE: Florida
Secondary vs Secondary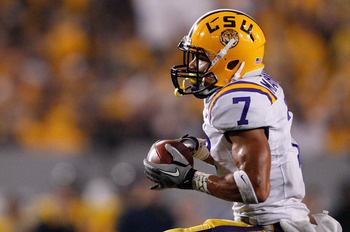 Jared Wickerham/Getty Images
Florida
Matt Elam leads a young inexperienced secondary. The Gator secondary has recorded five interceptions this season while forcing two fumbles and have broken up eight passes. The Gators are very young, starting two freshmen and two sophomores, but have gained some good experience this season.
Nothing they have faced will prepare them for what they will see and hear Saturday night. LSU has arguably the toughest stadium to play in for opposing teams, which will effect the communication problems the Gator secondary had against Alabama.
Freshman De'Ante "Pop" Saunders missed the Alabama game due to "breaking a team rule," and his status is still up in the air this week.
LSU
Hands down, LSU has the best secondary in college football.
The unit is led by sophomore Tyrann Mathieu. Mathieu stands only 5'9" 179 lbs, but plays much bigger than his listed size. The sophomore already hold the LSU career record for forced fumbles with eight, including four this season. Many thought that with the departure of Patrick Peterson the Tigers would take a step back in their secondary, but that is not the case. Mathieu has filled the shoes, and jersey number, of Peterson, becoming a spark plug for the entire defense.
The Tigers secondary has the top five leaders in tackles on the team, have forced five fumbles and five interceptions. This is a unit that will be licking its chops when a freshman quarterback walks into their house.
Breakdown
If Florida cannot get the running game going, the LSU secondary will give the Gators passing attack all they can handle and then some.
Edge: LSU
Special Teams vs Special Teams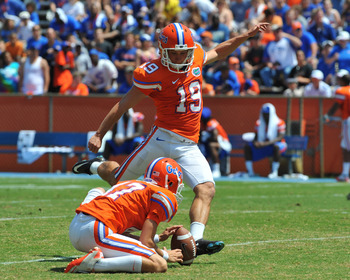 Al Messerschmidt/Getty Images
Florida
Special teams have been a staple at Florida since Urban Meyer took over the team, and the unit continues to be strong with new coach Will Muschamp. The Gators are a threat to take every kick and punt back for a touchdown and are just as likely to block a kick or punt on the other end.
Chris Rainey has been the Gators' most effective punt returner averaging just over 11 yards per return and has one touchdown. Florida has used a trio of return men for kickoffs. Solomon Patton, Jeff Demps, and Andre Debose have split the action, with Patton returning the most kicks so far. Debose returned a kick for a touchdown last year against LSU and should receive the bulk of the returns this week along side Demps.
Caleb Sturgis missed his first field goal last game, but has been strong all season long. He is now 12-13 FG and 19-19 extra points.
LSU
The Tigers may have found a replacement for Patrick Peterson in the secondary, but they have yet to find someone as dangerous as him in the return game. Tyrann Mathieu returns punts and is averaging just over seven yards per return. Morris Claiborne has been solid returning kicks, averaging 33 yards per return and one touchdown to his credit.
Kicker Drew Alleman is six of eight on field goals on the year and 22-of-23 on extra point attempts.
Breakdown
It is hard to predict what kind of shenanigans Les Miles will pull at any point of the game. LSU was successful on a fake field goal last year against Florida, and some may take that unpredictability as an edge for LSU. Florida has a better place kicker and a more dangerous return game. Debose showed that the last time these two teams met.
Edge: Florida
Coach vs Coach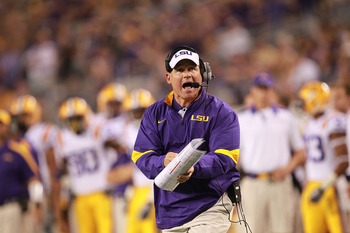 Ronald Martinez/Getty Images
Florida
Florida came into this season with all new coaches. Will Muschamp is in his first year as a head coach and made a good move by bringing in Charlie Weis to run the offense. Weis has installed a pro style offense that suited then starter John Brantley better than the spread option he struggled in last season. Weis will be put to the test this week when he prepares an offense around a completely different type of quarterback.
LSU
Les Miles already has a national championship and SEC championship under his belt. Now he is leading one of the best teams that he has had since he came to LSU in 2005. Miles may be unpredictable; he is nicknamed the Mad Hatter, but things usually seem to work out in his favor.
Breakdown
Florida's coaching staff has done a very good job of taking players who were recruited for a polar opposite scheme than their own and making it work this year. Yet when push comes to shove, Les Miles and his coaching staff have the advantage of being in place for longer and having a roster of players that were recruited for their scheme.
Edge: LSU
Prediction Time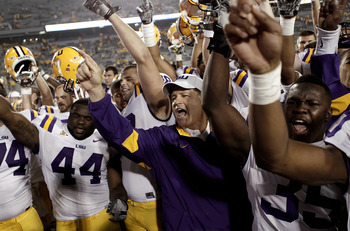 Jared Wickerham/Getty Images
The Gators October schedule was talked about before the season for how difficult a road it would be. With John Brantley going down with an injury, the road just got even harder.
LSU would have been just about all Florida could handle with John Brantley, and they will certainly be more than the Gators can Handle when Jeff Driskel makes the first start of his career. Death Valley is one of the toughest stadiums to play in for a veteran quarterback and is one of the last places anyone would want to make their first start.
When the stadium announcer comes over the loud speaker and announces, "It's Saturday night in Death Valley, and here come your fighting Tigers of LSU", the stadium erupts. The Gators will struggle to move the ball on offense and will have a hard time communicating their assignments on defense.
LSU is an early 14.5 point favorite, and that line will only go up as the game gets closer.
In the end, the Gators will be over matched and out classed.
LSU 34 Florida 13
Keep Reading

Florida Gators Football: Like this team?