South Carolina Football 2011: Changes Should Be Coming
October 3, 2011
Streeter Lecka/Getty Images
Should they ever.
Defensively, once again, South Carolina showed that it has one of the strongest front seven in all of college football.  They defended 90-plus plays and only allowed 16 points.  That should be celebrated in a major way. 
There is not one part of that horrible loss to Auburn that I put on their shoulders.
Offensively, that was one of the worst performances I have ever seen for a Steve Spurrier-led Gamecock team, and one of the worst I have ever seen as a Gamecock fan. 
Spurrier sounds like a coach ready to make changes.  It should start with the quarterback, and not because I am completely down on Stephen Garcia as a person. 
He just isn't getting it done.
We have no idea what Connor Shaw brings to the table.  Now that the undefeated magic season stress is gone, it's time to concentrate on the real goal. 
Winning the East, and getting a shot at the SEC title.  It's realistic, and it is still within reach.  The next three games for South Carolina are huge.  The team needs to make large strides before hitting Florida, Arkansas and a suddenly very dangerous Clemson team. 
Under Shaw, the team may flourish.  Everyone points to the stat line of the ECU game as to why the kid won't do well—he was 3-of-9 for 21 yards.  Horrible numbers, for sure. 
However, if you go back and watch the game, two of the passes were long balls that were right on the money to Jason Barnes, which Barnes just dropped.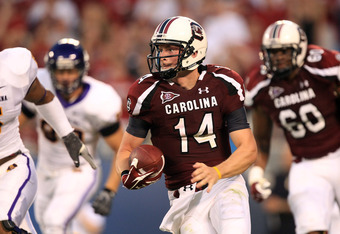 Streeter Lecka/Getty Images
If Barnes catches those balls, he would have been something along the lines of 5-of-9 for 100 yards.  We are looking at a totally different ball game, and Connor Shaw may have never given up his starting spot.
Play-calling must improve as well.  The cutesy plays need to go, and the team needs to get back to relying on Marcus Lattimore. 
A quarterback who manages a game well and makes good choices would go a long way in bringing this team back.  The team needs to stop using the deep ball so often.  It's time for a different approach, and Coach Spurrier must get a little less hard-headed. 
The talent is there—and the wins can still come—if the team can fix the God-awful offense.