Washington running back Chris Polk rushes for a big gain against Utah on October 1, 2011
October 2, 2011
From the opening kickoff, this game belonged to the Huskies.
The Huskies improved to 4-1 (2-0) on the year after defeating the Utah Utes (2-2, 0-2) 31-14.
It took under 10 seconds for the Huskies to get in the end zone after Washington linebacker Jamaal Kearse returned a fumble for a touchdown. With that, the Huskies were up 7-0 and never looked back.
The Huskies' offense struggled to get a rhythm going throughout the first half and the defense bent but didn't break. The Huskies went into the half leading 10-7 off of a 44-yard field goal by kicker Erik Folk.
The coaches obviously preached their halftime adjustments because the Dawgs came out of halftime on fire on both sides of the ball.
Quarterback Keith Price led a 70-yard drive ending with a eight yard touchdown pass to receiver Kasen Williams and the rout was underway.
The defense finally started to make some big plays and got some pressure on quarterback Jordan Wynn—enough pressure to sideline Wynn with a mysterious shoulder injury.
Keith Price was hobbling around the field but continued to show his mental and physical toughness as he ended the day 22-30 for 226 yards and added to his 14 touchdowns, notching three more and one interception.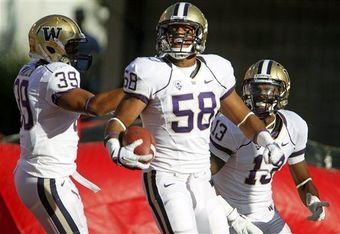 Washington line backer Jamaal Kearse (center) celebrates his touchdown on a forced fumble along with safeties Greg Walker (left) and Will Shamburger (right)
Chris Polk again looked flat-out unstoppable as he ran for 189 yards on 29 carries.
The Huskies continued to spread the ball around their talented receivers as Jermaine Kearse, Devin Aguilar and Kasen Williams all hauled in touchdowns.
What have we learned after this victory?
The offense struggled throughout the first half, but they ironed some things out and started to figure out the defensive scheme of Utah.
Keith Price was not 100 percent for the fifth straight week and it showed on some of his errant throws and on his lone interception where he overthrew tight end Austin Seferian-Jenkins. He took some shots throughout game including a cheap low shot by a Utah linebacker at Price's knees.
Wide receiver Jermaine Kearse got off to a rocky start, dropping three straight passes that were in his bread basket. He made the most out of his next opportunities and ended the day with seven receptions for 70 yards and a touchdown.
The rest of the receiving corps did a great job throughout the game. Most notably was freshman Kasen Williams, who caught only two passes but reached the end zone. He was only targeted twice but he fought for extra yards on several broken tackles.
The real surprise in this game was the defense.
The Huskies defense came in to this game ranked 117th against the pass and 113th against the run, but they definitely came to play, forcing three fumbles and snagging two interceptions.
Utah only managed 17 yards on the ground; they came into the game averaging over 170. Defensive end Josh Shirley, my X-Factor for this game, came unblocked on the first play and laid a lick on quarterback Jordan Wynn.
Cornerback Gregory Ducre earned himself a starting position as he made an incredible interception on Utah's first play of the second half. He also had several pass deflections which proved crucial.
This was definitely a huge victory for the Huskies as they head into their bye week. The biggest thing for the Huskies to focus on this week is getting Keith Price back to 100 percent health.
If he gets back to his usual self and can utilize his legs, I see the Huskies winning big at home against Colorado.
Like the new article format? Send us feedback!