Auburn Football
Auburn vs. South Carolina: The Tigers Do What They Need to Win
Michael Dyer has a good reason to smile. Auburn is 4-1 going up to win against South Carolina.
Streeter Lecka/Getty Images
October 2, 2011
It was a struggle throughout this game, trying to figure out how to sum it up; there were so many moving parts, none of which seemed to work for either team.
Then, a friend of mine sent me an email, with about two-minutes left in the fourth quarter that said, "…this Auburn game is stupid and ugly."
That kind of sums it up.
The Auburn Tigers won over the South Carolina Gamecocks, 16-13, the Tigers improving their record to 4-1 on the season and 2-0 in the SEC.
It wasn't pretty to say the least, but in the end it was a win. 
Auburn seems to be able to do just enough to get more points on the board, and in the end that's all that's required.
The Tigers have worked on improvements on both sides of the ball, and it did show against the Gamecocks.  Both offense and defense were doing things better.
The AU defense held South Carolina to 289 yards, which is well below their game average of 459 yards going into this game.  The offense gained 358 yards, rushing for 246 yards out of the total.
Part of that offensive number was Michael Dyer, getting double the carries than he has gotten in previous games. That and the remainder of the run game only served to help wear down the SC defense.
In terms of the Auburn defense, I have to say that they got a lot of help from Stephen Garcia and another incredibly sloppy performance, from him and the Gamecock offense.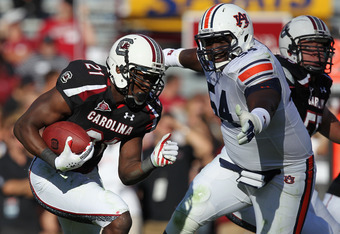 Marcus Lattimore was held to 66 yards on 17 carries.
Streeter Lecka/Getty Images
But the Auburn offense, a bit sloppy themselves, accomplished a lot of what they should have, which is maintaining time of possession and third down conversions, a considerable improvement over the beginning of the season.
Auburn held the ball for 35:47, versus South Carolina's 24:13. Also SC converted 20% of their third downs, 2/10, while the Tigers converted 50%, 11/22.  The Tigers actually got to third down 22 times.
However, at other times they had a strange combination with Kiehl Frazier gaining first downs on the ground, then taking him out immediately to get right back into Barrett Trotter's routine, which to be honest didn't work that well all the time.
Kiehl Frazier was effective running the offense, but was never given the chance to gain any momentum.
But in the end, the Tigers were sufficient enough to win the game, not impressively, but winning nonetheless.
Now it's on to Arkansas, a team that went to the well themselves when all seemed bleak early in the game against Texas A&M, only to pull out a win over the Aggies at the last minute.  
Whatever Auburn does to prepare for the Hogs, the Auburn fans should go right along with them in support. Whatever they're doing, it's working, and I wouldn't question it at this point.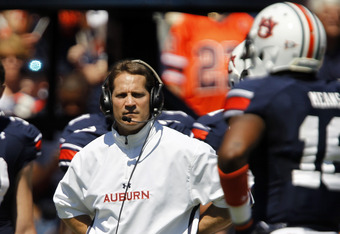 Butch Dill/Getty Images
I'm sure there will be comments coming about how Auburn is doomed to lose against Arkansas, and to the remainder of the October schedule, but don't be so hasty, and you know who you are.
The Auburn Tigers do just enough to win, and I for one find the way they do it intriguing. I can't put my finger on it, but there is just something about how they win.  I have used the phrase in articles before; Gene Chizik has his own brand of Voodoo. 
Catch me later this week when I'll be telling you about some things you should know about Arkansas, and other info about the Tigers I may have. 
But right now, the Auburn Tigers are 4-1, and with the exception of Clemson, they just seem to do it week to week.
Like the new article format? Send us feedback!