College Football Picks Week 5: LSU and 2 Teams That Will Easily Stay Undefeated
October 1, 2011
Jared Wickerham/Getty Images
The college football schedule is just about to get good. Conference play is underway for the most part and games against inferior competition are a thing of the past with just a few exceptions.
As the schedule stiffens up, more and more undefeated teams fall by the wayside as they are exposed as frauds.
But some undefeated teams will continue their march of perfection. The following are three of those teams.
LSU
I'm not sure there is a point spread big enough for LSU's game against Kentucky. The Tigers are clearly the class of not only the SEC, but the nation and Kentucky is a team whose win over Western Kentucky came down to the wire.
I will be surprised if the Wildcats even do so much as kick a field goal in this game. That's how dominating the LSU defense has been so far this season. Jarrett Lee has done a good job of leading the LSU offense and their running game has been stout. Both of those things will continue in an LSU win.
Michigan
At this time last season, Denard Robinson was the toast of college football and the clubhouse leader for the Heisman Trophy. It seemed that Rich Rodriguez's teachings in Ann Arbor had finally taken hold.
This season, Robinson and his team have been just as good, but they are flying under the radar.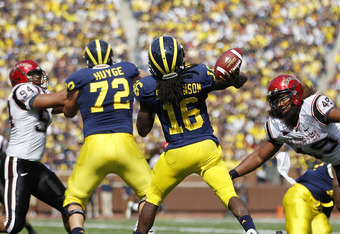 Leon Halip/Getty Images
Once they move to 5-0 with a comfortable win over Minnesota this Saturday, they will be impossible to ignore.
I know they've done this before, but I feel like this is a different Michigan team. Head coach Brady Hoke has given his team a real edge. I'm betting they continue winning and end up being a player in the Big Ten race.
Georgia Tech
When discussing the most unstoppable offenses in college football, several names come to mind. Oregon and Oklahoma State will certainly be among the teams named, as will teams like Houston and Texas Tech who have historically run wide-open offenses.
Those teams all have good offenses, but I'm not sure any of them can stack up to the triple option offense of Georgia Tech. Two weeks ago in a blowout win over Kansas, the Yellow Jackets rushed for over 600 yards. I don't care who you are playing. That's a ton of yardage.
North Carolina State, their opponent this week, is a step up from a team like Kansas, but I'm not betting that they will be able to slow down Georgia Tech.