South Carolina Football: Connor Shaw Is the Key to the Future
October 8, 2011
Streeter Lecka/Getty Images
Columbia, SC- After a 21-3 victory over the Vanderbilt Commodores on September 24th, Steve Spurrier apologized to Gamecock fans.
It's very rare when a head coach apologizes to a fan base after a win.
Why did Spurrier apologize?
Here's why:
Garcia threw four interceptions (three directly to defenders) as the offensive line committed 9 penalties for 67 yards. If Marcus Lattimore was not on the field, the Gamecocks could have been in a dogfight with Vanderbilt.
Marcus Lattimore took a simple screen pass from struggling quarterback Stephen Garcia and rumbled his way to a 55-yard touchdown right before halftime.
Marcus Lattimore also strolled 22 yards for a score with 7:46 remaining in the third quarter.
Spurrier's apology: "Really a poorly coached offense tonight out there representing the Gamecocks out there. I apologize to Gamecock fans for such a putrid offensive performance, but we won the game and I'm really proud of our defensive team. They all played super."
On the bright side, the defense held Vanderbilt to 47 total yards, holding Dores' QB Larry Smith to 12-of-16 for 44 yards passing.
Last week against Auburn, the Gamecocks again struggled to score points. Auburn's defense was ranked 110th in the nation before the South Carolina game.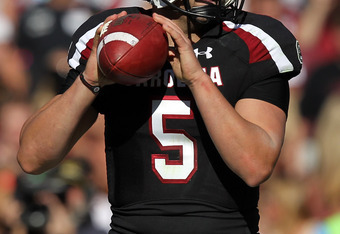 Streeter Lecka/Getty Images
Stephen Garcia turned out to be an excellent answer for Auburn's defensive woes. He finished the game with 9-of-23 passing performance for 160 yards, along with one touchdown and two interceptions.
Steve Spurrier and Gamecock fans were hanging on the edge immediately after Marcus Lattimore's 15-yard touchdown run with 5:58 left in the third quarter.
USC led Auburn 13-9. The offensive demons caught up with the team at the end of the game.
Despite Barrett Trotter's subpar performance, Michael Dyer and Auburn ran almost twice as many plays as Carolina. With 1:38 left in the game, Trotter connected with Philip Lutzenkirchen for a touchdown. The Gamecocks did not score on the following drive.
Auburn won the game 16 to 13, and this followed with the benching of Quarterback Stephen Garcia.
Despite multiple legal transgressions, Garcia was a fair quarterback. He had over 3,000 yards passing in 2010 as a Redshirt Junior. He accumulated 2,862 passing yards in 2009. He is well liked by his teammates.
However, after a 2011 season that's first five games included nine interceptions, Spurrier had no choice but to bench the struggling Garcia.
Why?
Garcia was not a capable quarterback. After Saturday's game, Spurrier knew an interception laden QB could not lead the Gamecocks to an SEC Championship.
The answer? Connor Shaw.
Before the Kentucky game, who knew what would end up of the Gamecocks' offense?
Certainly, nobody thought Connor Shaw would throw 26-of-39 for 311 yards passing and four touchdowns.
Shaw's decision-making ability allowed Spurrier to open up the playbook. The quarterback had touchdown completions to three different receivers. The Gamecocks had over 600 yards of total offense in the game. Even backups Dylan Thompson and Andrew Clifford scored touchdowns.
Connor's ability to manage the offense helped the Gamecocks run plays such as the option and the flea-flicker, something they once couldn't do.
Connor is the key of the offense. He is also the key to USC winning another SEC East title and  an improbable but possible run to the SEC Championship.
Although the Gamecocks played an inferior foe in the form of the Kentucky Wildcats, it is a good sign of things to come. The offense is clicking with over 600 total yards while the defense held Cat Quarterback Morgan Newton to 17 total yards passing.
Steve Spurrier's brand of football was played today.
"We could have scored 70 or 80 points today," Spurrier said. "But 50 was enough,"
Connor Shaw is the key to the future of the USC future. 
This all happened as Stephen Garcia sat on the sideline with his baseball cap, while talking to the other quarterbacks and encouraging Connor Shaw as he started his first SEC game.