2011 Tennessee Volunteers College Football: Previewing the Buffalo Bulls Game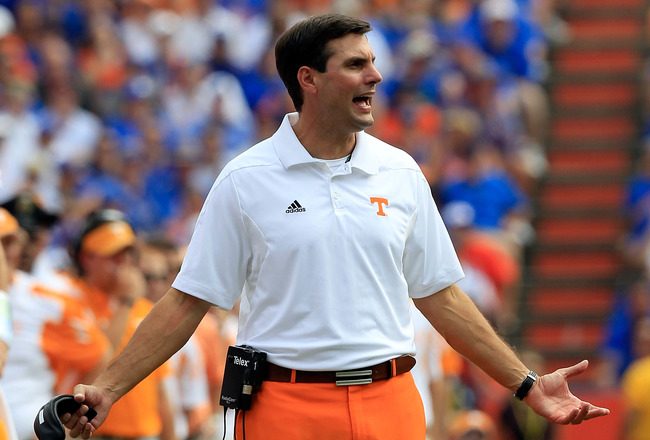 Sam Greenwood/Getty Images
After a much needed week off, the Tennessee Volunteers get a cupcake this Saturday in the Buffalo Bulls. The Vols are currently favored by more than four touchdowns.
Losing star wide receiver Justin Hunter hurt Tennessee incredibly. The passing game lacks the speed, leaping ability and sure hands of one of the SEC's top pass catchers, which made the week off even more important.
The defense has been better than expected, specifically the line. Can they stay healthy as the Vols enter another treacherous October? The answer to that will have a great effect on the success of the season.
What should fans of the Big Orange watch for this weekend? Let's take a look...
It's Time for the Running Game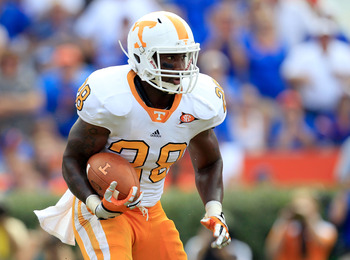 Sam Greenwood/Getty Images
Through three games, the Tennessee Volunteers rushing attack has racked up 245 yards, worst in the SEC by over 100 yards. A new word needs to be created to describe the embarrassment.
Unbelievably enough, senior starter Tauren Poole has a four yards per carry average, boosted by the gashes he makes during the second half. That strategy, using the pass to tire the defenses out, is one that the Vols need to embrace fully.
If it's good enough for the Green Bay Packers, New Orleans Saints and New England Patriots, it's good enough for the Big Orange.
Head coach Derek Dooley has said that freshman Tom Smith will see more action versus a putrid rushing defense in Buffalo. They have allowed 669 rushing yards in four games, an average of 168 yards per game.
If the rushing game, including the offensive line, can't get going against the Bulls, it's going to be a long month.
Who'll Step Up at Wide Receiver?
It's too bad that Justin Hunter's 2011 has been cut so short. He was well on his way to being a Biletnikoff Award finalist, given to the nation's top college receiver.
Even with the injury, the Tennessee Volunteers have an above-average receiving corp, now led by true sophomore Da'Rick Rogers. A few too many times at Florida, Rogers anticipated a big hit from the safety when going over the middle and "gator-armed" it.
Enough of that. It's your time, Da'Rick!
Zach Rogers will be the new No. 2 and needs to be a reliable target for quarterback Tyler Bray. Any sort of separation that Rogers can get is more than enough for Bray's cannon.
DeAnthony Arnett and once lauded Matt Milton will fill in at the No. 3 spot. Arnett turned heads with the eight-catch performance in Gainesville after never playing a down in college. His slick style of play will be good for the short to mid passing game.
Buffalo's pass defense is a much better than the rush defense. Of course, I'm not sure if that's because teams just choose to run it all over them or that there's talent in the secondary.
Either way, I'll be surprised if Bray doesn't post the Bulls' 183 passing yards per game average in the first half.
The Gambler: Tyler Bray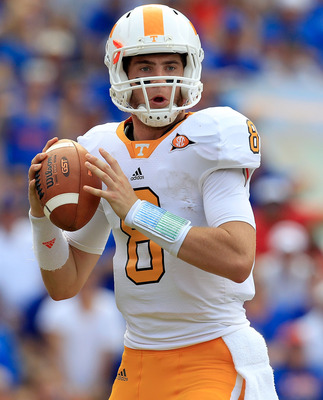 Sam Greenwood/Getty Images
Do you like Kenny Rogers? No? Yeah, me neither, so I apologize for the reference in this slide's title. I really don't know why I did it.
Maybe it's because it's the first thing I thought of as I watched Tyler Bray throw into double-, triple- and quadruple-coverage against Florida two weeks ago. I counted no less than five balls that would've been picked off by a better defense, such as Alabama or LSU.
I think the term "gunslinger" is overused into today's game. Analysts used it whenever they see a quarterback with a big arm, but that's not always fair. Bray had a completion percentage over 78 percent and no interceptions going into the Florida game, defying the stereotype.
He did, however, work very hard to regain that image, completing only 54 percent and tossing two interceptions. Not bad for your first trip to the Swamp, no doubt, but far from the Dan Marino-esque play of the early season.
Bray do well do take notes during his Shakespeare 101 class and consider the famous phrase: "Discretion is the better part of valor."
He's still my boy, though. Heisman 2012.
Growth of the Freshmen Linebackers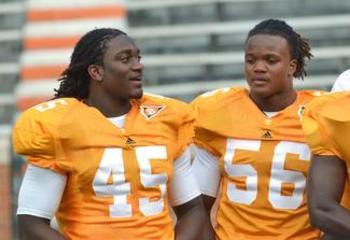 Florida running back Chris Rainey torched the Tennessee Volunteers' defense on an 80-yard dump-off two weeks ago. The game was being controlled by the Gators, but until that play, the Vols were still well within striking distance.
Besides the fact that Rainey might actually be Usain Bolt's little brother, miscommunication between freshmen linebackers Curt Maggitt and A.J. Johnson allowed Rainey to break free. Take a look at 0:11 when both of them break the same way, leaving Rainey wide open.
Still, their skill and maturity has impressed me. They've been thrown into an average defense and asked to keep up with running backs like Rainey, Jeffrey Demps and Isaiah Pead and have done a decent job. Furthermore, Maggitt is a stud pass rusher.
Buffalo sophomore running back Brand Oliver averages over 110 yards per game in rushing yards. Stopping him will be both a challenge and a good appetizer for Georgia's Isaiah Crowell, Alabama's Trent Richardson and South Carolina's Marcus Lattimore.
I trembled as I typed those names.
Any Berry Wannabes?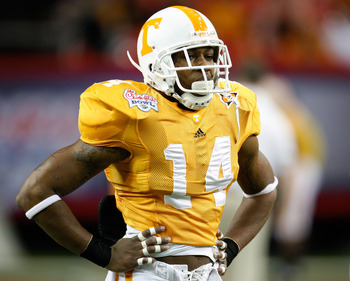 Mike Zarrilli/Getty Images
I thought that the strength of the Tennessee Volunteers' defense post-Janzen Jackson would still be the secondary. They haven't been bad, but they haven't been very good either, now have they?
Art Evans' pick-six in the first game against Montana stands out as the only big play made by the defensive backs this year, a group filled with talent and potential.
Justin Coleman, supposedly the fastest defenders on the team, has done his job, yes, but I want more! After all, Eric Berry played for the Vols for three years while I was there. I was spoiled.
Brent Brewer got off to a quiet start after finishing the 2010 season with a series of big hits and smart plays. I'm interested to see how he improved over the bye week.
Prentiss Waggner, Brian Randolph and Izauea Lanier are players who have been heavily involved in the pass defense but I'm convinced have more to give.
Buffalo quarterback Chazz Anderson doesn't put it in the air very much, tossing only three touchdowns on the year, but the Bulls still average over 200 yards per game. Who's going to make them pay with a big interception?
Who wants a music video made of them, compliments of SwiperBoy?
The Game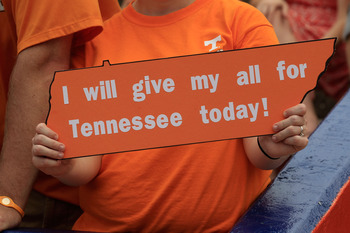 Sam Greenwood/Getty Images
There hasn't been the same level of opposing team analysis this time because, quite simply, the Tennessee Volunteers should roll.
Las Vegas, who tends to be an unbiased third party, set the line at Tennessee -28, and it has grown slightly to -28.5.
Strong passing, improved running, stifling run stopping and electric plays in the secondary are the sorts of things I'll look for.
Show me what you did in your week off!
Vols win 38-10.
Keep Reading

Tennessee Volunteers Football: Like this team?