Nebraska Cornhuskers Football: How Can the Big Red Beat the Wisconsin Badgers?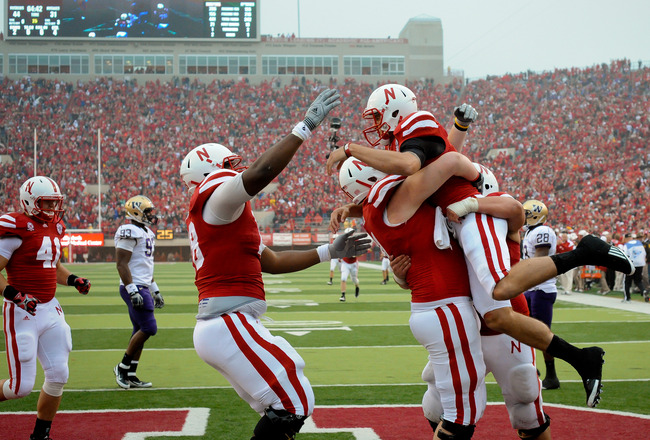 Eric Francis/Getty Images
The Nebraska Cornhuskers have their biggest game of the season this weekend as they travel to Madison to take on the Wisconsin Badgers. This game has been seemingly painted as unwinnable for Nebraska by some of the more pessimistic Husker fans.
While beating the Badgers at Camp Randall is going to take everything Nebraska has, earning a victory is by no means impossible. Wisconsin is the favorite in this contest and rightfully so, but the Cornhuskers might have a few tricks up their collective sleeve.
Here are the things Nebraska must do if it wants to return from Madison with a win:
Contain Russell Wilson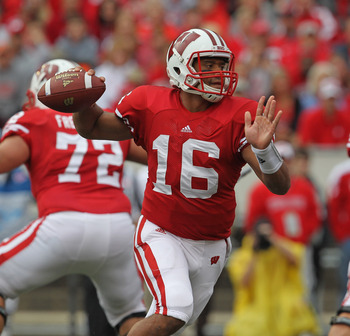 Jonathan Daniel/Getty Images
One thing you can always count on is that the Wisconsin Badgers will run the football. Over the years, this has worked very well for them, as they have become a respected program on a national level.
Still, Wisconsin has never really taken that final step to become a serious national title contender and the Badgers' quarterbacks have been to blame. Not that they haven't had some solid signal-callers, but they all fall into that dreaded "game manager" category. None of them could really go out and win a game for you.
Russell Wilson is different, however.
The Badgers' new quarterback is a game-changer. In the past, if an opponent shut down Wisconsin's running game, the Badgers were in trouble. Wilson has the talent to go out and win a game for Wisconsin when everything else is breaking down.
With that in mind, the Nebraska Cornhuskers have to contain Wilson if they hope to beat the Badgers. Obviously the running game is still a concern for the Big Red, but if the Blackshirts don't keep Russell Wilson under control, it is going to be a long night for the Huskers in Madison.
Be Successful Running the Ball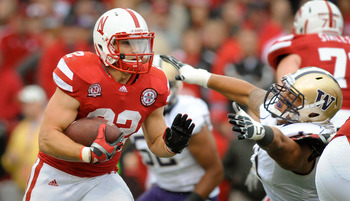 Eric Francis/Getty Images
Let's just be honest, if this football game ends up being decided by the arm of Nebraska quarterback Taylor Martinez, it is not going to go well for the Huskers. Of course, that is exactly what Wisconsin's defense is going to try to do; make Martinez beat them through the air.
Expect the Badgers to load up against the run all night. The key for Nebraska is going to be to run the ball anyway. I know it sounds simple, but the truth is if the Husker's can't get the ground game going, they are dead in the water.
Not only does running the ball take the majority of the burden off of Taylor Martinez's shaky arm, but it sets up the play-action pass, which gives Martinez his best chance to be successful through the air when he does have to pass.
Dominate Special Teams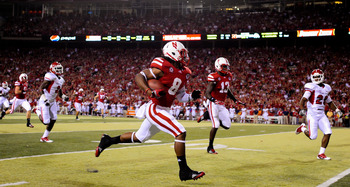 Eric Francis/Getty Images
Nebraska's offense has a difficult time sustaining drives. The Huskers count on exploding for big plays to either directly score touchdowns or set up easy opportunities to put points on the board.
This usually works great against teams that Nebraska can outclass athletically, but it becomes kind of a crap shoot against teams that are evenly matched with the Cornhuskers. Wisconsin definitely falls in the second category of teams, so big plays might be difficult to come by on Saturday.
As a result, I believe Nebraska needs to get a touchdown from its special teams in order to beat the Badgers. While big plays will be tough to find against Wisconsin's defense, it is much more likely that they will be available against their special teams.
Luckily for Husker fans, they have Ameer Abdullah who is always a threat to take a kickoff to the house. Getting a big day from Abdullah will go a long way in Nebraska and escaping Camp Randall with a win.
Unleash the Secret Weapon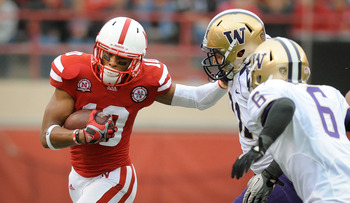 Eric Francis/Getty Images
After an unbelievably explosive performance in the spring game, big things were expected from Nebraska's freshman receiver Jamal Turner. However, up until this point in the season, Turner has been conspicuously quiet; so much so that it almost seems to be by design.
Having seen what Turner is capable of, I simply cannot believe that offensive coordinator Tim Beck has simply forgotten about the freshman. I believe Turner's lack of touches has been intentional.
Call me a conspiracy theorist, but considering head coach Bo Pelini's tendency to give out as little information as possible to the media, would you really put it past him to avoid showing his hand to his opponents?
All I am saying is that if Pelini has been waiting for the right moment to unleash his secret weapon named Jamal Turner; now is the time.
Keep Reading

Nebraska Huskers Football: Like this team?