UCLA Bruins Football: 7 Reasons Why the Rick Neuheisel Era Has Been a Failure
There isn't a hotter seat in the nation
Stephen Dunn/Getty Images
We all know that Coach Rick Neuheisel's seat is pretty hot. Scratch that, its magmatic.
UCLA has been a disappointment in the three-plus years under Neuheisel. They've been to one bowl game, and are 17-24.
So there's no question that there is a hot seat, but why has UCLA played so poorly? Why haven't they capitalized on a few consecutive strong recruiting classes, and established themselves as a perennial Top 25 team?
Here are seven reasons why the era has been a failure. As you will see, some have been Neuhiesel's fault, others, not as much. After getting the full picture, we can analyze whether or not Neuheisel deserves the scrutiny he is currently under.
The Never-Ending Quarterback Battle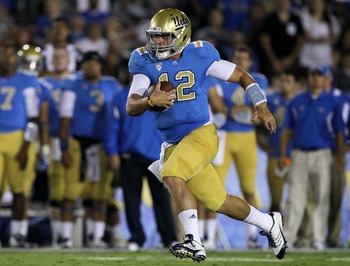 Richard Brehaut has been effective..... when given the opportunity
Stephen Dunn/Getty Images
UCLA has been going through a quarterback controversy...for the last three years.
Kevin Prince and Richard Brehaut competed as freshmen in 2009. Kevin Prince won out, and played okay despite breaking his jaw, suffering a concussion, and separating his shoulder. When he was healthy, the job was his, and the Bruins went 7-6 and won the EagleBank Bowl against Temple, 30-21.
Last year, Prince was oft-injured again, being unable to practice fully in September before being lost for the second half of the season entirely. Filling in for Prince was Brehaut, who played well down the stretch, but not enough for the Bruins offense to fully click.
Fast forward to training camp in 2011, and there was a full on battle for the starting role. Despite having seen what each QB can do over the course of two years, Neuheisel was indecisive. He decided that both QBs would play in the season opener against Houston.
This plan never really came to fruition, however, as Prince was injured early in the game. Brehaut played great, throwing for 264 yards and two TDs, and adding 87 yards and one TD on the ground, but the Bruins came up short 38-34. The next week against SJSU, Brehaut led the Bruins to the win.
After the SJSU game, Prince was cleared to play. Despite the performance of Brehaut, who was considered to be at least a co-starter regardless, Neuheisel opted to start Prince. Prince threw three interceptions in the first quarter before being pulled.
Does that rationale make any sense? If Prince and Brehaut were considered equals and Neuheisel was going to go with the "hot hand," why would he wait for Prince to throw three interceptions before yanking him? Why was Prince given the starter job back in the first place?
Needless to say, after falling down 21-0, UCLA lost to Texas. Neuheisel then named Brehaut the starter against Oregon State, and UCLA won.
Football teams thrive on consistency in every area of the game, whether its the play of the quarterback, defense, kicking, etc. Realizing that QB is the most important position in the game, it is safe to say that your quarterback has to be consistent for your team to be successful.
Injuries throughout the year are one thing, Neuheisel cannot help that. But he let the the quarterback controversy spiral out of control this year. That is his own doing, and it may be the nail in his coffin.
Injuries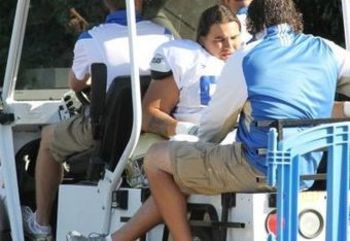 Kai Maiava is carted off after breaking his ankle in practice in 2010
If you read the first slide, then you realize that UCLA has had their fair share of injuries to the quarterback position.
Unfortunately for the Bruins, that is just the tip of the iceberg.
In 2010, UCLA was third in the nation in most starters lost (UNC was No. 1, and this was due in large part to their mass suspensions).There isn't really a player or position that hasn't been affected by the injury bug, but the offensive and defensive lines have been especially susceptible to injuries.
Kai Maiva (pictured) was a first team Freshman All-American (at Colorado), but missed the entire season in 2010. Guard Jeff Baca injured himself over the past offseason, and has just returned.
In 2010, UCLA lost 25 starters due to injury on the offensive line alone. Star defensive end Datone Jones missed all of 2010, and he has yet to live up to they hype as one of the best defensive ends in the nation since his return. The injury seems to have hampered his, and other players' development.
Again, if consistency is the key, it's impossible to be successful with so many injuries on the team. So often we hear about an offensive line "gelling" and playing together as one solid unit. This theory is true, and unfortunately, UCLA never gelled in 2010. As a result, the offense struggled mightily.
The Pistol Offense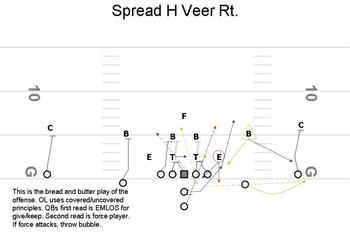 The Standard Read with the pass option out of the Pistol
The pistol offense has become extremely popular across the nation after Nevada Coach Chris Ault turned his Wolfpack into contenders by implementing it. When run properly, it offers certain benefits that a traditional spread offense does not. The problem is that UCLA does not have the proper personnel to run the offense.
One of the main staples of the Pistol offense is the read play, shown above. The quarterback first reads the circled defensive end on the right. If the end stays at home, or moves towards the sideline, then the quarterback should hand the ball off to the running back up the middle. If the defensive end crashes down the line, the QB should hold it and roll out to the right.
Following this initial read, there is another read and decision the QB has to make. He reads the outside linebacker or safety (the furthest right "B" in this diagram). If the defender comes up to make a tackle on the QB, the QB has to pass out to the slot receiver. If the defender covers the receiver, it is the quarterback's ball to run.
A display of how well this can work is seen here. Pay especially close to Tulsa, and how often they ran it in the GMAC Bowl. The first time, they pass it. The second, the quarterback keeps it himself. The final time, he hands it off right away.
UCLA simply doesn't have the proper personnel to run this. First, it should be obvious that if you're going to run option principles, you need a quarterback that can run. Neither Prince nor Brehaut can do this as well as Colin Kaepernick did at Nevada.
Last year, Kaepernick ran for an average of 7.0 yards per carry, and converted 65 percent of his passes. Brehaut and Prince combined to average 3.77 yards per carry, and a 52.6 percent completion rate.
Additionally, the Bruins don't have the playmakers at wide receiver. They are bigger, slower, possession receivers, and they aren't very deep either. There is no point in running spread when you don't have enough quality receivers.
Perhaps it isn't entirely fair to compare the Bruins' performance to Kaepernick, the most prolific pistol-QB, and NFL draft choice. But let's be realistic, the Bruins don't have the proper personnel to run the pistol. They have quality running backs, and would be better suited lining up in traditional sets, running the ball, and asking whoever the QB is to do less than he is doing now.
*It should be noted that UCLA has true freshman Brett Hundley at QB as well. He was the No. 1 rated QB in the last recruiting class, and is thought to be a more proficient runner/athlete. We may see him very soon.
Trouble with Coordinators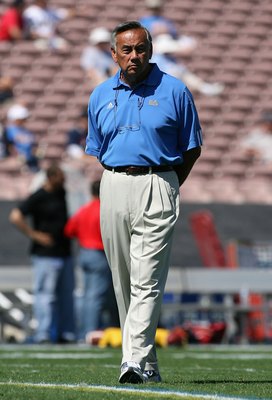 Norm Chow was never given free reign
Christian Petersen/Getty Images
UCLA felt like they were in great shape when they signed Offensive Coordinator Norm Chow. Chow was the offensive coordinator for the 1984 BYU National Title, the 2004 USC National Title, as well as with the Tennessee Titans. A proven coordinator with experience in the NFL...no way this can go wrong, right?
Well, part of the trouble came from the previous slide; the Bruins decided to install the pistol offense. More accurately, Neuheisel decided to install the offense.
It makes little sense to me why a man who produced Jim McMahon, Steve Young, Ty Detmer, Carson Palmer and Matt Leinart was given no creative freedom in establishing the offense he is familiar and successful with. Scratch that, it makes no sense. Chow was punished for not being able to run someone elses' offense. Neuheisel replaced Chow with San Francisco 49ers assistant Mike Johnson, who of course never coached the Pistol.
And it isn't just the defense. DeWayne Walker was the defensive coordinator in Neuheisel's inaugural season (he also interviewed for the head job). They gave up an unimpressive 29 points per game, and UCLA made no effort to stop Walker from taking a head coaching job at New Mexico State.
Chuck Bullough stepped up for two years, and the defense showed improvement initially, but regressed last year. As you could guess, Bullough took a job with the Cleveland Browns during the offseason.
So now, finally, we have the current defensive coordinator Joe Tresey. Tresey was at Cincinnati with Brian Kelly, and the 2007 version of the Bearcats defense led the nation in turnovers. The Bruins have given up 30.5 points per game so far this season.
I hate to repeat myself over and over, but again, the name of the game is consistency. You cannot win with two offensive coordinators and three defensive coordinators in four seasons. You can't be expected to build off of any successes if there is constant turnover. Some of this was Neuheisel's own wrong doing, and some wasn't. Regardless, it is devastating.
Where Exactly Is the Talent?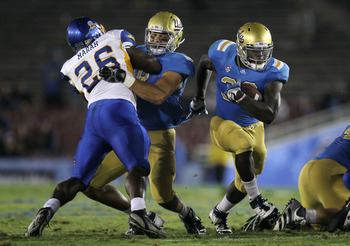 Derrick Coleman has emerged as a talented play, but where is everyone else?
Stephen Dunn/Getty Images
One of the few things that is going well under Neuheisel's tenure is that he is putting together successful recruiting classes. Once they've come to campus, however, it's anyone's guess.
Starting in Neuheisel's first year, UCLA has put together classes that were ranked 14th, 17th, and 10th nationally by ESPN. Sometimes, rankings are wrong. They're usually not this wrong.
Two of their stud offensive linemen from their 2009 class are no longer with the team. Stan Hasiak was dismissed, and Xavier Su'a-Filo elected to go on a two year mission.
Also from 2009, linebacker Taniela Maka transferred to UNLV, and corner Marlon Pollard transferred to Eastern Michigan.
The catch from 2009 was No. 1 TE Morrell Presley. He underwent disciplinary problems, and decided to transfer. He has since been arrested. In short, those were the stars from the 17th ranked 2009 class. None of them are even on the team anymore.
The 2010 recruiting class is still young and cannot be evaluated. They still have some potential with DT Cassius Marsh, S Dietrich Riley and DE Owamagbe Odighizuwa.
Overall, however, the talent hasn't developed as much as Neuheisel would like. Running backs Johnathan Franklin and Derrick Coleman are showing flashes of brilliance this year, while Jordon James has yet to get a bulk of the carries. At receiver, the Bruins are very low on playmaking ability. It even further illustrates the oddness of switching to a spread attack.
Why did so many players leave? Why haven't some of the big names reached their full potential? Did Neuheisel mis-evaluate the talent while recruiting? How much have the aforementioned injuries and coordinator changes affected the players? There are no exact answers to these questions, but it is obvious that something is amiss.
Lack of Player Leadership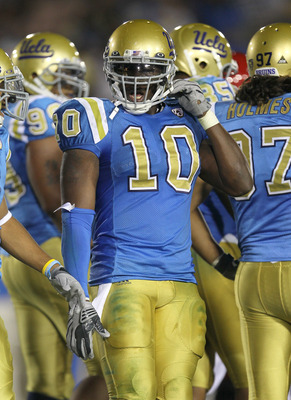 Akeem Ayers was great last year, but the defense was below average
Stephen Dunn/Getty Images
Every single team, no matter how talented they may be, needs a leader. Period. I don't know where they are on UCLA.
Who is the leader on offense? Usually its the quarterback, but UCLA has rotated theirs so often, that both Brehaut and Prince have had trouble commanding the team.
What happened last year on the defense is another story. The Bruins had two players, Akeem Ayers and Rahim Moore, drafted into the NFL, yet, allowed over 30 points per game. How is that possible?
Leaders come in many forms. There's those who lead by example, those who lead by their great play, and those who lead through their words. It isn't necessary that the star player be the leader, or the quarterback, or the player drafted into the NFL. It can be virtually anyone on the team, but it has to be someone.
I know there are no leaders on the team, because they continuously fold when things go awry. They are 5-7 in the month of November under Neuheisel, and three of those wins came in UCLA's winning season of 2009. Clearly, that was one of the differences. In the other two Novembers, they are 2-6.
Recently in practice, Neuheisel stopped play and yelled: "I can't be the only one who cares!" This was particularly out of place for Neuheisel, who has kept a calm, cool demeanor, even through all the hot seat talk. If his claim is true, then it shows that there is a lack of leadership on the team, and that Neuheisel is looking for it himself.
Were Expectations Too High?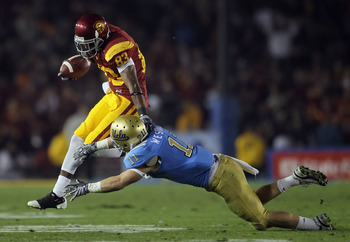 It was unfair to expect UCLA to overtake USC
Jeff Gross/Getty Images
This may not be an explanation so much as to why the Bruins have played poorly (although it may), but it is certainly an explanation of why Neuheisel's seat is so hot.
Neuheisel came in, and the narrative instantly became "UCLA will challenge USC in the city." This was extremely unfair.
Neuheisel became coach when USC was still on the top of their game. The idea that UCLA, who had only three double-digit winning seasons in the previous 20 seasons before Neuheisel took over, would instantly become a perennial Top 10 team, was ridiculous.
Yet it was out there. When USC was placed under sanctions, and Pete Carroll left town, the idea that UCLA should "take over LA" became even more prominent. This isn't how college athletics works. We've seen many times before that two teams in close proximity can both be good, or both be bad.
This is why Florida and Florida State, or Alabama and Auburn are such intense rivalries. In 2005, USC was the runner-up for the national championship, and UCLA went 10-2! So saying something along the lines of: "If USC is down, UCLA has to go up" puts tremendous, unfair pressure on the Bruins.
To see an illustration, one doesn't have to look much further than this season. UCLA is 2-2, and apparently Neuheisel's seat is as hot as ever. While they haven't looked great, they have won the games they're supposed to, and lost the games they were supposed to.
Losing to Houston and Texas shouldn't be the end of the world, but according to many, it is with UCLA. UCLA can still right the ship and become bowl eligible, and that may be the only thing that saves Neuheisel. There is a clear "win now, or else" mentality, and that creates high expectations, and tremendous pressure.
This isn't to excuse the Bruins from playing poorly. There is no excuse for a team with their history to only win 15 games over three years (they did make six straight bowl games before Neuheisel took over). But it is to point out that perhaps the expectations were a little too high for UCLA, and since they didn't show results immediately, Neuheisel has become the scapegoat.
Keep Reading

UCLA Football: Like this team?