Arizona vs. USC: Last-Minute Spread Info and Predictions
October 1, 2011
Stephen Dunn/Getty Images
Anytime two Pac-12 teams meet up it's bound to be an intense matchup, and upcoming game between the Arizona Wildcats and USC Trojans seems like it will follow suit.
The Trojans have already been burned by the desert once when they went to ASU and got smoked by the Sun Devils. For a team that came into the season with such high aspirations, they sure looked good last week. A win here would go a long way in repairing their image and confidence.
The Wildcats are desperately trying to stop a three-game slide that includes being outscored 130-55 at the hands of BCS contenders Oklahoma State, Stanford and Oregon.
Arizona knows they are a good team though and are matching up with the Trojans at a very good time.
It should lead to a very interesting game.
Current Betting Line (Bodog.com): USC -13
What's At Stake
The Wildcats have been beat up by BCS contenders for the past three weeks in a row. I'm sure they are coming into this game ready to pull off an upset and stop the bleeding against a USC team that is very vulnerable right now. The Trojans need to prove they can bounce back from a big road loss that was undoubtedly very demoralizing.
Last-Second Injury News
Arizona: Wide receiver Austin Hill probable (concussion), quarterback Bryson Beirne questionable/expected to be available (knee).
USC: Linebacker Lamar Dawson probable (ankle), linebacker Marquis Simmons (neck), offensive tackle Martin Coleman doubtful (shoulder).
Key Matchup
If Matt Barkley can bounce back from the epic meltdown of his offense in the ASU game than the Trojans should be able to pull off an easy win. The matchup to watch is essentially Barkley against his psyche against the Wildcats defense, who is going to be trying to rattle him again.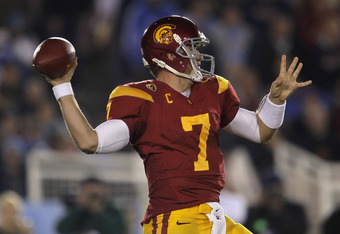 Jeff Gross/Getty Images
Sleepers to Watch
Keep an eye on Arizona running back Keola Antolin. The Wildcats can really put up a lot of yards through the air, but their key to this game will be controlling the tempo. Antolin is really going to have to play like a feature back if the Wildcats want to have a shot at an upset.
Matt Barkley really needs to have a good game for the Trojans, which means you need to keep on his favorite target, Robert Woods. Woods has 41 receptions for 492 yards and four touchdowns so far. He needs to grab at least one touchdown this game.
Prediction
I think the Wildcats are going to make this game extremely interesting. In the end, the better team is going to win.
USC 34, Arizona 21