Georgia vs. Mississippi State: Run Defense Center Stage for Georgia Bulldogs
September 29, 2011
The Georgia Bulldogs and Mississippi State Bulldogs square off in Athens on Saturday in a huge game for both squads. Georgia looks to avenge last year's loss to the Bulldogs of the West and stay in the thick of the SEC East title race. Mississippi State is reeling from an unexpected 2-2 start after being in the preseason Top 20.  MSU comes in looking to right the ship and gain some momentum heading into the last two-thirds of the season.
It seems certain that Georgia's offense will put points on the board against the Mississippi State defense.  MSU has struggled against the run this season and Georgia's freshman phenom running back Isaiah Crowell just keeps getting better every game. Crowell had a career high 147 rushing yards against Ole Miss last week.
Quarterback Aaron Murray has also picked up where he left off after an outstanding freshman season. In the first four games, Murray has tossed for 940 yards, completed over 63 percent of his passes and has 11 touchdowns versus only three interceptions.
So the question becomes, can the Georgia defense step up and have another big game against some stouter competition? It's hard to say if Georgia's defenders have truly improved over the last two games or if it's more about inferior opponents. Saturday should go a long way in putting any doubts to rest about the quality of UGA's defense.
Mississippi State is going to have to rely heavily on the run against Georgia Saturday. Quarterback Chris Relf is not the kind of player that's going to beat teams with his arm alone.
One of the problems for Mississippi State is that they have no legitimate threat at wide receiver. There were high expectations for junior Chad Bumphis, but he has failed to excite so far with only seven catches for 99 yards through the first four games of the season.
Relf has a pedestrian four touchdowns versus three interceptions on the season, so don't expect to see MSU take many shots down the field, especially with players like Brandon Boykin and Bacarri Rambo lurking in the Georgia secondary.
After missing the season opener, Rambo has played lights out in the last three games for the Bulldogs. The junior safety has racked up 15 tackles and has an interception in every game he's played in—two against Ole Miss last week.
So the real key for the Georgia defense will be stopping the potent rushing attack that Mississippi State will bring into Sanford Stadium on Saturday. Chris Relf and Vick Ballard have combined to rush for nearly 600 yards and five touchdowns—all belonging to Ballard—so far this season. Backup running back LaDarius Perkins has also racked up 137 yards and a score on 30 touches.
The Georgia defense is going to have to prove that they are more physical than last season when Mississippi State manhandled the Dawgs on both sides of the ball in their 24-12 victory in Starkville.
Look for this game to be a little different as the Mississippi State rushing attack is going to run into a much-improved Georgia defense in Athens. Defensive Coordinator Todd Grantham has had a full year to get his players comfortable in a complicated 3-4 scheme. Grantham also used the offseason to recruit and fill some holes on the Georgia defensive unit.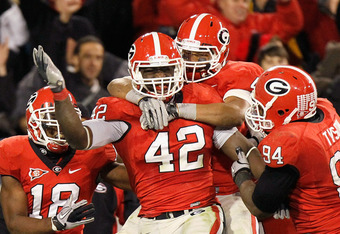 The most notable improvement for the Georgia defense this season is at the nose tackle position. There was a lot of hype surround big junior college transfer Jon Jenkins to come in and start, but Kwame Geathers improved by leaps and bounds and ended up winning the starting job. Jenkins still sees plenty of time on the field and actually frees up Geathers to move over to end on occasion, giving the Bulldogs both those big bodies on the field at the same time.
Geathers and Jenkins are going to be pivotal in this game. They are going to have to clog the middle of the line, eat up blocks and draw some double teams to give the Georgia ends and linebackers chances to get after the ball and make some plays.
The Georgia defense is coming into this game with a chip on their shoulder, looking to prove they are a better, more physical defense than last year. Mississippi State is a better team than they've shown so far this season and they're playing with their backs against the wall.
This game is going to be a war of attrition in the trenches. In classic SEC style, it's going to be the more physical, bruising team that will walk away with the W this Saturday. If Georgia wants to stay in the SEC East race, it's put up or shut up time for the Bulldog defense.