USC Football: Pac-12 Wrong to Reprimand Matt Barkley for Vontaze Burfict Label
September 29, 2011
Norm Hall/Getty Images
Last week before USC headed to the desert to take on Arizona State, Matt Barkley was asked by the Los Angeles Times if Vontaze Burfict was a dirty player, and he confirmed it based on efforts by the linebacker to injure him by diving at his knees in a high school game.
But almost 72 hours after the game, the Pac-12 sent out this statement and put it on their website with a big headline and this was just plain wrong to publicly reprimand Barkley in this manner:
"All of our student-athletes must adhere to the Pac-12's policies on Sportsmanship and Standards of Conduct, which call for our student athletes to treat opponents with respect and create and ensure a collegiate atmosphere in which to conduct competition. In these circumstances, Mr. Barkley's comments were a clear violation of Conference rules and he is being appropriately reprimanded."
Why was it wrong?
1. No one can recall any college athlete ever being reprimanded by the conference in such fashion for a similar comment that caused not a ripple of a problem. There is no evidence that the Pac-12 talked to Barkley to clarify the intent of the comment.
2. Barkley didn't say anything that we don't all know, and even Arizona State fans would have to admit that.
3. Barkley clarified his comment to ESPN on Tuesday by stating: "Of course everyone blew it up, but what you didn't hear is that it was coming from a place of respect for Vontaze. I've played with him for so long. I know him as a player and a person and think he is a wonderful player, which is what I said. He played a great game."
4. Barkley congratulated Burfict after the game, even though Burfict points and yells at Barkley in the first picture in this article and his "second quarter interception was followed by him hugging Barkley, a move that appeared genuine and disingenuous at the same time" according to ESPN Los Angeles.
5. Barkley may be the most decent young man and student-athlete in the conference, whereas Burfict is far from that. Barkley is a great citizen who does charity work, maintains a high grade point average and has a large leadership role for the Trojans; including acting as the player's public representative during the past two years of NCAA sanctions. He is one of only 11 FBS football players named to the 2011 Allstate American Football Coaches Association Good Works Team, which recognizes players committed to making a difference in their communities.
6. These same conference bureaucrats have protected the league's biased football officials over the years, and refused to penalize the Stanford clock operator or reveal a name when they deprived USC of a key conference win a year ago.
The Pac-12 hypocritically treats adults paid by the league one way, and an amateur student-athlete whose sacrifices and skills help pay their big-time salary in another harsher, more public way.
Should Barkley have answered the reporter question about Burfict the way he did?
Absolutely not. You never want to say anything negative about another team especially the week before the game.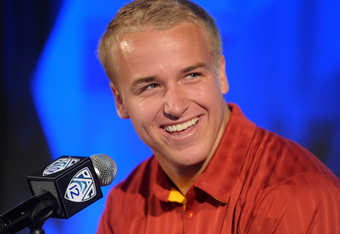 Did it have any impact on the game?
Not that anyone could tell.
The Los Angeles Times article comment on Burfict:
"Even his supporters — coaches, teammates and family members — acknowledge that he navigates a fine line between rage and restraint. 'He has to put everything together physically, mentally and emotionally, and if he can do that, he can be one of the better players I've ever coached," Arizona State Coach Dennis Erickson said. 'He hasn't done that over a long period of time.'"
Blacksportsonline.com wrote that Burfict is on a dangerous path and listed some of his prior problems and included videos showing some of his dirty plays on the field.
"Burfict choked out a fellow ASU student in a pickup basketball game in the student recreation center.

Burfict sucker punched WR Kevin Ozier in the locker room after having a verbal confrontation during practice.  Burfict outweighs Ozier by more than 50 pounds by the way.

Burfict had a heated verbal confrontation with wide receivers coach Steve Broussard last season where he threatened to physically harm the coach and would eventually have to be separated from the coach by players."
Coach Lane Kiffin stated:
"We talked to Matt right after he made that comment and told him that it was not appropriate. He understood. Despite this reprimand, Matt Barkley represents everything that is good about college athletics. He is one of the finest student-athletes I have ever been around. You will not find a person with higher character or values."
Barkley learned a good lesson. Media people may use only the inflammatory comments, cut out the context, and make a comment sound far more combative and insulting than it was really meant. This is how they get more people to notice it and notice them.
Athletes are put in a tough situation when they have to choose how to answer questions honestly, but without giving someone the chance to sabotage you. Sometimes "No comment" is the best response.
However, the Pac-12 made a very bad decision to reprimand Barkley and amplified this mistake by making it public.
P.S. I sent this article to Larry Scott's assistant before publishing and received no response. Here is a video collection showing Burfict going after Barkley's knee in high school and various other dirty plays courtesy of reader M Enos.